| | |
| --- | --- |
| | The Words of Hyung Jin Moon From 2012 |
The Cross of True Father
Hyung Jin Moon
August 26, 2012
Korea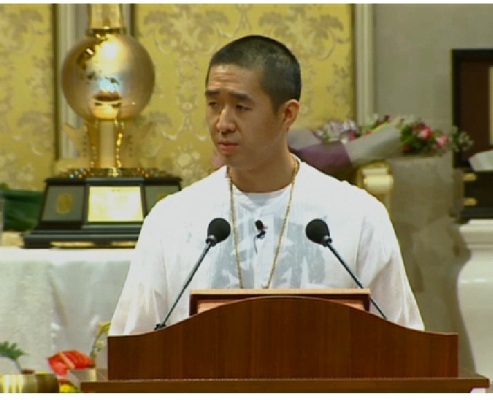 Hello, everyone. First, I'd like to express my gratitude to the many members throughout the world who have been offering Jeong Seong last week and this week. Those prayers have given Father a lot of energy and also have given a lot of power and energy to True Mother, who is protecting and being with True Father day after day. The True Children are with Father around the clock, 24 hours, taking turns; the staff members are with True Parents as well; and the CARP [Collegiate Association for the Research of Principles] students are also taking turns to be with Father at the hospital. We're very grateful for everyone's Jeong Seong.
Last week, as you know, Father had to struggle against many circumstances. This is not an easy fight. I will go into detail a little bit more a little later, but last week there was an infection in his blood, so we were concerned about that. Fortunately after the week was over, that was caught and resolved. We could eliminate that infection, so we're very grateful about that.
Also last week, as you have heard, the oxygen saturation level in Father's blood was similar to the previous week, and he's still attached to many machines. Right now he is fighting, investing himself fully in a struggle of life and death. This is not an easy thing, not a simple thing at all. Please understand that.
Spiritual and Physical Salvation
Let's begin with Father's words. Let's read these together, on page 685 of Cheon Seong Gyeong.
"The Messiah goes from the bottom of hell to the top of the most glorious place in the world of humankind. This means that there is no place that he would not go, even at the risk of his life, to save humankind."
Aju.
Now when I look at this, I'm reminded of John 3:16,
"For God so loved the world that he gave his one and only son, that whoever believes in him shall not perish but have eternal life."
Aju.
We've learned from the Principle that Jesus came to offer not only spiritual salvation but physical salvation as well. However, because of the insufficiencies of humanity, Jesus died earlier than he should have, and he was able to give only spiritual salvation to humanity. When God had to send Jesus the way of the cross, this was a very painful thing for God. Also, this was not the path that God originally desired for Jesus. If only humanity had received Jesus and accepted him as Messiah, he would not have gone that course!
Jesus went that way, however, in the end. Even though this was not God's first choice, God was able to use that course to give humanity spiritual salvation. In other words, the crucifixion and resurrection course of Jesus made it possible for humanity's mind to go to God, and humanity could receive salvation in the world of the heart and the mind.
When the Lord of the Second Advent comes, however, we have the opportunity to go to the world and to the place that God desires us to go. That is the mission of the returning Lord. So Father came, and True Parents came, to provide to humanity not only spiritual salvation but also physical salvation.
The Government as the Archangel
Father and Mother have gained victory through an incredible struggle. But still when we look at our world, we see that in humanity's history we've had tyrants and dictators, and until now we've been living in the realm of Satan. We see that the government, which is in the position of the archangel, has dominated human beings. That is the world we have lived in.
We know through the Principle that by taking advantage of Adam and Eve's freedom of choice the archangel took away Adam and Eve's position as lords of creation. Now we need to return to that position and to restore the three great blessings. In the past, no matter how much we may have tried, humanity was always in the position of slaves. The kingdoms that should have allowed humanity to go to God instead oppressed humanity. As we analyze any and all countries, we know that although government is necessary, the position of the government should be to assist humanity to develop and grow toward God. But not only in the modern age but also throughout history we see that all the nations that have existed have always pushed down humanity.
If we look at the current world as well -- as we saw in the news last week and as we see what's going on in the world -- we can see that the world we live in is very unstable. It's not just the weather. I know, the weather was poor last week. It seemed like heaven was crying. It's been raining in Korea for the past two weeks. But also we see instability in the countries around the world.
The Weakening of the United States
Father spent 33 years in the United States, investing himself in order to save America, but America has fallen a long way. It is becoming weaker and weaker. The government is growing larger, and as it does the freedom of its citizens is lessening. In the last four years the president of the United States has increased the debt about $5 trillion. There's an election going on now.
Father always challenged America. He challenged its president and always tried to meet the president of the United States. The United States needs to go on the correct course in order for the world to be able to go on the correct course. Now America and the world are going in the direction of socialism. The position that America occupied in the world is going down. You've all heard the Strong Korea lecture, so you see that another force is growing stronger. This is a force that does not pursue freedom. Instead it pursues strength and power -- not power that tries to give freedom to other countries, but power that has the character to try to take away the freedom of other countries and other peoples.
We see that the force of China is different from the force of the United States. China is not a country that will sacrifice itself in order to give freedom to other countries. If the 21st century were to be dominated by that kind of a force, then this will be a very dark century. It would be a world that is under an oppressive force, very different from the United States. Until now the United States has protected Korea and Japan. Father was always telling America that it had to fulfill that responsibility, and America did that.
In the current situation the United States is drowning in debt. The government is growing larger, and America itself is becoming smaller and weaker. It has a lot of debt and it is wasting a lot of money. As a result, America is becoming weaker, and as a result the world is becoming more and more dangerous.
The Growing Power of China
We saw last week already that what Father prophesied in 2005 is coming true: The island countries are now facing a problem in the Pacific. You remember Father's words of 2005, don't you, about the Pacific realm? He said that the island nations must be careful and must quickly come together, otherwise, large countries such as China and Russia may be able to take over such countries in just a day and make them their own. This is what Father prophesied in 2005. From 2005, Father was concerned about this kind of thing. We were not aware; we heard those words, and we couldn't understand what he was talking about.
If you saw the news last week, I'm sure you know what kind of thing is going on. We've prepared a number of slides. This one shows Chinese activists landing on the Senkaku Islands, saying, "Oh, this belongs to China." And Japanese activists have landed there saying, "This belongs to Japan." These are very small islands. This was last week. Because of these activities, the atmosphere within China is changing very much.
Let's go to the next slide. Now there are demonstrations going on in China as anti-Japanese feeling is growing. People are saying, "Let's fight Japan." They're turning Japanese cars upside down. This photo was taken in Guangdong last week. Something needs to be changed.
Religion Must Give Truth to Politicians
We are a religion, but we cannot just look at religion. This is what Father has always said. We don't just speak about spiritual things. In the ideal world, religion, politics, and economics must move together. Religion cannot just sit still. Religion is not just prayer and meditation. That is not all religion does in the ideal world. If politics goes bad, then in the ideal world religion in the Abel position needs to take care of that. If the world goes too much in the wrong direction, then religion must stand up and oppose that. That has not been done by religion until now because religion was under the government or was under a certain dictator. But in the ideal world it cannot be like that.
That is why Father has always told religious leaders that religion must challenge political leaders to say the right things, to give truth to the political leaders. This is how the world must go.
Last week we saw problems in the Middle East. You're aware of this, aren't you? Peace is not coming to the Middle East. Last week Israel's Prime Minister Netanyahu said that by September 25th the United States must make a decision; otherwise, because Iran is developing nuclear weapons and Israel is worried about this, there's a high possibility that Israel may attack Iran.
What kind of world are we living in? Are the citizens of Korea thinking about this, or are they just living comfortably? In the Middle East, there is a high possibility of war. It's not just fooling around. And if there's war in the Middle East, the United States will have to become involved. If the U.S. becomes involved, then probably Russia also will become involved because it has a lot of interest in the Middle East. If the United States becomes involved, other countries will not be able to stay still.
The First World War began with a very small conflict, and it developed into a world war. Why is it that modern people think erroneously that war cannot occur in our generation? We are going into a very dangerous and fearful time. It is not fooling around.
In the Principle, there is the prediction, the prophecy, that the third world war must come. It may be an ideological war, or it may be a hot war. But the direction that the world is going now is not the direction of an ideological war. This is a situation that is deteriorating very quickly.
Some religion, some faith has to stand up and fight for the freedom of the world. It has to shout out for the safety and security of the world. Some religion must stand up -- not simply standstill, but stand up -- and shout out for the ideal world of freedom. It must let people know how precious freedom is, how precious is the gift that God has given us. Until now humanity has lived like slaves under tyrants and dictators and we must not repeat that kind of history.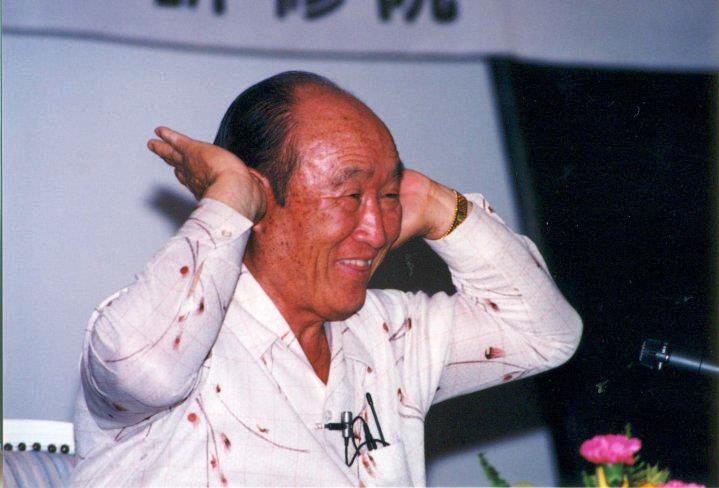 Father Is on the Cross
In this ominous age Father suddenly became ill. I was with Father for a year and a half, as you know. He would have colds and he would become ill, but I saw that he would recover very quickly. For maybe a few days, he might feel some difficulty, but a few days later he would come back to Hoon Dok Hae and be as strong as ever. I saw that continuously.
Whether he's in Las Vegas or wherever he might be, I often heard him say, "I'm going to live until 117," and I believe that. But why, suddenly, is Father suffering this excruciating pain now? As I said last week, 10 years ago in the United States Father had a serious operation, and the day he went into the hospital was the day on which the Iraq war began.
Who is the Lord of the Second Advent? He's the most precious existence to God. He's more precious than the entire cosmos put together. Now, when the world is going into an immensely dangerous time, why is it that Father again must take up the cross? This week, Father's pulse and oxygen saturation rate were stabilized, and we're grateful to God for this. People say, "Oh, I heard Father's improved a lot," but Father is still fighting.
The doctor said it this way. He said generally people might recover at a speed of 55 kilometers an hour, for example. Comparatively, Father might improve a little bit but the speed of his improvement is like five kilometers an hour compared with a normal person's recovery. So, Father is fighting day in and day out.
When the world is standing on the cliff and appears about to head into war, Father is experiencing this kind of pain. This week as we watched Father -- and if you've seen older people in the hospital, maybe you can understand -- in order to help Father's oxygen saturation and his breathing, a tube must go through his mouth. If that remains in the throat for too long, then it causes problems, so the tube had to be changed this week. Otherwise bacteria might get in.
In the past when we would go to see Father, we would see the tube in Father's mouth and there was a plastic part that covered the mouth. We had to change that, and it was extremely uncomfortable for Father. It was so painful for him that he bit down on the tube so hard that one of his teeth fell out. We took out that plastic part. It was very difficult for us to go to Father.
We've always seen Father being so strong, but now he is lying down, and the part covering his mouth is not there, so he has to keep his mouth open. Of course, he must be kept in a state of sleep because his situation is so painful.
This week the doctor will make a decision whether to keep the tube in Father's throat or to open a passage into his throat. Think about it. Throughout Father's life, he has given us God's word; he's always been active, always moving around. For almost two weeks now, he's been restrained because there are so many tubes in him. To keep them from coming out, his arms have to be restrained. Also, he cannot express himself in words. This is more difficult than the cross, greater suffering.
This past week as I have seen Father, I really feel that Father is on the cross. It is as if he's been nailed to a cross. Even Jesus was in that situation only for a few hours. But Father is in this situation day after day. This is not just our father. This is your father. He's the father of the world. You offered a lot of Jeong Seong last week, and I'm very grateful to those who did that. Members around the world are offering a lot of Jeong Seong. I'm receiving e-mails and other messages.
Really, we don't know what is going to happen. We need to offer Jeong Seong with greater effort. What's most painful for me is that I'm not able to do anything for Father. I'm not able to bring him water; I'm not able to talk with him in a relaxed way. I cannot talk with him about anything. There's nothing I can do for him, and that for me is the most difficult.
Jesus' disciples, as they saw him on the cross, felt helpless because they couldn't do anything for him. They wanted to do something for him, but they couldn't. In that situation the disciples denied Jesus. If Jesus had been on the cross for a long time, then the disciples may have said, "It's difficult for me; I'm in difficulty; why do I have to continue to withstand this situation?" But I'm sure the members of the Unification Church are not that kind of sons and daughters.
Yesterday, for example, we were able to see a photograph of Father's lungs. The right lung was not recovering, so we were concerned. But when we compared the photograph with one taken two days before that, the doctor showed us that the right lung had not been recovering, but yesterday there was some oxygen getting in through the right lung. But he's still in the ICU, and it's still very painful for him.
Truly we must give more power and strength to Father. We must offer Jeong Seong together for that.
(End of audio)