| | |
| --- | --- |
| | The Words of Hyung Jin Moon From 2012 |
The Time in Which God's Ideal of Creation Is Realized
Hyung Jin Moon
January 23, 2012
New Year's Address
President of Unification Church International
Translated by Tossa Cromwell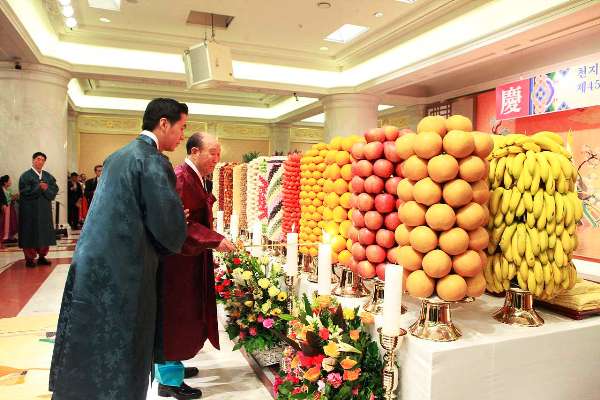 I pray that your families will be overflowing with God's love in the new year of 2012, the year of the Black Dragon.
As you know, the year 2012 has been foreseen as the end of days since ancient times by many books of prophesy and prophets. However, according to the Divine Principle revealed by the Rev. Sun Myung Moon, the end of days does not refer to the end of the earth and of all humankind.
The end of days, or the Last Days, is a time in which the world of evil and sin under Satan's dominion changes to a good world under God's dominion. From the viewpoint of the world of evil and sin, it is truly an end of days, but from God's point of view, it is a time in which the ideal of creation can be realized and the proper Garden of Eden will begin.
What is especially important about 2012 is that it precedes Foundation Day, which will occur on January 13, 2013. Foundation Day will be the origin of a new age. In the Unification Church, we have the teaching, "Perfect your dominion over yourself before wishing for dominion over the universe."
We have to be first faithful to the basics in order to do important and great work. In other words, we need to train in earnestness in order to unite our minds and bodies. Once we have dominion over ourselves, then it is possible to find harmony in the family, balance in society, national unification and world peace.
In this new year, we will work to create true families, true nations and a true world, the ideal world that God intended for us. We wholeheartedly wish that your year will be overflowing with God's love. Thank you.