| | |
| --- | --- |
| | The Words of Hyung Jin Moon From 2011 |
Hyung Jin Moon's visit to North Korea
December 16, 2011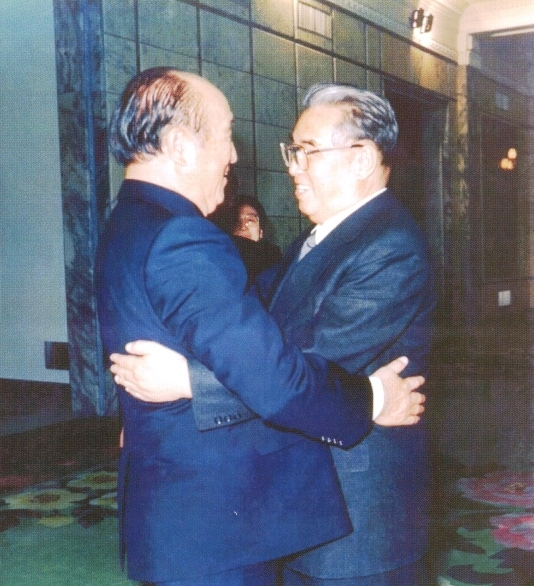 Father met North Korean president, Kim Il Sung (born Kim Song Ju in 1912, died 1994) on December 6, 1991. Kim's son and successor, Kim Jong Il, who was leader of North Korea under the title chairman of the National Defense Commission, died on December 17, twenty years after Father was in North Korea and one day after Hyung Jin nim returned to Seoul from his first visit there. Kim has been succeeded by his youngest son, Kim Jong-un.
At True Parents' request, the international president Hyung Jin Moon and his wife Yeon Ah nim recently travelled to Pyongyang, North Korea, on their behalf. They arrived on December 9 and returned to South Korea a week later, in the early afternoon of December 16. They were accompanied on their trip by True Parents' special assistant Peter Kim, Pyeonghwa Motors president Sang Gwon Park, and Hyung Jin nim's personal assistant Seung Ryung (Ken) Doo. A group of senior Japanese members had coordinated a visit North Korea at the same time and were among those who welcomed Hyung Jin nim, his wife and their entourage when they arrived at the airport in Pyongyang.
The visit was to mark twenty years since the historic meeting between True Parents and the late North Korean leader Kim Il Sung, at the presidential palace near Hamhung. The city of Hamhung is adjacent to Hungnam, the location of the fertilizer factory where Father was a political prisoner in the first years (1948-1950) of Kim Il Sung's government. In a statement to the Chinese press on True Parents' return from the 1991 meeting, Father stated, "No one can claim more justification than I for harboring feelings of ill will against North Korea. I received severe persecution from the current government of North Korea because of my position as a religious leader and my unswerving anticommunist principles. I was tortured harshly and then imprisoned for nearly three years in a labor camp." Yet, in a triumph of a principle he lives by "to forgive, love and unite," he went on to say, "I entered Pyongyang this time as an apostle of peace. My firm conviction is that under no circumstances can we have another war on the Korean Peninsula that pits the people of Korea against one another."
During their visit, Hyung Jin nim and Yeon Ah nim stayed at the Moranbong Presidential Guest House in Pyongyang, where True Parents had stayed twenty years ago. The Korean Asia Pacific Peace Committee (KAPPC) hosted a welcoming banquet for them and those who accompanied them.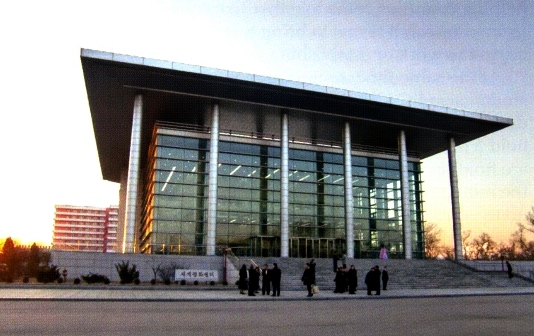 The World Peace Center includes our Pyongyang Church, at which members (mainly Japanese) living in Pyongyang worship on Sundays.
In a report to True Parents dated that first evening, Sang Gwon Park wrote, "The director of KAPPC came in person to accompany Hyung Jin nim and Yeon Ah nim in their vehicle. Mr. Dong Yeon Won, vice-chairman of the KAPPC, came and joined the delegation for the dinner welcome banquet. Mr. Won told us that for our visit, 'National Defense Commission Chairman Kim Jong Il made all the arrangements and made the national welcoming hall available to them as well as providing government cars."'
Describing the atmosphere of the banquet as congenial, Mr. Park added, "Many references were made to what you had said twenty years ago. Vice-Chairman Won said, 'I can never forget President Sun Myung Moon. I send my respects to him in consideration of his continuous efforts to bring about the unification of the Korean fatherland and world peace, especially through sending his beloved son to North Korea on the occasion of the twentieth anniversary of his visit.'" Concluding his description of the warm welcome, Mr. Park wrote, "Everyone stayed late at the banquet. Even though they were tired at the end, before they retired to their rooms, they thanked you for sending the delegation and blessing them."
This modern-day visit to North Korea included stops to pay respects at a statue of Kim Il Sung and a visit to Mangyongdae, birthplace of the Great Leader, the title with which North Koreans honor Kim Il Sung.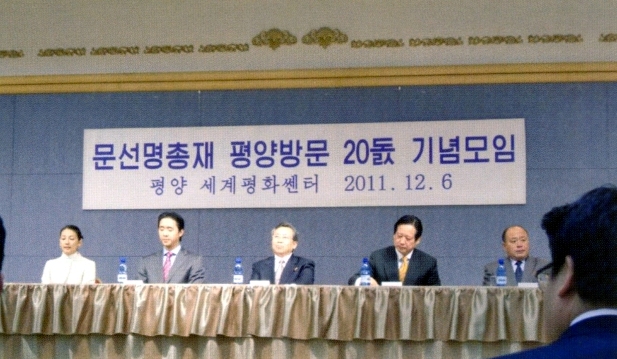 Hyung Jin nim, Yeon Ah nim and Sang Gwon Park (second from right) at the head table. The banner reads, "Meeting to Commemorate the 20th Anniversary of President Sun Myung Moon's Visit to Pyongyang."
There were two other hometowns that the son of Rev. and Mrs. Sun Myung Moon surely felt a strong calling to visit -- those of his parents. That wish was fulfilled. The party visited Anju, True Mother's birthplace, northwest of Pyongyang, and then continued in the same general direction for another hour to Jeongju, True Father's hometown. The area where Mother's childhood home was situated and where she played as a little girl is now occupied by an apartment complex. In contrast, True Father birthplace and boyhood home is still standing and still nestled in a rural setting.
This time we were able to see inside the house, through a video of the interior that was played at Sunday service, with Hyung Jin nim's personal commentary touching on all aspects of the house. He also shows us the surrounding area, conjuring up an image of Father as a young boy at one with nature and growing in his awareness of God's love. The video includes Hyung Jin nim's touching personal words to his father from the old homestead, and his uninhibited on-camera declaration to all that this is the birthplace of Christ.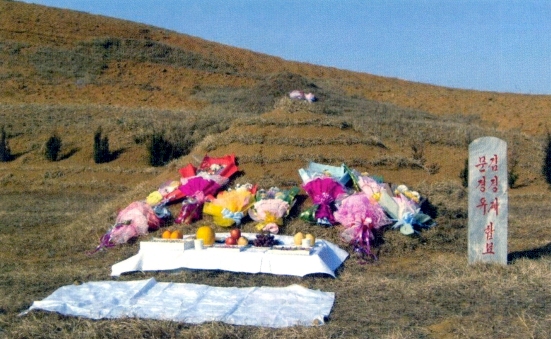 A ceremony to honor True Father's parents, Kyoung Yoo Moon and Kyung Gye Kim, was held at their graveside
The Japanese members' group met up with the international president and his wife at True Father's birthplace. The party then visited the nearby graves of True Father's parents -- Hyung Jin nim's grandparents -- Kyung-woo Moon and Kyung Gye Kim, who passed into the spirit world long before Hyung Jin nim was born.
Following time-honored Korean tradition, Hyung Jin nim and Yeon Ah nim placed flowers on the graves and offered cups of a local beverage on a small altar. After offering a full bow and praying for some minutes, they poured the liquid from the cups around the perimeter of the burial mound, symbolizing serving True Father's parents directly.
According to South Korea's Yonhap News Agency, a celebration of True Parents' visit to Pyongyang was held on December 11 at the World Peace Center in Pyongyang. The actual date of Father's meeting with Kim Il Sung in 1991 was December 6.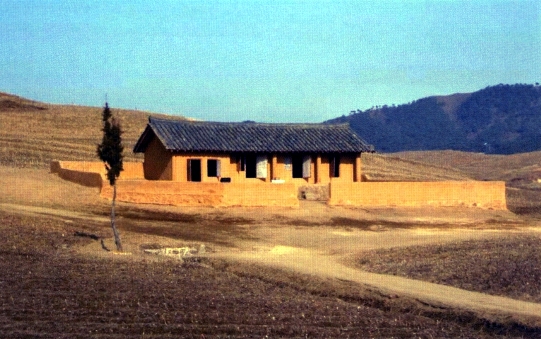 True Father's birthplace stands against a backdrop of rolling countryside in North Korea.
On December 15, Mr. Yong Nam Kim, president of the Presidium of the DPRK's Supreme People's Assembly and our international president had a cordial talk at the Mansudae Assembly Hall, where the Supreme People's Assembly meets. Pyongyang TV news was reported to have shown them in conversation.
Arriving back at Incheon International Airport, the following afternoon, Hyung Jin nim stopped in the arrivals area to greet leaders in the Korean church and of providential organizations who had gathered to welcome him. Within a few seconds he was surrounded by Korean journalists and cameramen that had been waiting for him. After Hyung Jin nim made it clear that this wasn't the right time to speak to them, he and Yeon Ah nim walked quickly to an exit, stepped into a plain black car and were driven away.
Just days after their return, Hyung Jin nim sent the following tweet: "News of the sudden death of National Defense Commission Chairman Kim Jong Il has surprised the entire world. Let us in the Unification Family gather the power of our Jeong Seong and prayer for the sake of the peaceful reunification of North Korea and South Korea desired by God and True Parents. Aju."