| | |
| --- | --- |
| | The Words of Hyung Jin Moon From 2011 |
Interview of aunt Ho Soon Moon - True Father's Youngest sister – Hyung Jin Moon
Sang Gwon Park
December 14, 2011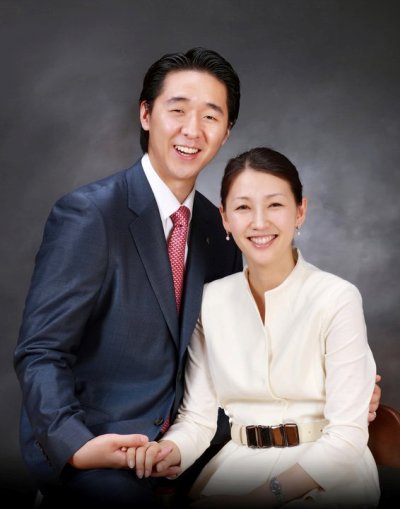 Hyung Jin Moon and Yeon Ah Moon May 2011
On the 20th day of the 11th moth of the 2nd year of Cheon-gi (Dec. 14), Mr. Sang Gwon Park interviewed aunt Ho Soon Moon, True Father's youngest sister at Botonggang Hotel, joined by Hyung Jin Nim, Yeon Ah Nim and Dr. Peter Kim. The following is extract from the interview. (This is from a video clip of Peace TV. Katsumi Kambashi)
Aunt Ho Soon Moon first asked to tell Father to make his efforts for the unification of the Korean peninsula. Then she said Hyung Jin Nim is tall, looks manly and resembles True Father. She also said Father was really good at catching fish and birds, explaining how he caught them.
When she was asked to talk about her mother, she repeatedly said, "My mother suffered hardships in order to let my brother study." She said, "When my brother came here, he said 'Because of me, mother went through many hardships,' and cried."
When she was asked to talk about her father, she insisted that the photo she had shown to Mr. Park before was her father's. But Mr. Park said True Father had said that was not their father's photo. She said her father looked like her uncle (Gyeong Bok Moon, elder brother of True Father's father) but that photo had been taken after her uncle died. (The photo they talked about was the one taken at the occasion of 60th birthday of Mr. Gyeong Bok Moon's wife.)
Mr. Park questioned why then True Father's father stood in the back in the photo who Mr. Park believed should be closer to her since she is his sister-in-law. Then aunt Ho Soon Moon said her mother and her aunt (Gyeong Bok Moon's wife) had a problem between them at that time and therefore, her father went to the celebration without her mother's notice, and stood far from her aunt when the photo was taken. Aunt Ho Soon Moon said her uncle and her father looked similar but that was definitely her father in the photo. Also aunt Ho Soon said if the person was her uncle, he should have been seated with her aunt in the photo.
She said "My father died at the age of 60." When she was asked about the reason, she said because of asthma.
She said "when my brother visited us during his study at Waseda university in Japan, he bought bananas and oranges for us. I remember that as if it had happened yesterday."
When Hyung Jin Nim asked her to give her message to True Father, she said "Please make efforts for the unification of our country at the earliest time. I ask you for that and I am so sad since the unification has not been done yet. (To Hyung Jin Nim) Please tell your father that I sincerely ask him to make efforts for the earliest unification as possible."
When Dr. Peter Kim said Hung Jin Nim and Yeon Ah Nim have five children, she asked "Five sons?" and Hyung Jin Nim answered "Four sons and one daughter." She said "You have done it well!"
(Everybody laughed.) Then Yeon Ah Nim asked her how to raise children well, and she said "You seemed to have raised your kids well." When aunt Ho Soon Moon was asked by Mr. Park her impression of Yeon Ah Nim, she said "She looks very smart," and then said to Hyung Jin Nim "You got a good wife." Hyung Jin Nim said "My father chose her and told me to get married with her."
Then Hyung Jin Nim said to aunt Ho Soon Moon "My father told us to make a soccer team having 11 children." When she said five children were enough, Hyung Jin Nim said "We made a basketball team." Then she said "Five children are good, not too many, not too little." Hyung Jin Nim said "The eldest is now 14 years old and the youngest is six years old." Then she asked "Then how old were you when you were married?" Hyung Jin Nim said "I was 18 years old." Then she said "Here people get married when they are 25 years old." Then her son said to her "Their custom is like that of old days." Then Hyung Jin Nim said "For us, when my father tells us to get married, we get married. When he tells us to wait, we wait." She said with smile, "So you obey your father's words."
Hyung Jin Nim and Yeon Ah Nim took a photo with Aunt Ho Soon and she sang a song for them. She sang very well.