| | |
| --- | --- |
| | The Words of Hyung Jin Moon From 2011 |
How we educate our children on the Unification Principle
Hyung Jin Moon
November 22, 2011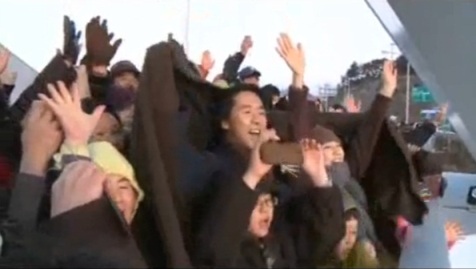 Hyung Jin Moon, December 2010
This is from a series of five tweets from the Twitter account of International President Hyung Jin Nim and Yeon Ah Nim in response to a question on how the International President's couple educates their own children on the Unification Principle.
We teach the Four Great Realms of Shim Jung, and find ways to do this in the context of our children's daily lives. On the Shim Jung of Parents, we make sure our children, no matter how busy they may be with school and other matters, greet their grandparents (True Parents) in person at least once a week. (We have them sing for True Parents and offer them presents such as letters and pictures.)
Showing the children how well we live as husband and wife is truly important for them to prepare for their own future Blessing. Practicing the realm of Shim Jung in which husband and wife express our love for each other teaches the children to want to receive the Blessing.
On relationships among siblings, we often have our children recite the following phrase: "We are happy because we have each other!
Finally, skinship between children and parents is truly important. When the children wake up in the morning, they offer kyung-bae to us. Thank you, Thank you, and they kiss us three times: on the forehead, right cheek and left cheek. We do the same for them.
When Hyung Jin Nim feels himself growing distant from our growing daughter, he will massage her for about 15 minutes before bed time on her head, back, abdomen and feet. Isn't he a wonderful father? Also, whenever the children return to the home, they offer a kyung-bae before a photograph of True Parents and always establish the Principle before meals.