| | |
| --- | --- |
| | The Words of Hyung Jin Moon From 2011 |
Rev. Hyung Jin Moon Makes Courtesy Call to Women's Advocacy Group in Las Vegas
Ariana Moon
August 12, 2011
Executive Director of Safe Faith United Rebeca Ferreira accepts the $10,000 check that was donated to her organization to help fight domestic violence. Rev. Hyung Jin Moon, president of the Unification Church International, recently visited Safe Faith United, an outreach organization that provides counseling and education for women who have escaped from domestic violence. Rebeca Ferreira, founder and executive director of Safe Faith United, met with Rev. Moon on August 12, 2011 and gave a short briefing on the facilities and programs.
"We were so honored to have Rev. Hyung Jin Moon and his wife, to have the opportunity to speak with him one-on-one, and to let him know about the problems at hand," said Ferreira. "We need to work together on behalf of humanity. We have to make sacrifices to better the life of other people, and this is the sort of attitude humanity is lacking right now. Between 1996 and 2008, approximately 360 women have been lost to domestic-violence homicide in Las Vegas, and that's too many.
"We have an academy for the defense of human rights called Justice Without Frontiers, which trains people to become victim advocates, and we are the only such academy in Las Vegas," she said.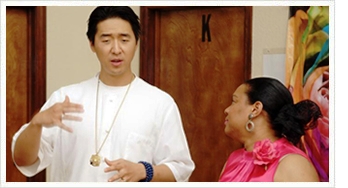 Safe Faith United was one of three charities to receive donations from the Unification Church's charity slot tournament, which took place at the Aria Resort in Las Vegas on May 21, 2011. Rev. In Jin Moon, president of the Unification Church USA, said the idea was to uplift Las Vegas's reputation from that of "a city of sinning to a city of giving."
The two other recipients of donations, the Salvation Army and the Galilee Camps, which provide children a chance to experience a summer camp on the shores of Lake Tahoe, received $50,000 and $10,000, respectively.
Ferreira explained that her organization used the $10,000 donation to pay six-months rent for office space and to buy computers and a television to teach technological skills to women.
"We are truly grateful to Rev. Sun Myung Moon for remembering and helping those who live in the dark shadows of our society," Ferreira said. "The newly bought computers and television set will serve as windows of communication for those who are estranged from the society and will give them hope and a sense of belonging."