| | |
| --- | --- |
| | The Words of Hyung Jin Moon From 2011 |
Let's Send Our Love And Energy To Our True Parents
Hyung Jin Moon
March 27, 2011
Cheon Bok Gung, Yongsan Seoul Korea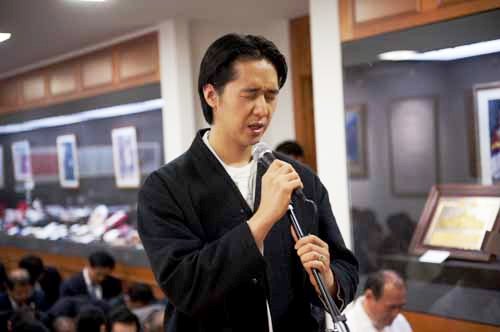 Hello brothers and sisters! Now I am at the Hannamdong Training Center. As you know today we have to head directly to the airport. True Parents are in the US and we will return with them probably on Monday.
As you all know, True Parents now are leading many, many providential activities and it seems that they need much love and support at this time.
When True Father led Hoon Dok Hae, he mentioned something like this (that was the day we returned to the US after a long while): During Hoon Dok Hae, True Father said, "My son is coming! My son is coming! My son is coming!" Three times with tears. When we heard about it, my heart really hurt. I felt I was really a sinner among sinners.
I was really sorry that I couldn't be with True Parents when they felt so lonely. I understood why he continuously calls us. True Mother also came out to see us, and True Father got upset at Hoon Dok Hae as well saying, "There are only thieves around me." When I saw him getting upset like that, I felt, "Ah, his son has to be beside him." I really felt it.
So even though we cannot be with you, members, your Father and Mother are close to you. Also, because of our True Parents we all can go in front of God, so if True Parents are having such lonely feelings, I have to be beside them and send much love and strength to them in your place. Therefore, True Parents felt very happy. It was hard work for us to go back and forth, but because they really liked us doing that, they gained much strength from that and really felt joyful and cheerful, so I realized definitely, "Ah, we should be with True Parents."
Last time when True Father called us and we went to the US, strangely when we were returning to Korea and I closed my eyes to take a quick rest, True Father appeared in my dream. In the short moment of my quick nap, True Father appeared in my dream. From that, I realized True Father was calling me not only physically but also spiritually. I also learned that True Father needs lots of love and strength spiritually. On that level, True Father leads an incredible providence, but I realized how much of a huge burden it is and what a lonely course it is. I really felt that.
Brothers and sisters, True Parents need much love and strength at this time. Therefore let's send lots of vibrations of power and energy to them all together.
Now is the time when we really should love True Parents all over the world. Ultimately, True Parents are in the position to love all people of the world, but if no one sends energy and love to them, True Parents will be tired and burdened.
Therefore, now members all over the world are starting to send the Chambumonim Eog Mansei vibration and much love to True Parents. When we are beside True Parents, we feel many things. This time when we went to the US, True Parents gave us many words. Especially on the day we were arriving, True Father shed tears and said, "My son is coming! My son is coming," three times during Hoon Dok Hae. On that day, when we arrived, even True Mother came out to meet us, and I felt pain and I felt sorry in my heart.
We really felt that we are sinners among sinners. During the past three years, our Korean church has made much effort and overcome many challenges, but as international president, I couldn't give strength and love to True Parents, and be beside them. True Father recently feels very lonely and has said things like he can't believe anyone or that there are only thieves around him. From that, I feel that he needs lots of love during this time.
Thus, we have to go to the US, and we have to send lots of strength and love to True Parents, remembering to have a clean heart, mind, and motivation.
When I think about these things, I especially think of these words in the Bible: In the Bible it says your body is a holy temple. A very important thing is what kind of temple or sanctuary it is. Is it a place God dwells? Or a place God does not dwell? Both are temples, but it's totally different whether God and holy spirits dwell there or not.
That's why, brothers and sisters, in fact, it doesn't start from others, but if we truly hope to have a church that repents, a church filled with the Holy Spirit, a church full of love, then we should begin from our own temple, from here -- the heart.
Starting with this temple, whenever we do the Holy Spirit Healing Service, we die once, and feel the grace of being revived again. When do we feel grace? It's when we have a truly pure motivation and heart and send love -- when we become a kind of repentant temple, a temple that loves God and the son he sent. When we become that kind of a grateful temple, our Cheon Bok Gung can also become that kind of a temple.
So, the problem is always not with the other person, or the other country, but we must start from this temple. When we realize this and start thinking in this way, it is so very important to look at ourselves honestly.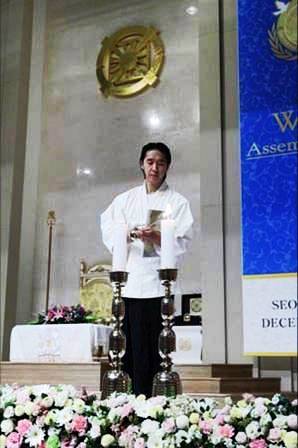 I recall that I was truly grateful about Buddhism. While I was in training and living with other religious students, I received a very valuable teaching. It teaches that all human beings are only a lump of flesh, blood and body waste (or feces). When people hear this for the first time, they wonder why such an expression is used. But if we honestly look at ourselves, that's right. We have flesh, and blood circulating, and the food that we're digesting. Many people like to think that they can go before God, because of 'myself,' they want to pride themselves in how much they did, because of my efforts, my good acts. Whenever we feel that way, as Buddha said, if we think that we are just a lump of blood, flesh and waste, then we can't be boastful. I myself have nothing to boast about, but I can stand before God because of the grace of God, and we have to be people who can pass on this kind of love.
The other day I was reading Cor. 13:4 and St Paul says many things: Even if I speak in the tongues of angels, if I do not have love, it's no use. And, if I have a faith that can move mountains, but do not have love, I am nothing. Or, if I give all I have to the poor but do not have love, I gain nothing.
Many people are confused by this quote. We think St Paul is saying we should all love each other, as human beings. But that's not so. He is talking about the love of Christ here, the love with which we love God. In other words, even if we speak of angels, if we cannot love God and the True Parents, the son that God has sent, we are nothing. And even if I have faith that can move mountains, if I cannot love the son sent by God, and love God, then it's nothing. Even if I give all I have to the poor, if I don't love the son, it's of no value. That's what it means.
In the end, we are not going to learn about True Parents' heart from the love between humans and humans. It's very ironic. I went to Japan this time and told the members, under such conditions, we may think that we have to love each other first. However, in such a crisis, ironically perhaps, we must love True Parents even more -- the son that God sent. Due to the sacrifice and indemnity of that son, his blood, we are able to go before God. So remember that I am a sinner before God, I am a lump of flesh, blood and waste, and realize, at this time, that I can go before God because of the grace of the son He has sent.
It may seem ironic but if we can really come to love True Parents, the son that was sent, more, then we can learn about true love -- the heart of the parent who dies and dies and dies for his child. We don't learn this by loving one another. We learn it by loving True Parents more. What sacrificial love is, we learn by meeting True Parents. We come to learn what forgiveness is by loving True Parents.
It's truly ironic, but we should learn first how to love True Parents, before we love each other, and then we can know how to love each other. That is why Jesus' first commandment is to love the Lord thy God. Next, he says love your neighbor as you love yourself.
This is the truth. That is why under these conditions, seeing that True Father tells me to be by his side, I realize that I am a sinner among sinners. We in the Korean church have done much, but I kept True Parents lonely. So now the Korean church has grown a lot, and with many leaders now the church can be even more mature. As the International President, I feel that this responsibility of loving True Parents is the most important thing.
Myself, when True Father kept calling me to come to the US in the beginning, I was in this country and that country, and it wasn't easy. But thinking about this, I had to repent. Ultimately, we have to repent from this temple, right here. The Holy Spirit has to fill this temple, and if it can become a temple full of love for the son that God has sent, then I believe that the Unification Church will be filled with the grace of the Holy Spirit.
Brothers and sisters, today we are going to the US, but even if we are in a distant country, we can meet through Twitter (twitter.com/#%21/lovintp) and email. And we will see you each service through the videos we will definitely be sending. Even if I'm not there every day, from beside True Parents we will do our best to pass on joy to them and send them energy. Let's all of us, as Unificationists, become true brothers and sisters, and send much qi and love energy to True Parents!
So we will see you again, and do your best!
---
Notes:
1 Corinthians, chapter 13
1: If I speak in the tongues of men and of angels, but have not love, I am a noisy gong or a clanging cymbal.
2: And if I have prophetic powers, and understand all mysteries and all knowledge, and if I have all faith, so as to remove mountains, but have not love, I am nothing.
3: If I give away all I have, and if I deliver my body to be burned, but have not love, I gain nothing.
4: Love is patient and kind; love is not jealous or boastful;
5: it is not arrogant or rude. Love does not insist on its own way; it is not irritable or resentful;
6: it does not rejoice at wrong, but rejoices in the right.
7: Love bears all things, believes all things, hopes all things, endures all things.
8: Love never ends; as for prophecies, they will pass away; as for tongues, they will cease; as for knowledge, it will pass away.
9: For our knowledge is imperfect and our prophecy is imperfect;
10: but when the perfect comes, the imperfect will pass away.
11: When I was a child, I spoke like a child, I thought like a child, I reasoned like a child; when I became a man, I gave up childish ways.
12: For now we see in a mirror dimly, but then face to face. Now I know in part; then I shall understand fully, even as I have been fully understood.
13: So faith, hope, love abide, these three; but the greatest of these is love.