| | |
| --- | --- |
| | The Words of Hyung Jin Moon From 2011 |
Rev. Hyung Jin Moon To Visit Quake Victims in Japan
March 18, 2011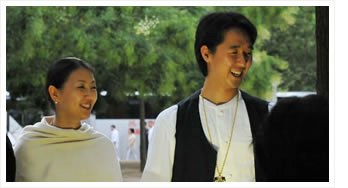 Rev. Hyung Jin Moon, President of the Unification Church International, is scheduled to arrive in Japan on Saturday, March 19, 2011 to meet directly with, and offer money to, Unification Church members who are in need after the Sendai earthquake, Familyfed.org has learned.
He is expected to visit the Miyazakidai Training Center located in Kawasaki City, Kanagawa Prefecture, to meet members who have relocated there after being evacuated from the affected areas, according to Tim Elder, a public affairs staffer at the Tongil Group in Seoul.
Rev. Moon is scheduled to arrive in the city of Aomori, in the northernmost part of Honshu Island, on Saturday and travel by car as close to the disaster scene as non-emergency personnel are allowed.
On Sunday, March 20, 2011, Rev. Moon is expected to hold a service at Japan's headquarters church in Shibuya, Tokyo. While there, he likely will present checks for disaster aid to the church in Japan from the Korean Unification Church, as well as money from the Cheon Bok Gung congregation, to help members who need assistance. In addition, he is expected to present a donation from his parents to disaster-relief authorities in Japan, according to Mr. Elder.
Additional funds are being collected by Unification Church organizations around the world.
Contributed by HSA-UWC Staff