| | |
| --- | --- |
| | The Words of Hyung Jin Moon From 2011 |
A testimony to Hyung Jin Nim in Hong Kong
March 3, 2011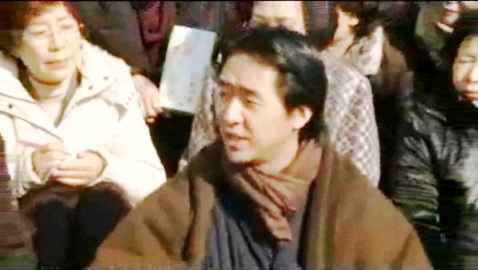 I like to Share the experience of Connie in Hong Kong with International President. She is sister from Philippines blessed with Peter from Hong Kong. She stayed in Toronto for some times as a missionary.
Did you watch Hyung Jin Nim Service on Jan. 23, 2011?
I am there with Hyung Jin Nim and Yeon Ah Nim, right in front of them. After the calligraphy writing inside a very small room, Hyung Jin Nim called members to take picture with them. I was asked to go inside the room and there Yeon Ah Nim pulled me to stand in front of her with Hyung Jin Nim and then some members and leaders took picture together. After the picture taking I received a big hug from Yeon Ah Nim. It was such a beautiful experience being with them..
Peter was Hyung Jin Nim's translator to Chinese during the Ambassador for Peace Welcoming Party. It was such a great honor he received to be able to translate for Hyung Jin Nim. (Of all the Chinese members I don't know why he was chosen to be the translator)
They are very natural, humble and pure. One Ambassador for Peace commented that they are so divine and pure couple. They wanted to be treated humbly... they even sat on the same floor we had to sit on, the tea served to them was just simply on the floor during the Hoon Dok hoe. Our center (headquarters is very small. the size of the hall is like the size of the kitchen at Toronto headquarters. perhaps a bit longer in size and shape so we all had to sit on the floor to accommodate everyone. It was a memorable experience to watch how they do their family visit. There was a draw lot to choose the family whom they will visit before they arrive. The family they visited is very lucky because each member of the family was written a calligraphy by Hyung Jin Nim. I think such visit will be carried on as a legacy to their tribe generation after generation. I could witness to it too. This couple is French-Chinese with three children.
Before they left at the airport, a few of us were there to say good bye. By the way, after he gave the first Hoon Dok Hoe service, they went to have their breakfast at McDonald's nearby our center. There he talked again like it was a service… they call it the Sermon in McDonald's. then when we were at the airport, he was giving again another Sermon at the airport... just before they enter the Departure area, I suddenly shouted. "Chambumonim Eog Mansei " and he turned to me, looked at me with so much power in his face and raised his hand and drawing the energy from his hand to me. I was so happy I didn't know what to do because he didn't put down his hand right away, so I went to put my palm on his palm to receive the energy.
Rev. Thillai, their visit is like God coming to visit each one of us. Every family had a picture taking with their couple. This is just a glimpse of the experience we had with them. Yeon Ah Nim spoke on the third day of their stay during Hoon Dok Hae. She said that in every country they visit, he always look first, " where is China town here? " and when he arrived in Hong Kong, he looked again for China town, and his wife Yeon Ah Nim said, " Appa, the whole Hong Kong is China town." There is a Muslim mosque near our headquarters and the leader there is an Ambassador for Peace in Hong Kong. they were warmly welcomed at the Muslim mosque.
They also went to see the biggest Buddha statue in the world. This time, we have a new leader, Chinese-Korean couple assigned by Hyung Jin Nim. They had been living in Korea for 10 years. New leadership means new fresh air, fresh spirit. Rev. Hwang remains the National Messiah and Boon Boon Wang to China.
Well, Rev. Thillai, we do the Holy Spirit Healing 3 times a week in the church. But I do it in the house every 6:30 pm in Hong Kong which means 7:30 pm in Korea. that's the time they do the chanting there (as Hyung Jin Nim invited us to do the chanting same time in Korea...it means 6:30 am in Toronto.
Rev. Thillai, I have to go now. it's almost 1:00 am.
Best regards to Canada family.
Connie