| | |
| --- | --- |
| | The Words of Hyung Jin Moon From 2010 |
10.14 Blessing Ceremony Based on the Completion of the Settlement of the True Parents of Heaven, Earth, and Humankind
Hyung Jin Moon
October 10, 2010
Excerpt from Blessing Address
Sun Moon University
Asan, Korea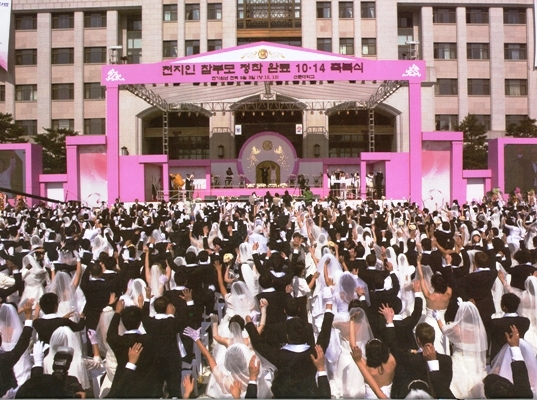 Through this holy ceremony, all of you are here today, as good men and women, pledging anew, receiving the grace of True Parents' special blessing amidst the joy of heaven and fervent wish of countless ancestors in the spirit world, to create families that practice true love.... Please understand that the reason you can take part today in this blessed occasion is because of True Parents' life-long commitment, and enduring true love and parental heart that has brought them through trials and ordeals, and through inexpressible sacrifices....
On their path, as they were investing themselves for the salvation of humankind, True Parents encountered Satan's indescribable temptations and innumerable obstructions. In that prison camp environment, where people were tortured and forced into labor that exhausted their body completely, and where people starved to death each day, Rev. Moon did not focus on his own well-being. Instead, he shared the meager food that he had with others, and conveyed Heaven's teachings. As a result he raised twelve disciples. Worse than the physical misery was the spiritual struggle against Satan. This was similar to the spiritual pain that Jesus suffered on the cross at his untimely death. True Father put his physical and spiritual life on the line to go to the bottom of hell not once but numerous times in order to bring Satan to submission and to guide humanity to the path of salvation....
Therefore, the ceremony today is not simply one of celebrating the marriage of good men and women. It is a serious ritual of conveying the heart of a parent through the true family ideal which God wanted to realize through all people since the beginning of time. Please remember, that True Parents who are here with us today for this ceremony, have walked the path of death countless of times and safe-guarded God's altar.