| | |
| --- | --- |
| | The Words of Hyung Jin Moon From 2010 |
Hyung Jin Moon Gives Advice for Parents and Families in France
Jean-Francois Moulinet
August 27, 2010
UPF-France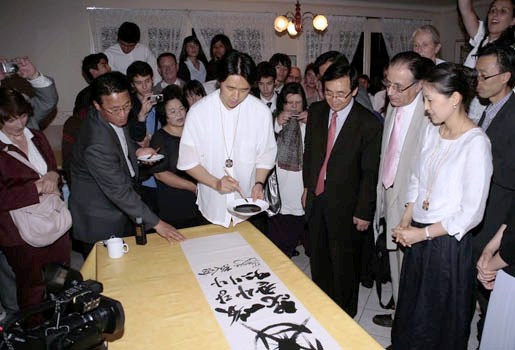 Paris, France -- Rev. and Mrs. Hyung Jin Moon and their party arrived in Paris from Italy on August 26. They went first to visit the family of Tony Yuen, who died in a bus accident while returning home with a group of young people from a spiritual training program the Netherlands.
In the home of Jacky and Emiko Yuen, Hyung Jin Moon described how the passing to the spiritual world of his elder brother Young Jin changed his life completely. He asked Jacky and Emiko to list three good points about each other and about each of their children.
He explained that the moments a child will remember the most are the moments that spent individually with his or her parents. So he asked the parents to spend at least one hour per the week personally with each child. Among the suggested topics of discussion are what the child wants his or her parents to pray for, and what the parents want the child to pray for.
After a quick lunch, they went by train to Lille in the north of France to visit Tiffony Maldonado, who is still hospitalized from her injuries in the bus accident. Hyung Jin and Yeon Ah Moon held her hands and prayed with her and afterwards spoke in depth with her parents in the waiting room. Returning to Paris, they prayed near the Eiffel Tower.
The following morning, Hyung Jin Moon guided the morning meditation and exercises at 3:00 am and addressed the 120 people who gathered for 5:00 devotions. After speaking about the importance of prayer life, he and his wife had photos taken with each family present. Then he drew a beautiful calligraphy to be hung on the wall of the UPF headquarters. On the way to the airport, we passed by historic sites such as the Invalides, the Champs-Elysées, the Arc de Triomphe, and the Palais des Congrès, where the Little Angels Korean Folk Ballet will perform on September 10.