| | |
| --- | --- |
| | The Words of Hyung Jin Moon From 2010 |
New Headquarters Church Building to Open in Yongsan
Hyung Jin Moon
January 4, 2010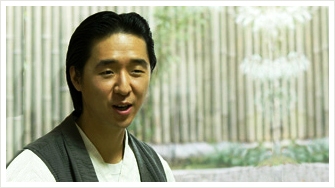 "In the new year, the Unification Church World Headquarters Church will move to Yongsan. Through this, the Unification Church will make a new leap forward," said Rev. Hyung Jin Moon on the occasion of the two-year anniversary of his appointment as head pastor of the Headquarters Church in Seoul.
In a press conference at the Seoul Koreana Hotel, in his capacity as the international president of the Unification Church, Reverend Moon outlined plans for moving the Headquarters Church (also known as the Cheon Bok Gung) to Yongsan (a borough of Seoul). The date for the opening of the new Headquarters Church building, which is the former Yongsan Borough Hall, is scheduled for this coming February. The current Headquarters Church building in Cheongpadong, Seoul, will be used by the Korean national church headquarters. There are plans to hold an international joint marriage ceremony of 14,300 couples around the time of the move.
He strongly condemned the "human rights violations that have taken place in Japan by those who persecute the Unification Church." He added, "there have been over 4,300 confirmed cases of illegal confinement, kidnapping, and forced conversion of Unificationists in Japan… Such oppression of religion violates human rights and should not be allowed in a democratic country." Japan is one of the major places that the Unification Church is active, with approximately 30,000 devoted believers. Reverend Moon firmly stated that the church will "take legal action to oppose these violations of human rights."
Reverend Moon, who is the youngest son of Unification Church Founder Reverend Dr. Sun Myung Moon, is seen as his father's successor. He was born in New York and graduated from Harvard University with a degree in philosophy.
About his father, Reverend Moon said, "(although he is 89 years old,) he is vigorous enough to give a 16-hour sermon… For the last 2-3 years, my father has been saying that he 'will take responsibility until Jan. 13, 2013' but it is unclear what he means exactly."
The above article appeared in the Korean Seoul Shinmoon newspaper. At least seven other media outlets in Korea carried this story as well.
Translation by Tossa Cromwell