| | |
| --- | --- |
| | The Words of Hyung Jin Moon From 2009 |
Hyung Jin Nim Officiates Over Blessing Ceremony for 1,000 Couples in Taipei, Taiwan
December 19, 2009
Translation: Tossa Cromwell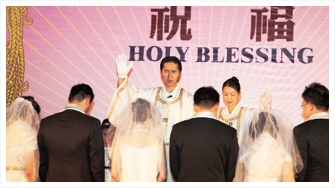 In accordance with True Parents' directions, Hyung Jin Nim officiated over a Blessing Ceremony at the Chungshan Hall in Yangmingshan National Park, Taipei, on December 19, 2009.
Chungshan Hall is a building made to commemorate Dr. Sun Yat-sen (Nov. 12, 1866 - March 12, 1925), who as the foremost pioneer of Republican China is frequently referred to as the Father of the Nation. Therefore, holding the Blessing Ceremony here has great meaning for the Unification Church of Taiwan.
The 700 couples who received True Parents' Blessing and the 300 people who received Spirit World Blessings completely filled the 1200 seats prepared in the Main Hall on the first floor and the 500 seats prepared in the Small Hall on the third floor of Chungshan Hall.
True Parents first went to Taiwan on September 28, 1965 to establish a Holy Ground. In 1967, True Parents sent the first missionary, Fukuda Sachiko, which was the beginning of the Taiwanese church.
Since then, the Taiwan church has been persecuted and oppressed. It operated underground for 16 years, from February 1975 to February 1991, due to a government order that the church cease its operations. In the days that the church operated underground, there were around 100 members. Once the church was able to operate again in February 1991, much witnessing was done on college campuses, with a result of 260 new members joining and participating in the 30,000 Couple Blessing in 1992. The number of members in Taiwan has continued to increase since then.
Many members received extra grace at this Blessing when Hyung Jin Nim read the Blessing Vows and the Proclamation of the Blessing in fluent Chinese.