| | |
| --- | --- |
| | The Words of Hyung Jin Moon From 2009 |
Introduction to In Jin Moon
Hyung Jin Moon
March 28, 2009
Las Vegas, Nevada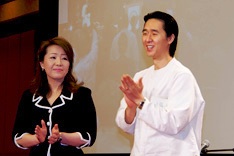 The following is Rev. Hyung Jin Moon's introduction of Rev. In Jin Moon on March 28, 2009, followed by her remarks before she read the Thirteenth Peace Message (A Providential View of the Pacific Rim Era in Light of God's Will -- The Way Forward: Vision, Family Values and Leadership for America and the World) to over 1,200 people at the Sonoma Ballroom in the South Point Hotel-Casino and Spa in Las Vegas, Nevada.
Brothers and sisters, family, district leaders, guests, ladies and gentlemen, thank you so much for coming out today. I'm so happy to see you here in this very special venue in Las Vegas. I have the real pleasure of introducing my sister to you. She will be the keynote speaker.
Before I get into that introduction, I'd like to just first briefly talk about a very special book. It is the autobiography of Father Moon, published by the top publishing company in Korea, Gimm Young Sa. There are now 2 million copies in print; within one week after publication, the book skyrocketed to being a best-seller. Let's give it up for Father and Mother Moon.
The book goes into tremendous depth about Father's life and the beginnings of his ministry. All the things that we have heard about him -- the teachings of True Family, true husband and wife, true son and daughter, True Parents -- stem from an incredible spiritual root. W hen he was a young child in North Korea, many different types of experiences and events led up to his revelation, with God coming down and asking him to receive his mission. It was so inspiring reading through this autobiography, seeing it written in Father Moon's own pen to describe some of the incredible experiences that he had when he was a young child.
At the age of 11, he was feeding homeless people in his own home, creating a shelter for them in the wintertime with his family. They always had a heart of service, shim-jung, of sharing and giving back to the community. When they left in the spring, Father would really yearn to see them again in the next winter. He says that in sharing a bowl of rice, he may have given them material sustenance, but they gave him and his family love, and that love has given him great strength throughout his entire ministry. Now at the age of 90, he has 12 active children, studying and also working in ministry and with different roles and responsibilities. He also has over 40 grandchildren. Truly a remarkable story.
Within this story is his own experience of being unjustly incarcerated, particularly in the U.S. prison in Danbury, Connecticut, in the 1980s. During that period of time, Father Moon, as you saw in the video, took the most humble position. He would scrub the toilets of the prison cells as a spiritual practice, in order to keep his prayer life active and to truly take the servant-of-servants position. In that experience, Father Moon taught our leaders and the various visitors who saw him there.
One of the incredible things that happened during that time was that many religious leaders from differing faith traditions stood up and began protesting on behalf of Father Moon and for religious freedom. Rev. Jerry Falwell, Dr. Joseph Lowery, and other notable religious leaders stepped up and spoke on behalf of Father and Mother Moon.
During this difficult time in the history of the Unification movement, there was an outstanding young woman leader who was fighting on behalf of this great spiritual leader. That young woman was hand in hand with the religious leaders such as Jerry Falwell, Dr. Lowery, and others, walking alongside them, speaking on behalf of religious freedom. After Father was released, she attended him as he resumed his ministry in America.
She went on to study at Columbia University, getting her Bachelor of Arts degree in political science and philosophy. She then went on to study world religions at the Harvard Divinity School. She is an incredible woman and a gifted leader. She is the mother of five beautiful children, who are in attendance today. The eldest son is at Edinburgh University, getting his undergraduate and graduate degrees in business studies. The second and third children are currently at Harvard University and are world-class pianists. Her younger children are on their way to tremendous success.
This woman is at the forefront of the Unification tradition. She has been recently appointed by Father Moon as the president of the American Family Federation for World Peace and Unity (FFWPU-USA), and she is also the CEO of FFWPU-USA. She is a passionate leader, a wise mother, a tremendous sister, a truly filial daughter, and an incredible woman.
Let's all rise to welcome our president of the FFWPU-USA, the Rev. Dr. In Jin Moon. Let's give it up for her.
In Jin Moon:
I am delighted to be here in Las Vegas with all of you, with such an illustrious gathering of men and women from all around the world. I feel quite privileged and honored, most importantly to have been introduced by my younger brother and the new spiritual head of our movement. He is doing such a phenomenal job in re invigorating the Second Generation of our movement and re inspiring the First Generation as well with his message of love, compassion, and healing.
I believe that it is with great insight and great wisdom that my father has chosen the youngest son of our family to be just that. He has always been called "Lovey" of the True Family simply because he was too pretty when he was a baby. I still remember my mother pushing the baby stroller with so much pride, as most mothers would. He was such a vision of love from the moment he was born. He has carried on that vision of love throughout his adolescence and his young adult life into his marriage with his beautiful wife. And he also has five children. W e have an ongoing joke in our family, asking ourselves the question, "Why is it that the ones with five children go into ministry?" But truly I am totally inspired by his work.
Today in attendance are not just Hyung Jin but also so many members of my family -- my brothers and sisters and the grandchildren. And in particular I'm so grateful to have Kook Jin, who's also my younger brother but also a financier extraordinaire who has single-handedly revitalized the financial foundation of our movement in Korea. With him in place as an incredibly strong backbone, the rest of us can be like the hands and the feet that can usher in and truly harvest everything that our True Parents have been working for and sacrificing for these many years.
As the chairman of the American Clergy Leadership Conference (ACLC) reiterated just a while ago, this year we celebrated the 90th birthday of my father, who has invited all of you to come to Las Vegas, which many call Sin City. It is truly in the style of my father to not sit by the sidelines but to plop himself straight in the center of everything and ask all of us to interject a bit of heaven into Sin City, into the culture and the entertainment world of Las Vegas.
He is asking us to re-imagine what has been called Sin City by asking us, Why not introduce something heavenly? Why not introduce the letter H? Instead of sin as a noun, why not introduce a verb, ING, and turn the Sin City into a Shining City? A city that does not have to hide in the darkness, but a city that can truly be infused with the light of the divine and with the beauty of what my parents have been living for, which is true love. We can turn the city of darkness into the city of light, a shining example of what America can be.
My father has always been a pioneer, ever since he was anointed by God to take on the mission of Jesus Christ when he was 16 years old. From that very tender age of 16, he has never, ever wavered in his dedication, his devotion, and his commitment and conviction to live for God and to truly usher in a world of peace.
As my father goes around the country talking about the Pacific Rim Era, he is also stressing the importance of women in leadership, which is the reason why he is pushing me and challenging all my sisters to step up to the plate and do many wonderful things on behalf of our Heavenly Parent.
This is the dawning of a new era, an opportunity that God has given us to rephrase or re-brand Las Vegas. We have an ongoing commercial nowadays that says, Whatever happens in Las Vegas stays in Las Vegas. My father is challenging all of us to re-brand that phrase ; if this city can re-brand itself as the Shining City of God, then it's no longer going to be a city where everything that happens here stays here. In fact, it's going to be a city where whatever happens is going to spread to all four corners of the world.
I am truly honored to be standing at this podium, and I know that my father would love to have been here with all of you himself, but he asked me to read a speech that he would like to share with all of you. I would like to take a little bit of your time to do just that. Thank you.