| | |
| --- | --- |
| | The Words of Hyung Jin Moon From 2009 |
A Prayer of Remembrance For Hyo Jin Moon
Hyung Jin Moon
March 16, 2009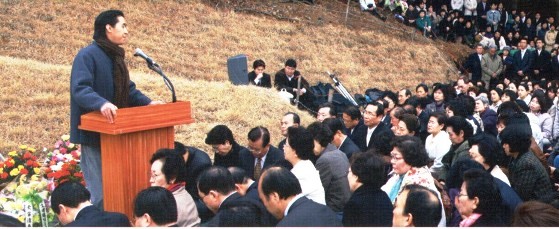 Hundreds of members attended the memorial service for Hyo Jin nim on March 16 (the day preceding the anniversary of his ascension) at the Paju Wonjeon, an hour's drive north of Seoul, near the border with North Korea.
Loving Father and the victorious True Parents of Heaven, Earth and Humanity: Heavenly Father, today is the day on which we remember Hyo Jin nim, Your beloved son and our eternal oldest brother.
Father God, Hyo Jin hyungnim was on earth for a short period, but he is our oldest brother, and he left an eternal legacy.
Heavenly Father, that legacy was love for the members who came after him, even those members he could not meet. This heart, Father, was our oldest brother's devoted heart and his heart as it resembles True Parents'. Heavenly Father, we ask that this heart become the eternal heart of our Unification Family.
Father, there were was much pain and suffering in Hyo Jin hyungnim's life, but ultimately he offered his body as a sacrifice in Your presence, for the sake of the True Family, and especially for the sake of True Parents....
Father, we humble ourselves in the presence of the heart of a devoted son and loyal subject. Heavenly Father, we are truly grateful. You have given us this day to remember again our wonderful older brother, so we ask that You teach us and guide us so that we never forget his precious heart.
Father, we ask You to guide us, so that all family members present here today may embody the humble heart of Hyo Jin hyungnim in our own hearts.
Father, we know that True Parents, who are now in a country far from here, are shedding tears as they remember today their first-born son, Hyo Jin nim. Father, we need to realize that True Father could not sleep for three nights and could not eat for three days after Hyo Jin hyungnim passed into the spirit world. Father, we need to understand how tormented our True Parents were as they shed tears filled with vexation in the presence of our older brother's sacrifice. Yet, Heavenly Father, our True Parents cast off that suffering for our sake, for the sake of Cheon Il Guk, and for the sake of the world, and they continue to walk toward Your will and to guide us on that path.
Father, when we think of this precious and brave person's heart -- a father that sets aside thoughts of his son, thinks of the son's sacrifice with gratitude, and then in the next moment turns his face to You and continues his journey forward -- when we think of this devoted heart, we are reminded again of how amazing Hyo Jin hyungnim was.
Heavenly Father, we are reminded of how much our True Parents loved our oldest brother. Father, we are truly grateful.
Older Brother, we are truly grateful. Because you are here, we can be strong. We know that you are not just in the spirit world and that you are by our side as we go about our work. Brother, we ask that you enter into the depths of the heart of each family member who is here now, that you pour your bravery into us, and that you lead us to become devoted sons or daughters, resembling you.
God, our Father, we sincerely ask that You pour Your abundant blessings upon the beloved blessed central families present here. Through this day, please guide us so that our hearts may be resurrected anew and we may be able to walk the path of filial piety traveled by Hyo Jin hyungnim and become able to inherit true love.
Father, we truly give gratitude... gratitude... gratitude. We return all glory to You on this day and to our beloved oldest brother and offer this prayer in the name of Moon Hyung Jin's family, a blessed, central family, and in the name of the True Parents. Aju, Aju, Aju.