| | |
| --- | --- |
| | The Words of Hyung Jin Moon From 2009 |
Progressing toward the Temple
Hyung Jin Moon
March 2009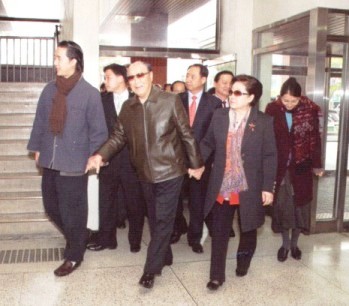 Question: We understand the Headquarters Church is moving to a new building.
Answer: Yes! We are moving to the Yongsan Citizens' Hall)
This is not the final World Peace and Unity Temple; this is the growth stage. Our church in Cheongpa-dong is the foundation level, and the building complex in Yongsan is the growth level. It will be able to bring the Unification Movement to the forefront of national attention for the first time. We are not yet at the world level. The perfection-level World Peace and Unity Temple, Cheon Bok Gung, will be a world- stage religious sanctuary. It will capture a worldwide audience.
The Yongsan Citizens' Hall, which will become our new Headquarters Church, will capture a national level of attention. It's going to show our palpable growth. It's going to show that the Unification Movement is putting roots down; it is starting to organize and become successful as a religious organization. There will be different facilities, including community rooms and prayer rooms for members to be able to do spiritual training practice and communal activities.
The sanctuary will be completely open to the public. It's going to bring attention to us nationally, and people will see the Unification Movement is growing. From there our task will be to witness a lot, bring new members, until that church is too small.
We will begin using it in about nine months, after it has been remodeled. The sanctuary is not yet ready. About two thousand people will be able to attend service there at one time. We have 6,700 registered members at the church in Cheongpa-dong, which is unmanageable now with its limited capacity. When we enter the Yongsan Citizens' Hall, we will be able to reach the goal of twenty thousand members.
When we have developed that strength of organization, we will be ready to move to the world stage Cheon Bok Gung.