| | |
| --- | --- |
| | The Words of Ariana Shin-Sun Moon (Park – daughter of In Jin Moon) |
Young Unificationist Volunteers To Do Relief Work In Japan
July 20 2011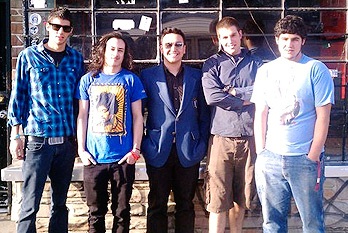 From left: Matt Holden, Wongil Dadachanji, George Burton, Jake Mas and Amiel Rodrigues pose in front of the Velvet Lounge in Washington, D.C.
Whereas many college students use their summers to save up for the upcoming semester, one determined young man has quit his job of four years and is on his way to Japan to join a team of second-generation Unificationists doing relief work for earthquake and tsunami victims. George W. Burton, the youngest child of Japan-born Keiko Burton and American-born Douglas Burton, tells Familyfed.org that these natural disasters brought his Japanese identity into focus and sparked within him a desire to help those in need.
"When the disaster hit, it really moved me, and I started thinking more about the Japanese side of my heritage," said the 22 year-old Maryland resident. "I haven't been there since I was about ten years old, and I found myself wanting to go – not as a vacation, but in order to contribute something meaningful, to connect with relatives and family friends. So, I found a week-long volunteer program through Unification Church headquarters, and decided it would be a great opportunity for me to take."
This volunteer program will last for a week, during which Burton and other participants will engage in much physical labor. "We'll mostly be removing debris and rubble near Iwate and Sendai," he said. "There's a lot of residue left from the flood, which has also created the overgrowth of certain plants. We're going to try to salvage things and throw away the debris that's clogging everything up."
A rising senior at the University of Maryland at Baltimore County, Burton has worked throughout his college career at United Parcel Service (UPS). He currently holds a supervisor position at his job, yet the importance of this title pales in comparison to that of exploring his heritage.
"The job was taking up a lot of my time," he said, adding, "and I wanted to finish off college strong, without distractions. You can imagine Christmas season at UPS gets really crazy." His passions include exploring new cuisines and singing for his newly assembled rock bank, "The Rumble," which recently performed at a talent show (Limelight II) organized by the Maryland Unification Church (www.youtube.com/watch?v=O_B84zY43EQ).
Born and raised in Maryland, George looks forward to the opportunity to invest in the more foreign half of his identity in the cities of Japan. Along with the natural disasters, his experience of realizing that his Japanese grandmother had recently passed away (unrelated to the natural disasters in Japan), had kindled within him a fierce desire to reconnect with his relatives in the East. "While I was consoling my mom, I realized that I didn't know my grandma's name, her face, anything about her. When I tried to think of a memory with her in it, I realized that I didn't have one. The fact that I wasn't sad or that I had nothing of her to think about actually hurt more than having memories about a person and missing him or her. When I had this realization, I felt that I needed to go to Japan and connect with the people. My mom wanted to visit, but she was held up trying to get a green card and couldn't leave the states. So I felt even more that I needed to go there and represent our family and show that we care about our grandmother. The fact that I'd have to quit my job didn't really matter."
In addition to the volunteer program, Burton plans to remain in Japan for another three weeks, during which he will travel around the main island in order to absorb the culture and country. "I'm traveling by myself, but I've made several contacts and I'll be meeting either a relative or a family friend in each area."
Reflecting upon his family's reaction to his decision to leave the country, Burton says, "My family thought I should be thinking more about my job and college, but I was really serious about going to Japan. I just felt the need to connect to my family and pay my respects to my grandmother's grave. In preparation for this trip, I started doing spiritual conditions, like a forty-bow-a-day condition, running-every day condition, and a cold-shower condition. My older brother [Daniel] traveled on Special Task Force [a one-year character-education program], and my older sister [Michele] went to South Africa, and now it's my turn. At a certain point in his or her life, each Burton kid has to get out of their little world," he said with a chuckle.