| | |
| --- | --- |
| | The Words of Ariana Shin-Sun Moon (Park – daughter of In Jin Moon) |
Lovin' Life Gets Cookin' with Insider Recipes from Around the World
July 12, 2011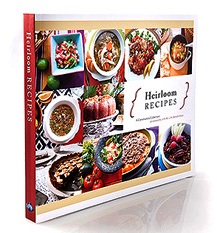 Lovin' Life Ministries' founder, the Reverend In Jin Moon, is nothing if not a multi-tasking pastor, as evidenced by the publication of Heirloom Recipes, a cookbook of international favorites now available at hsabooks.com. Initiated by Rev. In Jin Moon, and compiled by Tamara Gavin, a dedicated staffer of Lovin' Life Ministries in New York City, this collection boasts a cornucopia of mouth-watering recipes contributed by Unificationist families from around the world, with stories featuring the love behind each dish.
Rev. In Jin Moon firmly believes that the comfort of food brings people together, as she expresses in the cookbook's Introduction: "It is in eating together that we are reminded we belong, and in serving food to one another we confirm we care." Rev. Moon maintains that food is a way in which we can serve and express our love for each other, and she hardly stands alone this belief. "For us, meal time (especially dinner) is a mandatory family time to bond and I'll continue that family tradition," says Estelle Nguyen, who contributed a spring roll recipe called "Vietnamese Nems" from her father's Vietnamese background.
Reflecting the diversity of the Lovin' Life community, Heirloom Recipes contains an array of more than 120 dishes from various ethnicities and cultures. Recipes were offered by families in Korea, Norway, Singapore, Australia, the United Kingdom, and many other countries and are appropriate for all times of the day, from breakfast to dinner, appetizer to dessert. From classics such as chicken soup, to those as seemingly exotic as the Schwaebischer Kartoffelsalat, each are explained with easy-to-follow instructions that present cooking as simple, succinct and fun.
Heirloom Recipes also highlights the importance of remembering one's ancestors through presenting specialties that have been in families for generations. "This is a recipe that has been in my family for over a century," says Young Mi Vetterli, from Madison, Wisconsin, about her "Great Grandma Olga's Thin Pancakes." Linda Lee Marchant Perry from Port Washington, New York, explains "My mom went to Heaven a few years ago, but her love still comes through her recipes today" – recipes such as her mother's "Buttermilk Delight," which is "a big hit" that is now available through the cookbook.
Many of the recipes are complemented with original photos and warm testimonies of how they have become favorites within families, communities, or even the True Family. Avril Masters from the United Kingdom said of her shortbread cookies: "I would sometimes make these for In Jin Nim and Un Jin Nim, and also for True Mother on her speaking tours. I miss being with the True Family to this day, but the memories of these cookies bring comfort to my heart."