| | |
| --- | --- |
| | The Words of the Ten Wolde Family |
Three Day Fast Opposing the Entry of Communist China to the United Nations
Barbara Mikesell [Ten Wolde]
October 25, 1971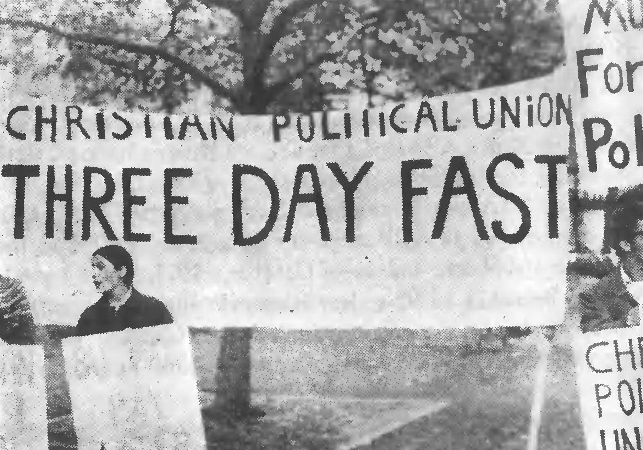 The center of world events in past month... First, was a three day fast and demonstration held in front of the UN and on Times Square, downtown New York. But the time was not right; we had no coverage and were asked by the police to break up our downtown demonstration. October 7, Mr. Kuboki, Mr. Hirota and Miss Yoshida arrived in New York from visiting many state and religious leaders through Europe and Asia during their anti-communist tour. On the evening of October 11, Mr. Hirota, an expert and experienced in international relations, spoke to us about the growing influence and strength of world communism, focusing on the situation in China.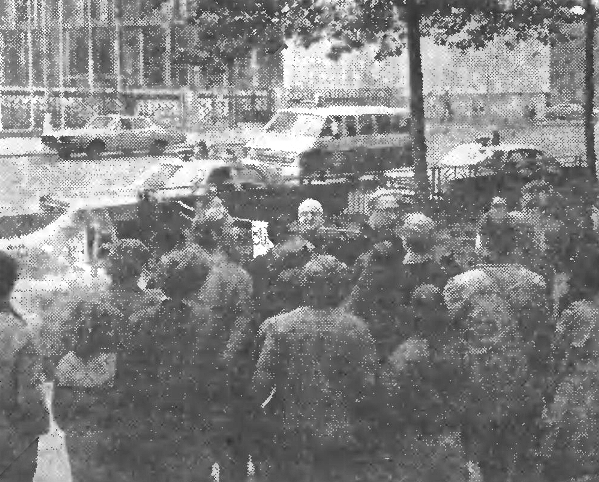 His Excellency Cardinal Yu Pin of Republic of China and Father Raymond de Jaegher give their blessing to the demonstrators
Later that week, Lorenzo Gaztanaga and Barbara Mikesell met with Mr. Kuboki and members of World Anti-Communist League. They made plans for a three-day fast and vigil in front of the United Nations building to be held directly preceding the vote on the China question, October 22 through 25, 1971.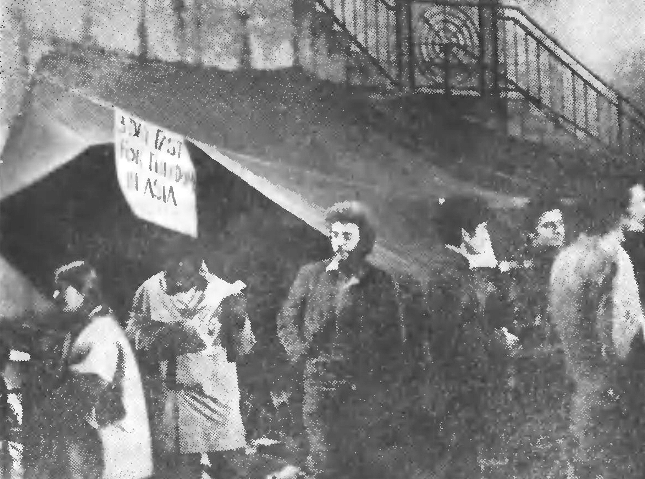 Preparing to sleep in vigil
Among those present were Father de Jaegher, who had been a missionary in China for 40 years including the time of the communist takeover, and David Rowe, a professor at Yale. It was seen that a great amount of assistance would come from
Chinese in New York's Chinatown, from Professor Hsu, a member of the National Assembly of the Republic of China, and from members of the Taipei Press.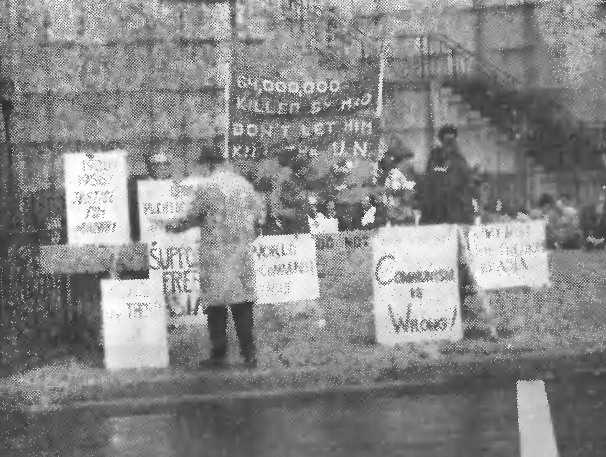 Demonstration in front of UN building
Tents were bought and police permits acquired. October 22 was heavy with clouds and smog, and perhaps too, with the ill-fated debate beginning to unfold in the United Nations. Mr. Kuboki and members of WACL held a well-attended press conference in the U.N. After a lengthy interview the press adjourned to the gathering demonstration across the street. After the press left, the day was spent leafleting and speaking with passers-by. As evening fell, about 35 members had gathered and were making preparations to spend the night. We talked with many people, making some good contacts. Soon after midnight three carloads of members from Washington arrived.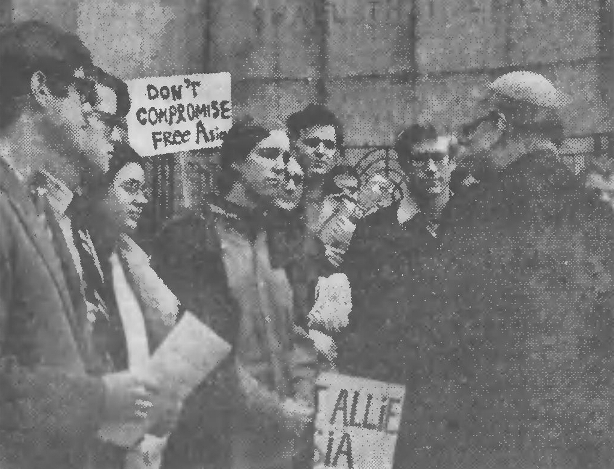 A moment of sharing with Cardinal Yu Pin
Saturday morning Professor Hsu (who was to faithfully stand by our sides day and night, wind and rain), spoke to us about Chine. Mr. Kuboki also shared some of his experiences. The highlight of the day was a visit and blessing from Cardinal Yu Pin, representative of Catholic affairs in China. He will report about our demonstration to President Chiang Kai-shek. We were visited by Chinese student organizations and the press and we passed out some of the total over 10,000 pieces of literature distributed. Members of CPU gave rousing political speeches to the group and assembled pedestrians. That evening we connected a TV to a near-by restaurant and were able to watch ourselves on television, receiving very good coverage on Channel 11. Pictures of our group also appeared in the New York Daily Post.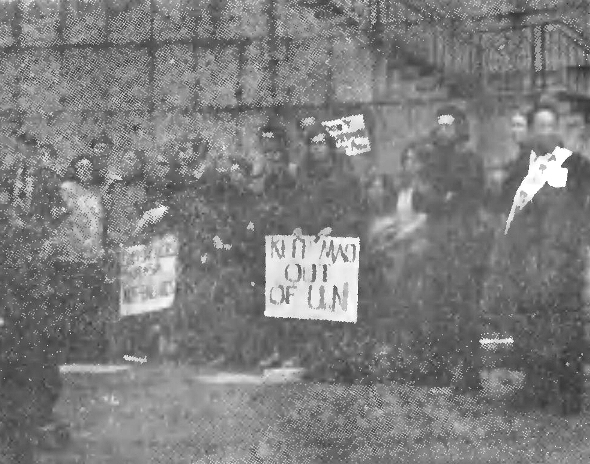 Mr. Kuboki and members of the fast
We went to sleep Saturday night only to be awakened by rain in the early hours of the morning. We put up our tent, but many of us found ourselves soaked by daylight. We spent much of the 24th recovering, drying off, re-pitching our tent and valiantly demonstrating despite wind and rain. Our day was brightened, however, by a visit from Head Delegate Liu Chieh and many of the Chinese delegates to the U.N.
Monday finally arrived, rain still falling. We assembled with many supporters from the Chinese community. Members of the U.N. Delegation from the Republic of China returned with gifts, congratulatory messages and presents of food from Taipei. A telegram of gratitude and support was received from the Chinese Delegation, signed by 244 members of the delegation. We hear they were much more astonished than we by the number of signatures -- more than they have ever been able to gather at one time. Evidently, never in the history of their delegation have the Chinese ever been so united on an issue. We sang songs of freedom and hope under God and shouted "WON SUAY" for the freedom of China. We shared our concern that the issue of the admittance of Communist China and the ousting of the Republic of China would not only be a tragedy for China but for the future of the United Nations and the free nations of the world.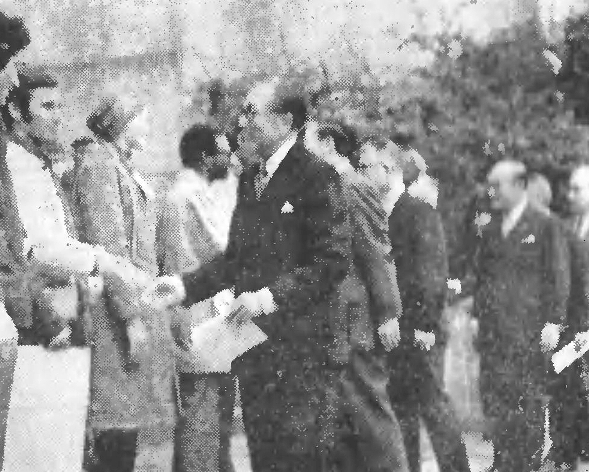 A visit of gratitude from the Head Delegation Liu Chieh and members of the Republic of China delegation
The demonstration itself ended at a Chinese restaurant with 'won-ton' soup provided by or Chinese friends. Some members then returned to attend that tragic and perhaps prophetic session of the U.N. General Assembly. The final vote on the China question brought home to us the great and historic seriousness of our demonstration. We know that God can use the condition of that three-day condition to create a new organization which more effectively represents the cause of the free nations of the world.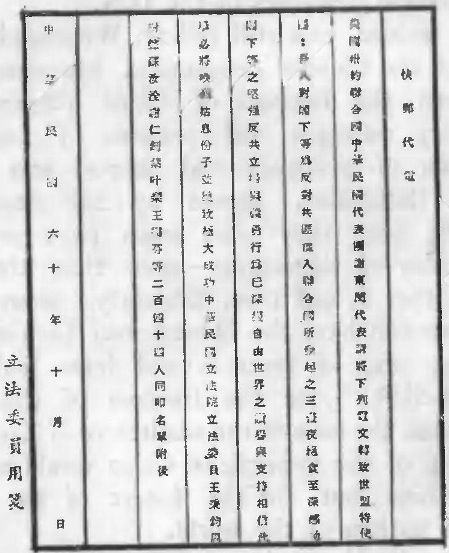 Telegram of gratitude and support from the Chinese Delegation, signed by 244 members of the delegation
TELEGRAM
MR HSIEH TUNGMIN
SINOMISION NEW YORK
PLEASE CONVEY FOLLOWING MESSAGE TO WACL SPECIAL MISSION COLON WE WERE DEEPLY TOUCHED BY YOUR NOBLE EFFORTS PROTESTING AGAINST ADMITTING CHINESE COMMUNIST REGIME INTO UN STOP YOUR STANCH ANTICOMMUNIST STAND AND COURAGEOUS ACT HAS WON FREE WORLD ADMIRATION AND SUPPORT STOP WE BELIEVE SUCH MOVE WILL AWAKEN ALL APPEASERS AND BE CROWNED WITH GREAT SUCCESS STOP WANG PINGCHUN CHOW SHUSHENG SU JUCHUAN HSIEH JENCHAO IEH HSIEHCHIN WANG NAIFENG AND MORE OTHER LEGISLATORS TAIPEI TAIWAN ROC
We are grateful for the opportunity we had to participate in this fast, standing in protest during the debates; sleeping in the shadow of the quiet, lighted face of the towering UN, symbol of world hope. Our tiny lives could become mysteriously caught into the weaving of this historic event. When we learned the outcome of the voting, our tears were genuine tears. When we think of the challenges of the future, our determination is real.