| | |
| --- | --- |
| | The Words of the Montesarchio Family |
My Experience on the International One World Crusade in USA
Paolo Montesarchio
December 5, 2013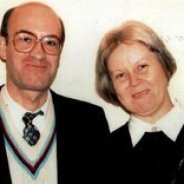 Hello everyone! How are you? A sister asked me that it would be nice to write down some of my memories of my experiences in the U.S.A., at the time of the I.O.W.C. Crusade in 1983, 84, 85, 86, 87, all together 4 years, because at that time True Father was asking a support from the European brothers and sisters, and from Japanese members, to help America to survive in that period that was called a "wilderness period".
In fact, if I am not mistaken, it was the 40 years (1945-1985) of wilderness, that True Father mentioned already and True Mother has repeated in her speech of the Seonghwa Ceremony in Sept. 16 2012, a critical time in witch America risked a lot the invasion of the Communism. I remember how much I was happy to receive a call from my Regional Leader, Carmelo Cirelli, who asked me: "Are you ready to go to America?"
I was surprised and moved by that, because I could not believe that I could do that, but I responded positively and was ready to go. So my period in the Italian Movement was going to end, after 4 years of sincere dedication, 3 years in a center, 1 year of fundraising Team, all around Italy. And I took an airplane together with few Italian members, in May 28,1983.
We just have arrived and it seemed to me everything was so large and big, Big cars, big buildings, big streets, everything Big!! We met, all the volunteers, in New York City, as I remember, in the New Yorker Hotel where all were assembled, from almost all part of the world, to be selected and be part of some teams. I was 26 years old, I was single, but many members have received the Blessing in July 1982 and October 1982, the 6.000 Blessing.
Our mission was to evangelize touring every 21 days in each possible State, and doing fundraising to support our existence there in the center. At the beginning it was a very, very big team of 70, 80 members, with 2 "Commanders", Jack Hartford and Mrs. [Pauline] Verheyen, who were responsible for all these hundreds of members. Finally the big team was split in two, and I joined the Jack Hartford team. The other 5, 6 Italian members with me joined on the other team.
How did I survive alone with the other Italian brother, Maurizio Olivan, it is still a miracle, because actually I was there to translate for him, helping him to understand, even if my English was not that much.. It was a beautiful time, believe me, be in America, chosen by God, but I cannot remember with a fresh memory, how much God wanted to reside in our daily life, working only with and through the unity between brothers and sisters, and obey our Commander Jack.
The first State I started to do a fundraising experience, selling flowers (roses, carnations, etc.) was Kentucky, Louisville city, and very soon, while I was on a spot, waiting for my American customers, somebody came to me, was a young women with a microphone, and somebody else with a camera, yes, I received an interview in which I was asked why I was there, selling flowers like that, why was I a Moonie, didn't I miss Italy? Or what? etc. etc. and the next day I'm appeared on the front page of the newspaper!!!
But we had to move, so we moved after 21 days, to Pennsylvania, Ohio, Connecticut, New Jersey, New Hampshire, Delaware, New York, etc. all together 12 States. We also sang a lot, during our evening rallies, and we invited people directly from the streets to listen to D.P. in our Mobile Homes, where we have installed video machines.
After all, I.O.W.C. was going to finish. Many brothers and sisters really had a very good heart, we were a family, international family, a family under God! living together and eating together, witnessing together. Sometimes we could also go to see True Father, but I remember only one time when we had to get up at 2 a.m. traveling from New York to Belvedere to be there at 4. a.m. and listen to True Father directly, at 5. a.m.
This is my only memory that I have: True Father in front of me, watching to me, even if I can say:" He is looking somewhere else!" Not at all!!! Later on we had also a dramatic year, 1984, and it was very heavy, it was summer, and True Father was almost going to prison, and once I went to fundraise in Danbury city.
I remember somebody talked about him. the atmosphere was divided, unstable, dark clouds of sadness all around. The Providence to visit different churches in 1985, for me started in 1986. It was also a time for me to experience a sharing with other faiths. I was visiting 30 churches, but I could not bring results, I should have remained there in America, in order to make good relations with ministers, but the time to go back home in Italy.
The time for me to go back in Italy was coming soon. In fact I felt this clearly when I discovered an Italian area in Boston, where I could go sometimes to drink Italian coffee espresso, and all of these Italian citizens, what do you think they were from? Sicily. But I am not from Sicily anyway, and still I could identify the dialect. I was not matched in 1987, even if I was 30 years old. My time for the Blessing was not yet come. Going back to Italy I was reabsorbed by the secular society, and I had to wait another 8 years, in 1995, because my wife, who is Hungarian, Katalin, was waiting for me, throughout all those incredible years of wilderness and over, but in America, someday, we will go together to revisit all the places that I will never forget, all the people who have bought my flowers, even the one who bought frozen roses, because he did not care, just buy for her girlfriend!
Thank you God for this amazing grace that I survived in America, thank you, Jack Hartford for your care for all of us, Susan Nishio for your beautiful voice when you sang "America beautiful!, Marilyn Angelucci, for your great energy to convey to all European brothers and sisters. I hope I will find the Japanese sisters, now is the time to reconcile, to forgive and to enter the realm of the Kingdom of God. God bless America! (if she does God's will and welcome True Parents completely). Aju!