| | |
| --- | --- |
| | The Words of the Kittel Family |
UPF Supports Nepal–Korea Business and Cultural Relations
Robert S. Kittel
May 17, 2014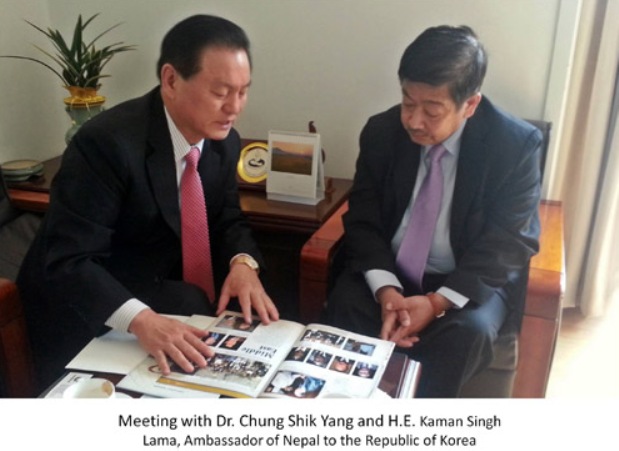 Seoul, Korea -- On May 15 Nepal and Korea celebrated 40 years of friendly diplomatic relationships. To celebrate this special occasion the Ambassador of Nepal to Korea, H.E. Kaman Singh Lama, asked the Universal Peace Federation to help them hold a three-day business-to-business meeting. UPF-Asia was happy to assist in this small way to help promote Nepal's development economically and socially.
The Universal Peace Federation was given the honor of co-hosting the event. During the reception at the Little Angels Performing Arts Center Amb. Lama concluded his remarks saying, "I would like to especially thank UPF for their support. Because of this my dream came true today."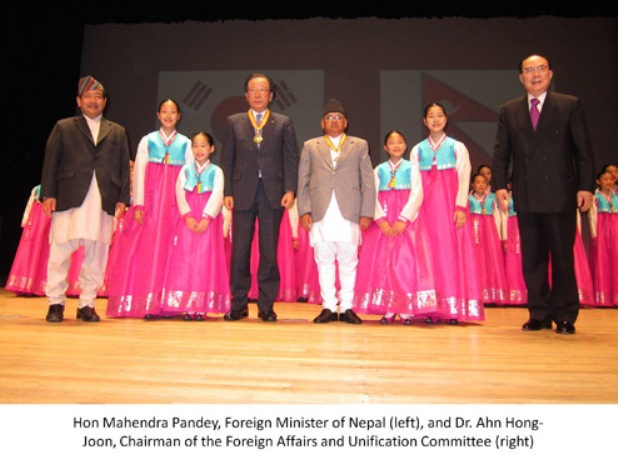 Two other affiliated organizations were also co-sponsors: the Little Angels Children's Folk Ballet of Korea and YongPyong Resorts. This was an official function of the government of Nepal. Nevertheless, the logos of these organizations were on the promotional materials and seminar banners; they provided the venue, offered logistical and conference services support, and the Little Angels performed, singing in Korean, English and Nepali.
Dr. Charles S. Yang, chairman of UPF International, met Amb. Lama at the Nepalese embassy in Seoul to demonstrate his support for this event. The chairman of UPF-Asia, Dr. Chung Sik Yong, encouraged and supported the program by facilitating high-level contacts within UPF's business communities. UPF also provided language translation, Korean to Nepali, through a Nepali student who is studying in Korea.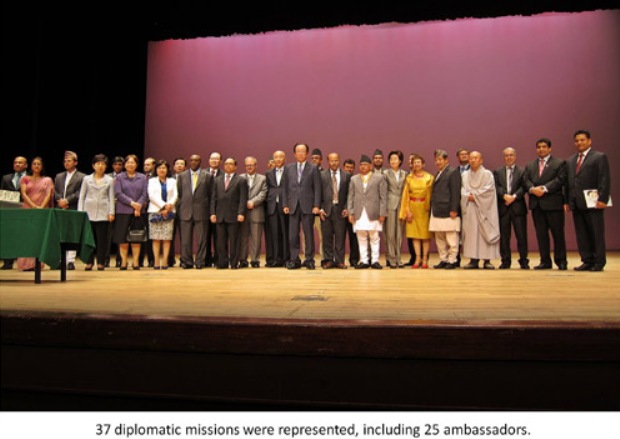 In addition, UPF invited guests, especially Ambassadors for Peace from Korea, and two guest speakers. The chairman of UPF-Nepal, Hon. Ek Nath Dhakal, who is a member of Parliament, spoke twice, first as special guest speaker at the Opening Session and again later when he gave a toast during the diplomatic reception that evening. The senior vice-president of YongPyong Resorts, Mr. Park In-Jun, spoke on the final day.
Dr. Bo Hi Pak, chairman of the Little Angels of Korea, made a special effort to attend the function adding grace and prestige when the heads of the two delegations were given the Little Angels' "Medals of Honor." Hon. Mahendra B. Pandey, Foreign Minister of Nepal, led a high-level delegation from Nepal. His team included legal experts and representatives from the ministries of industry and energy. Dr. Ahn Hong-Joon, Chairman of the Foreign Affairs and Unification Committee, represented the Government of Korea along with two other National Assembly members.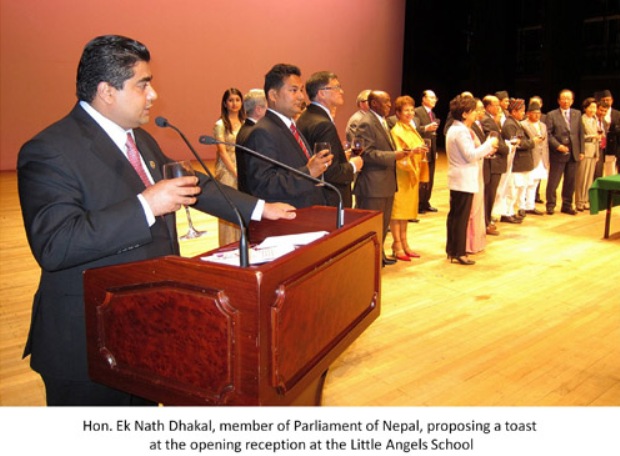 In all, 37 diplomatic missions were represented, including 25 ambassadors, many of them accompanied by their wives.
Because of the sincere respect for UPF founder Dr. Sun Myung Moon in Nepal at the highest levels, this government-level meeting was held with the support of UPF staff and at the facilities of an affiliated organization.