| | |
| --- | --- |
| | The Words of the Kittel Family |
Rev. Moon's Contribution to Inter-religious Harmony Honored
Robert S. Kittel
May 3, 2014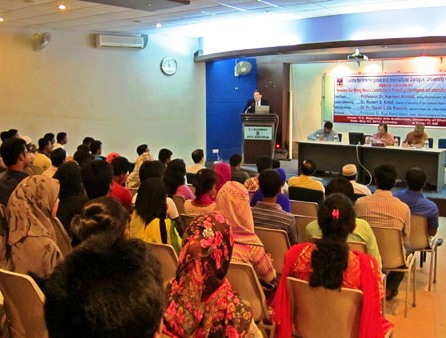 Dhaka, Bangladesh -- A special lecture at Dhaka University on May 3, 2014, focused on the UPF founder's role in building bridges among people of different religions and cultures. Over 120 students, staff and faculty attended the program entitled, "Rev. Sun Myung Moon's Contribution in the Field of Inter-religious and Intercultural Harmony."
The special presentation was given by the author of this report. Dr. Robert Kittel focused on two components of Rev. Moon's work that he felt were central to promoting social harmony: (1) a universal definition of goodness that can be shared by all religions, namely living for others, and, (2) the importance of marriage, especially intercultural marriage, and intergenerational families.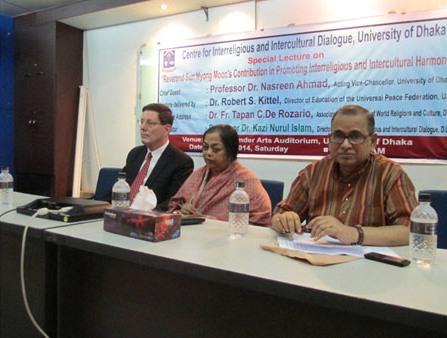 The program was organized by Dr. Kazi Narul Islam, director of the Center for Inter-religious and Intercultural Dialogue. Dr. Islam set up the Department of World Religions and Culture -- the first of its kind in any Muslim country in the world.
In her closing remarks, Prof. Dr. Nasreen Ahmad, the acting Vice-Chancellor of Dhaka University, noted with pride that "Rev. Moon's philosophy of love and harmony has been taught in the Department of World Religions and Culture [at Dhaka University]."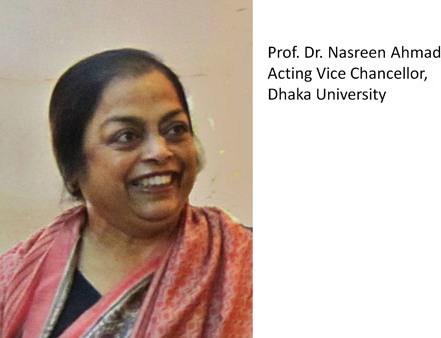 "Our students are aware of his philosophy and his life's work of promoting interfaith and intercultural harmony," she added. Dr. Ahmad highlighted the point by saying "any thinking, rational person who looks to the world with compassion" should empathize with Dr. Moon's philosophy.
The moderator was Dr. Father Tapan Rosario from the Department of World Religions and Culture.