| | |
| --- | --- |
| | The Words of the Kittel Family |
Educators Gather in Bangkok to Discuss Good Governance and Peace
Robert S. Kittel
November 27, 2013
Director of Education, UPF-Asia, and photojournalist
Bangkok, Thailand -- "The program was too short," exclaimed Dr. Virginia Resurreccion, Director IV (retired) of the Commission on Higher Education in Quezon City, Philippines. Wanting to study more, she continued, "It was a unique course… we could 'upgrade' our understanding regarding the importance of the family and study UPF Founder Father Sun Myung Moon's vision of good governance and world peace."
The five-day program in Bangkok, Thailand was the fifth in a series of Asian Leadership Conferences. There were 64 participants from seven nations at this Nov. 23-27, 2013 seminar which focused on educators, professors and teachers. The first two Asian Leadership Conferences were for political and community leaders; the next was for women leaders with the opening session at the United Nations ESCAP Conference Center in Bangkok, and the previous one in October invited media leaders.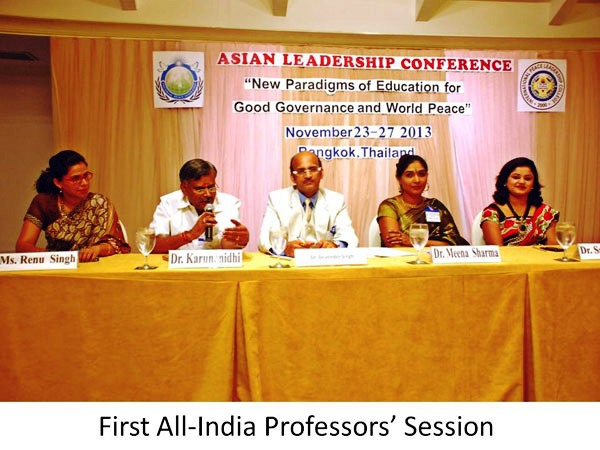 "Fighting is easier than making peace," said one participant from Myanmar. Mr. Than Win Oo, Member of Karen Unity and Peace Committee, went on to explain that conflict cannot solve problems because fighting "does not reduce selfishness which is at the root of human conflict." Mr. Than said that young people should not become the "me generation," but instead should be the "we generation" emphasizing the importance of UPF's principle of public-mindedness.
The biggest delegation, 27, was from India. Dr. Subbiah Karunanidhi, head of the Psychology Department of the University of Madras in south India, highlighted the fact that UPF has a set of universal moral values that are easy to understand and implement. "I learned many things that I can pass on to my students," he explained. He especially appreciated UPF's strategy of sustainable development and the importance given to the family.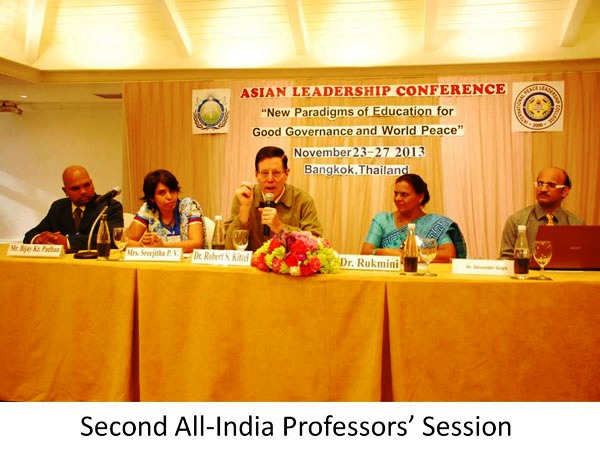 Dr. Chung Sik Yong, Regional President of UPF-Asia, gave two special presentations that emphasized the nature of sacrificial love and the role of Ambassador for Peace. At the opening session he told the educators that Korea's economic miracle was based on a strong sense of patriotism which engendered the willingness to sacrifice for the sake of the nation. He continued, saying,
The number one enemy of peace and development is selfishness. For example, free sex is actually selfish sex. It is destructive because it places individual pleasure above the institutions of marriage and family. Similarly, when businessmen put their personal financial gain as their main objective for doing business, they can easily exploit their workers or pollute the environment. Then what is the solution? The opposite of selfishness is being unselfish, altruistic, or living for the sake of others.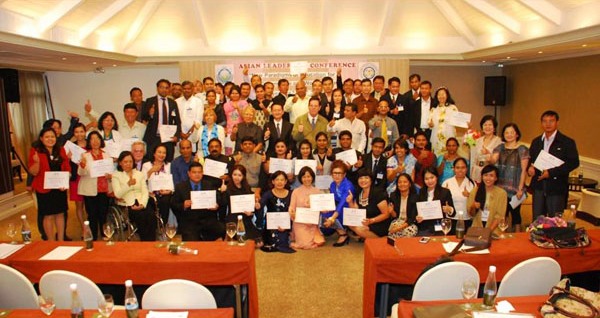 Finally, from Vietnam, Mr. Nguyen Giang Van, researcher from the Vietnam Institute of Educational Sciences, said his 'take away' from the conference was that UPF's universal truth cuts across all religious traditions. "The value of living for others and being willing to sacrifice are very important." He footnoted his comments by adding, "Living for others is easy to say, but not so easy to do."