| | |
| --- | --- |
| | The Words of the Huinink Family |
Corrie and I are very thankful for having received this blessing on October 21
Herman and Corrie Ten Bokkel Huinink
December 25, 1970
Athens, Greece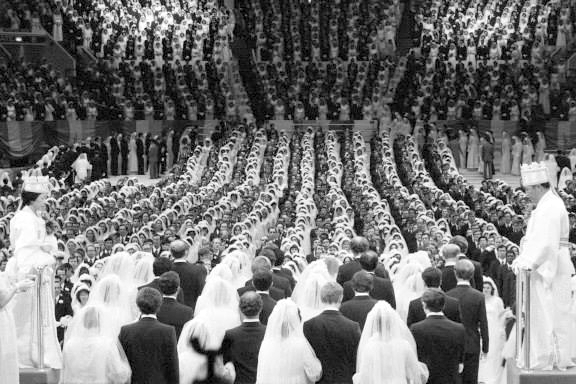 Dear Family,
August 9th I left Greece by train. Back in Amsterdam we were all glad to see each other. For about one month we all worked hard to earn the money for 4 members to go to Korea On the 21st of October Father and Mother blessed 777 couples in marriage. Corrie and I are very thankful for having received this blessing.
In Korea as well as in Japan we were treated most wonderful. We are grateful to Father for this give and take with our Family in the East. After the European Conference in Essen we worked for about 3 weeks to get some money to start with in Greece.
On November 29, 1970 we arrived at 4 a.m. in Greece and 4 p.m. in Athens. We went directly to the holy ground after finding our Hotel which is the same as Teddy Pauline and I used one year ago when I started my mission in October. We stayed 4 days at the Hotel. In these days we found 2 rooms which we rented, work for both, and visited between others an Orthodox Church and later a friend who we had met in this church. Corrie works in a Greek-American family. The same man found me work in his factory as a worker. Our rooms at Hippocrates Street 70, first floor, Athens 144, are very close to the University. Thus we can easily go out for witnessing, and bring the persons straight to our center. The first came on December 4. We had witnessed together to him.
On December 11, I saw Thanasis (the first Greek who had accepted the Divine Principle by heart) after about half a year. Because of his studies he does not come often. Corrie witnessed to a girl who was interested to hear about Japan but now has heard the 1st and second chapter of the Divine Principle. On December 13, one student started the translation of the first chapter into Greek. The other who knows all about the Principle brought two girl friends to hear this message.
On December 18 Thanasis and a girl came to our center. We spoke with them and sang many songs. December 21, we went to the honorary Ambassador of Korea in Greece, who fought in the Korean War. Other things are as usual. But we see the difference of being now with a couple here clearly.
We are thankful to our True Parents for having us home before going out to start our new mission.
Herman and Corrie Ten Bokkel Huinink