| | |
| --- | --- |
| | The Words of the Hirano Family |
A Presidential Visit to a Remote Mission Outpost
Futoshi Hirano
May 2013


Paraguayan President Federico Franco (in sunglasses) eschewing an offered car, walked in the hot sun to view the agricultural, aquatic and building projects at Farm Leda.
As young fish are released into the wild, Japanese national messiahs, who have toiled to build a New Garden of Eden in one of the most forbidding environments on Earth, are closer to realizing True Parents' vision. The South American Regional Headquarters submitted this account.
This to announce joyful news from Leda, which is near the Paraguay River in the Department (province) of Alto Paraguay in the Republic of Paraguay.
It is a remote place where True Parents have consistently exerted tremendous effort. On 3.24 in the first year of Cheon II Guk (March 3, 2013), Paraguayan President Federico Franco, the Minister of Agriculture and Fisheries, ministers and vice-ministers from related fields, regional politicians, governors, and other Paraguayan citizens took part in an event conducted by the North and South America Welfare and Development Association. This was significant in demonstrating how True Parents' vision contributed to environmental conservation for not only Paraguay but all South America.
Farm Leda demonstrated one of their projects, the artificial cultivation of Pacu, a species of fish. The main feature was to release young Pacu into the Paraguay River after having nurtured them to a size of between five and ten centimeters in length. In addition, as a charitable act, they donated fish to Olimpo City. The whole day's activity was initially based on the participation of a research and support team from a national university in Ascension, relevant authorities and some other related people.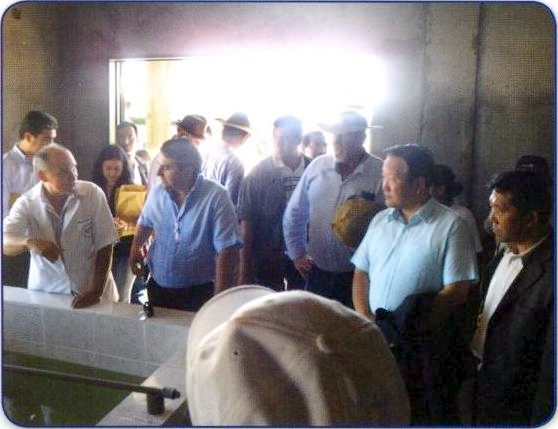 President Federico Franco (second from the left) and Rev. Dong Mo Shin, FFWPU regional president for South America (second from the right) at Farm Leda, Paraguay.
Surprisingly, this suddenly became an event of national prominence when the nation's president decided to come. Newspapers went so far as to report that Leda was "a small Unification Church town," and "The President Goes to the Land of Unificationists.
On Farm Leda, they conduct some research projects, cultivate trees for various medical purposes, raise edible crops, and rear cattle, horses and pigs. In addition, through the success of our artificial cultivation of Pacu, we were able to produce an unlimited supply of this species. We were all pleased to see the accomplishment of one of True Father's instructions: "We must have a fish farm in the Pantanal."
In True Father's autobiography, he especially emphasized his twenty years of dedication to the Pantanal region (which became a UNESCO World Heritage Site) as a trial area for solving three of the world's major problems -- pollution, environmental conservation, and food shortages. We do not seek simply to catch fish; we also raise them through aquaculture. To accomplish this project, the Leda pioneers, who have suffered severely for years, finally found a productive way for the massive cultivation of Pacu, a major fish species. Now, they are successfully raising thousands of Pacu in Leda.
They made a historic plan to release young Pacu in Paraguay based on True Parents' teachings, proceeded with the plan and invited even the president. In reality, it was such a difficult task for the president to visit a border area near Brazil, 900 kilometers from the capital. Nevertheless, the presidential palace announced his attendance at this event only a few days ago and all preparations and the style of ceremony had to be changed.
Everyone was uneasy about holding a national event in Leda, where few of our members remain; yet the president looked around at all the features of Farm Leda with our guidance rather than following the flow of all the detailed preparations made by his entourage or the ceremonial team. He displayed great interests and was very personable. He did not ride in the prepared car. He walked to several places around the ceremonial site while dusty wind blew, expressing his deep gratitude toward those who had implemented the Leda activities.


After eating, President Franco personally thanked the kitchen staff. The president's visit was the culmination of sweat and toil to fulfill a challenge Father gave to Japanese national messiahs on August 1, 1999.
Leda has a possibility of abundant underground natural resources, and people have paid close attention to its underground aquifer, a massive layer of fresh water, as a precious resource to solve water shortages in the future. This area has gained prominence based on the certainty of a Pan-American international highway being constructed and because the president has announced other special interests in the region.
President Franco actually is already acquainted with our movement. In the last year, he has met Paraguay church members and Japanese second-generation members involved in the Leda Support Volunteer Team; they took several pictures together and the president spoke of his deep interest in Leda.
His presidential term will end soon, but as a member of the upper house of the Paraguayan Parliament, and as a politician generally, he promised to maintain his deep affection for and interest in the development of the Chaco region and Leda.
Moreover, President Franco displayed not only deep affection but also encouraged our working members by stopping by to speak to the kitchen staff after he finished his meal. Through this new beginning, in the age of Cheon Il Guk, though accomplishing what True Parents have asked of us in Leda, the Pantanal and Jardim, one by one, is not easy, people are impressed by our work and are becoming actively involved in our projects. We feel this is a revolutionary change.
We realized that this is the astonishing grace, blessing and victory of True Parents after the declaration of the Cheon Guk Foundation Day. In parallel with this ceremony, in the same fashion in which we released young fish in Leda, we will expedite projects with President Sato, who is making Won Mo boats in Asuncion and runs the Jardim projects. We will also make an organized, methodical management system, centering on these stretched areas around the Paraguay River, such as Olimpo, Leda and Casado. We are sharing opinions about this with Mr. Futoshi Hirano, who has we already received some direction.
We will manage these areas with the vision and hope that True Parents sincerely wish to see in us. In order to bring more victory, we will make an effort to ensure the security of enormous properties centering on the mission and projects that are already proceeding. We will recreate the environment for the new Cheon Il Guk era.