| | |
| --- | --- |
| | The Words of the Fabrice Family |
Interfaith Harmony Week Commemorated in Lusaka
Fabrice Djimadoum
February 4, 2012
UPF-Zambia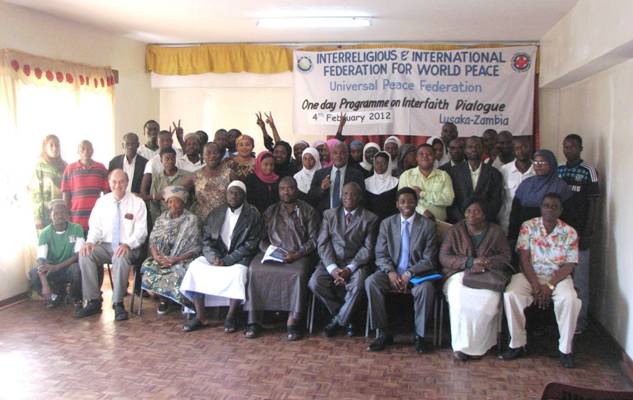 Lusaka, Zambia -- In accordance with the UN resolution to declare the first week of February as World Interfaith Harmony Week, UPF-Zambia held a one-day seminar on February 4 in Lusaka. The 50 participants included leaders of various faiths, students, NGO leaders, and Ambassadors for Peace.
Before the program began, a video introduction to UPF was shown to the participants.
After the introduction of the head table, the opening remarks were given by the Chairman of UPF-Zambia, Gen. Malimba Masheke, who welcomed the leaders of various faiths and other leaders. He added that in the Garden of Eden Adam and Eve did not need a religion and that religion came into existence because people lost their connection with the purpose of God, which is peace and goodness. Human existence is still a life of struggle and conflict. He also said that the purpose of religion is to transform people's lives in conformity with religious teachings so they can connect with God and form ideal societies of interdependence, mutual prosperity, and universally shared values. But unfortunately, religions themselves have become sources of conflict and are misused by unscrupulous people who use and destroy them for selfish purposes.
True religious advice can offer valuable help to resolve many of these conflicts. He said that Zambia could benefit from an inter-religious council formed by respected leaders from different faiths who can rise above religious barriers and denominationalism and unconditionally work together to give wise spiritual counsel to complement the practical knowledge and skill of political leaders for the sake of developing the nation as one family under God. To conclude, he said the cardinal virtue for peace is unselfishness, namely the capacity and strength to live for the sake of others. He urged people to build a strong nation that sets the standard for a better society and world.
A PowerPoint presentation by Rev. Rudolf Faerber, Secretary General of UPF-Zambia, explained "God's Original Ideal for Peace." He said that the common origin of humanity is God and that according to God's ideal we are to live for the sake of others. When people fulfill the basic life goals (achieve individual maturity, create a family of true love, and contribute to an ideal world) they bring ultimate joy to God. The main roles in life are to become a true parent, true teacher and true owner.
The second presentation was given by well-known Bishop Joshua H.K. Banda, overseer of the Southern Africa Region of the Assembly of God Church. He said that different religions exist in Zambia based upon God's law of love and recognition that human beings were created in the image of God. Although Zambia has declared itself to be a "Christian nation," Christians should embrace people of all faiths. He urged people to resolve any misunderstandings that may arise as they do the work of God so that harmony can flourish in the nation and the world. He described interfaith dialogue as opportunities to practice God's heart of love and motivate people to work together as sons and daughters who belong to one God. He concluded his presentation by saying: "We should love our enemies; this shall clearly demonstrate us children of God."
The third presentation was given by the Information Secretary of the Islamic Supreme Council of Zambia, Mr. Siddique Kaputula. He said: "Humanity came from one family, Adam and Eve, and we are brothers and sisters." He that their belief in Mohammed that does not mean that Muslims cannot cooperate with people of other religions. Finally, he called for dialogue and unity among people of all religions.
In his closing remarks, the Chairman of UPF-Zambia thanked everyone who attended the program and urged them to sow unity among the leaders and members of their congregations. "Speak what is true," he said, "and love each other regardless of their faith as God our Parent loves us all."
All the participants were pleased with the presentations. The event ended with a lunch and group photo.
The following resolution was read by the Chairman and was endorsed by those present: "We believe in the same Creator. Therefore we are brothers and sisters. All religions are leading to the same goals: peace between the Creator and mankind, peace among people, and peace with creation. Mutual respect, dialogue, and cooperation are cornerstones of peace. The family is the school of love. Life for the sake of others brings justice, peace, harmony, and prosperity for all."