| | |
| --- | --- |
| | The Words of the Zivna Family |
Marie Zivna -- Czechoslovakian Martyr
Juraj Lajda
December 2011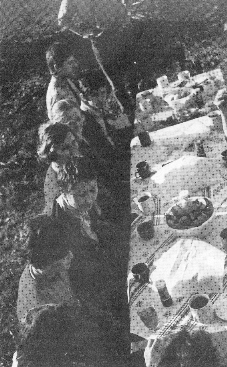 Pieta Maria Zivna (seated fourth from the bottom), enjoying fellowship with her peers over lunch, Ostravice, Czechoslovakia, 1973.
Dr. Juraj Lajda works at Universal Peace Federation in Prague as Secretary General. He lives in Prague with his wife Erika Lajdova, and 5 children.
The year 1968 was very important for Czechoslovakia. For several months, it seemed that political oppression would come to an end. The political changes of the so-called "Prague spring" brought a lot of hope to many people. It seemed there was a chance to reform Communism and bring peace and freedom for the nation.
Then national leader of Germany, Paul Werner, felt that this was a good time to send a missionary to Czechoslovakia. Emilie Steberl, the first missionary, crossed the border on October 30, 1968 and came to Bratislava. She started a dangerous mission -- the challenge was to find ways to witness and find new members. During the era of communism our missionaries and members had to work carefully and secretly. Within one year Emilie was able to find twelve new members. In 1970 she had to leave Czechoslovakia again because it became too dangerous for her. The foundation for our movement there had been established and witnessing continued under the leadership of our Slovak sister Betka Daniskova.
Maria Zivna was one of the first members of the Unification Church in Czechoslovakia -- she joined in 1972. She was a student of the arts at the university in the city of Brno.
Michal Glonda, a brother who studied at the same university, invited Maria for a 3-day seminar and explained to her the contents of the Divine Principle text. As she mentioned later, while listening to the Divine Principle lectures it was clear to her on the very first day that this was the truth! But she did not say that until the seminar ended. Afterwards, she announced that she would join our church and started to work as a full-time member. She stopped her studies even though she was in her last year and was preparing for her thesis and final exams.
Maria was a very humble person and had a deep religious background. She had a good heart but did not speak much, being a little bit shy, but she was always ready to help. She had one sister and one brother; her parents were living near Brno at the Svojanov Castle. Her father worked as the housekeeper and tour guide of the castle.
Very soon, Maria became the assistant to the national leader, Betka Daniskova. She led a very sacrificial life and protected Betka as much as she could. Maria was always taking care of the members; her smile could help to solve many problems! In 1972 Maria organized a national meeting at the Svojanov Castle -- more than 30 members came. Most of them were students and full of enthusiasm to change the world. This was the first national meeting in our nation.
When Maria became the assistant to the national leader, it was a big help. She really could forget about herself and unconditionally support our leader. Her understanding of Divine Principle was very clear and she was very much connected to God.
Around Christmas time, 1972 she had a car accident. There were four other sisters with her in the car, including Betka. It was a very serious accident. It was a miracle that nobody died. Maria had a slight brain shock and lost consciousness. Betka had a broken backbone and a damaged spinal cord and was paralyzed. Maria was always thinking of her. In the entire period when Betka was in the hospital and afterwards, Maria took care of her like a loving mother. She forgot about her own pain in order to take care of Betka. Also later while in prison, when she met Betka in the corridor by chance, her first question was, "Do you have warm clothes, Betka?"
In September, 1973 the persecution of the Unification Church members started. The communist secret police started to observe us and in September 1973 the first members were arrested. Within several weeks almost 30 members were put into prison. Maria was
My Life with Marie Zivna
Betka Daniskova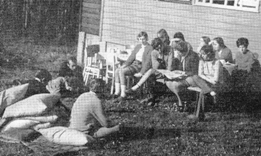 Pieta Maria Zivna (seated left on chairs), with her peers at a Divine Principle Text lecture, Ostravice, Czechoslovakia, 1973.
Betka Daniskova is the first Unification Church National Leader in Czechoslovakia received Maria Zivna as an assistant. Betka still carries the pain of Maria's loss in her heart. This is the first time she has shared this testimony with the public.
In 1968 Ema Steberl came to Slovakia. She was the first missionary sent from Austria to establish a group of Unification Church followers. She witnessed to me and thanks to her patience and endurance, I accepted the Divine Principle on January 25, 1969.
When Ema Steberl had to return to Austria because it was not safe for her to stay in Czechoslovakia, she appointed me to lead our church family.
We were working illegally, but our work was successful because we were able to witness to many people and even sent missionaries to other countries and to 18 cities in Czechoslovakia.
Eventually, our activities were reported to the secret police and they started to watch us closely starting in 1971. We were aware of this and thus made an effort to work very secretively. When we realized that the secret police were becoming more aggressive in their pursuit to find out what we were doing, we quickly began to destroy all printed materials.
On December 25th, 1972, while touring the country to visit missionaries in their respective cities, I had a very serious car accident. My backbone was broken and the spinal cord was damaged. Since that time I have been immobile and can only get around in a wheelchair. The closest members of the Unification Family decided that Maria Zivna should be assigned to help me. Her spiritual father, Michal Glonda, called her God's child.
Maria was living with me in an undisclosed apartment on Mojmirova Street in Bratislava. Only a close circle of members knew where the place was. They were very careful not to give away the location of that flat when they came to visit us. Maria helped me with physiotherapy, prepared food and took care of hygiene. She also maintained contacts with other members and gave them guidance and encouragement.
Eventually the apartment owners, probably at the request of the police, asked us to leave the flat. So we decided to live with other sisters on Agatova Street. We were continuing our work until September 1973 when the secret police caught up with us and arrested and imprisoned us. They then started to interrogate us for many hours.
While in pre-trial custody, we were interrogated separately, and interrogations would sometimes last all day. In order to meet Maria Zivna I asked the police if I could confront her on the pretext of getting the facts correct for the police. Maria knew very well that this was just a ploy. This type of confrontation under supervision of many policemen was usually not done.
Maria embraced me and asked me if I was cold and if I had warm clothes. To the big surprise of the investigators, we were soon laughing out of joy. The police caught on very quickly and the meeting was quickly stopped.
During our imprisonment, I was able to meet Maria several times in the hallways of the prison. We always had to stand facing the wall. During one of the last meetings she turned her head to me and smiled. She did so knowing that she would be heavily scolded by the policeman, but she did not mind that.
One day my lawyer told me that Maria had died. It struck me so much that I could not stop crying and I soaked all the towels I had with my tears. I knew very surely from her response to the police during the investigations that she had no doubt about the teaching of the Divine Principle. Her crystal pure, clear and direct answers are a proof of her clear mind and her strong demeanor toward the police.
Thinking about what happened way back then, even today, I have a heavy heart and cannot think about those events without feeling much pain. I can, and will, never forget Maria Zivna.
A missionary never knew when the Communist Party might take him
Reverend Sun Myung Moon
As a Peace-loving Global Citizen Pg 166-167
People who went as missionaries to communist countries could not even tell their parents where they were going. The parents knew well the dangers of going to such countries and would never give permission for their children to go. Gunther Werzer was discovered by the KGB and deported. In Romania, where the dictatorship of Nicolae Ceausescu was at its height of power, the secret police were constantly following and intercepting the telephone calls of our missionaries.
It was as if the missionaries had gone into the lion's den. The number of missionaries going to communist countries, however, kept growing. Then in 1973, there was a terrible incident in Czechoslovakia where thirty of our members were taken into custody. One member, Marie Zivna, lost her life while in prison at the young age of twenty-four. She was the first martyr who died while conducting missionary work in the communist country. In the following year, another person lost his life in prison. Each time I heard that one of our members had died in jail, my entire body froze. I could not speak or eat. I couldn't even pray. I just sat motionless for a while, unable to do anything. It was as if my body had turned to stone. If those people had never met me, or never heard what I taught, they never would have found themselves in a cold and lonely jail cell. And they never would have died the way they did. When they died, they suffered in my place. I asked myself, "Is my life worth so much that it could be exchanged for theirs? How am I going to take on the responsibility for the evangelization of the communist bloc that they were bearing in my place?" I could not speak. I fell into a sorrow that seemed to have no end, as if I had been thrown in deep water. Then I saw Maria Zivna before me in the form of a yellow butterfly. The yellow butterfly that had escaped Czechoslovakia's prison fluttered its wings as if to tell me to be strong and to stand up. By carting on her missionary activities at the risk of her life, Marie truly had been transformed from being a caterpillar to being a beautiful butterfly."