| | |
| --- | --- |
| | The Words of the Younas Family |
International Youth Day Celebrated in Pakistan -- Marcus Younas
Ejaz Ghulam
August 12, 2012
Religious Youth Service -- Pakistan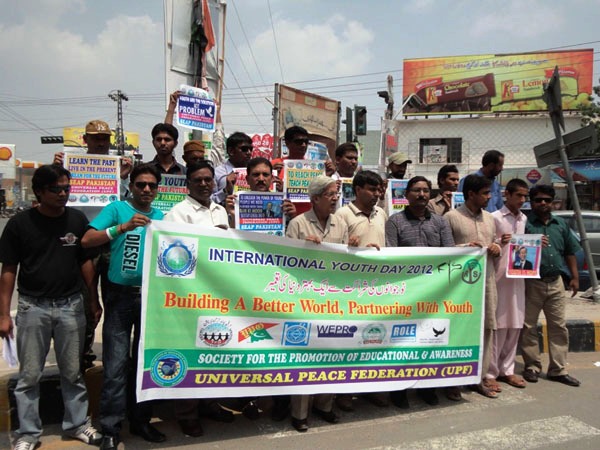 Multan, Pakistan -- The Society for the Promotion of Education and Awareness (SEAP–Pakistan) along with its networking organizations commemorated UN International Youth Day in Multan in the Punjab province of Pakistan on August 12.
SEAP–Pakistan organized a peaceful demonstration in front of the Multan Press Club in order to raise voices for the rights of the youth. The theme of International Youth Day 2012 was "Building a Better World: Partnering with Youth," a global call to action to develop and engage in partnerships with and for youth.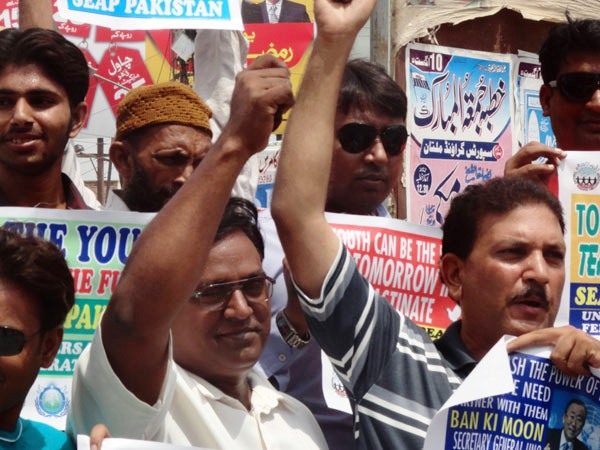 Mr. Marcus Younas, Executive Director of SEAP–Pakistan, shared about the vision, mission, and goal of the Universal Peace Federation around the world. He explained that UPF is striving to build peace among nations through interfaith understanding and social harmony. He further stated that if youth are provided opportunities then they can be a great blessing to their nation.
In this context, the Society for the Promotion of Education and Awareness in Pakistan is organizing a Religious Youth Service project in Pakistan in the last week of October 2012 to promote volunteerism and intercultural exchange among the youth of South Asia. They believe that it can be a rich learning experience for the youth of Pakistan.
[Multan is known as the City of Saints and Madinat-ul-Awliyah because of the large number of shrines and Sufi saints from the city. The city is full of bazaars, mosques, shrines, and ornate tombs.]
At this occasion, the participants called for ensuring the rights of the youth and for the promotion of peace-building and interfaith dialogue among youth of different faiths.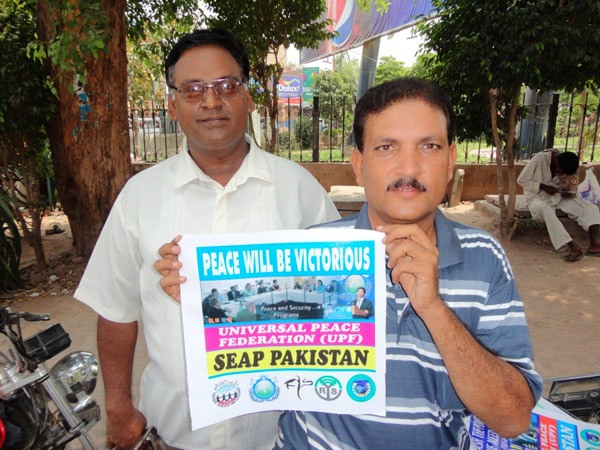 The message of UN Secretary-General Ban Ki-moon on the occasion was also read by Marcus Younas:
Today's generation of youth' the largest the world has ever known' and the vast majority of whom live in developing countries has unprecedented potential to advance the well-being of the entire human family. Yet too many young people' including those who are highly educated' suffer from low-wage' dead-end work and record levels of unemployment. The global economic crisis has hit youth the hardest' and many are understandably discouraged by rising inequalities. A large number have no immediate prospects and are disenfranchised from the political' social and development processes in their countries. Without urgent measures' we risk creating a "lost generation" of squandered talent and dreams.
People from different walks of life including student leaders, labor leaders, and members of civil society organizations participated in the program.
Prepared by Ejaz Ghulam (Communications Secretary)