| | |
| --- | --- |
| | The Words of the Vitai Family |
Looking with fondness to the past -- German Friendship Event
Sigrun Vitai
April 12, 2013
South London, England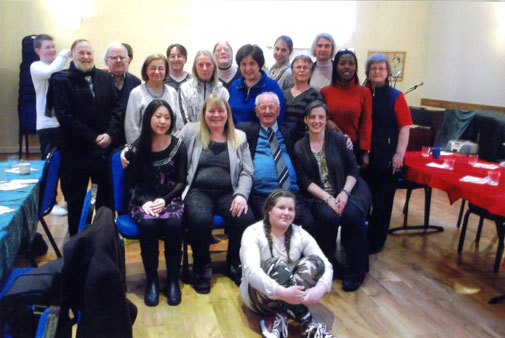 I want to say a big Thank you to everyone who supported the German event in Haslemere Hall, Thornton Heath with their prayers and their attendance.
We listened attentively to an 86 year old English gentleman who was in Germany during and after war. He said he will never forget the many friends he had in Germany and how well he was looked after by German families, cooking for him and embracing him like part of their family. He brought a big map and old photos to show all our German participants where he was in Germany, and kissed and hugged all the German sisters.
I often think about True Father's words, that when we meet someone elderly we should treat them like our grandparents, no matter where they come from. With this kind of understanding I'm sure we can overcome the barriers of nationality and background.
In the days while I was getting the event ready I felt a constant heavy feeling, with a voice in my head saying to me, "why are you doing this, nobody will come", and a few days before event I felt very ill and thought about cancelling it, but then I asked God to take over, because in the end all that we do is not for us, but hopefully for a better world to come about, a world of heart. I always prayed for our Heavenly Parent to make the event happen; I know I have physical and spiritual limitations – I have fallen nature like everyone else, but all I have is my desire to do something for the happiness of others.
I spent 4 hours in the kitchen cooking German food, which was very much appreciated by all guests.
A while ago I came across a choir teacher, who teaches international songs and I invited her to teach us German folk songs and hymns. She did a very good job, and in less than an hour we sang several German songs in canons together. All the participants enjoyed it very much and as we learned a German children song it brought back to many memories of our childhood.
The comments from all 20 participants were very positive and people came up to me and asked me when next event would be.