| | |
| --- | --- |
| | The Words of the Shrestha Family |
I think of myself as True Father's oldest son
Ganesh Kumar Shrestha
2011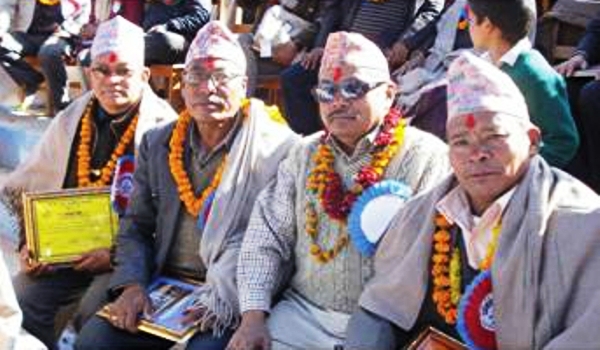 Mr. Shreshta graduating from a 120-day Special Education Workshop for Asian Leaders
I am from the country of Mt. Everest. I think of myself as True Father's oldest son. I was born in the eastern part of Nepal on the lap of Mt. Gaurishankar in 1952, just two years after independence from autocratic Rana Regime, under the revolutionary leadership of the Nepali Congress Party. My birthplace is a remote mountain village, inaccessible to motorized vehicles and lacking modern amenities. I started my childhood by grazing cows and goats in nearby pastureland and sometimes in the forest, where the grass was available for our animals, which provided us with the fresh taste of milk from both cows and goats. Every year in the dry season, people of the village bring all their domestic animals far from the village to graze in the forests for three months. I went as a "cowboy" and sustained myself on corn and millet grain mixed into boiling water to make a gruel we call "dhido," which I washed down with cow's milk as all the cowboys did. I lived this life until the age of eleven.
My Father
Being an ex-army man, my father had been a freedom fighter before 1950. He had lived a difficult life of toil from 1948 to 1950 as a soldier opposing Nepal's autocratic leadership. Soldiers loyal to the Rana Regime had tortured him. His first wife was killed, shot by members of the national army of that time. He was freed when freedom was declared in February 1950. Then he married my mother and I physically was born on February 12, 1952. There was not any kind of school in my village at that time.
From Goatherd to Student
After thirteen years of independence, my father established a primary school in my village in 1963. I started my formal education at the age of eleven. My father had taught me basic letters at home; thus I was enrolled in third grade in the same primary school. My scores were of the first rank and I should therefore have been promoted beyond the fifth grade, but that primary school had only five grades.
I had no choice, if I were to study further, other than to go far from my native village. One difficulty was having to go so far away from home; another was that my father could not afford the expenses for my further study. I seemed to have no option but to return to caring for goats and cows.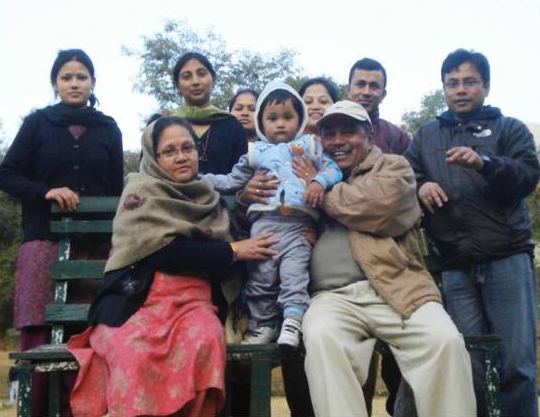 Three generations of Mr. Shreshta's family
A Second Round of Learning
In this way a few months passed. One evening, a man, accompanied by his family, came to my house on the way to take up his post as a middle school principal, one full day's walk from my village. He was more or less familiar with my father. I understood the situation and I gave my best service to him to the extent that I was able as a boy of that age. He became very happy. The next morning, he asked my father to send me with him for further study. After I had bowed my head to my father's feet, he was ready to send me with the middle school principal.
Middle School
I was delighted to go with him. When I reached his school, I was enrolled in seventh grade, on the strength of my having passed the fifth grade in the first rank. From that time, I had to wake up early in the morning, wash the cooking pots, clean the rooms and prepare the tea and breakfast for the principal and all his family members. Then I used to arrive at his school before he did, clean his office and go to my classroom to study. In the evening I had to return to his house, clean the floor and make everything ready for dinner. All these things I had to do because he covered all my expenses as a student.
My Homecoming
Even in seventh grade, I remained in the first rank of students. I could not however be promoted to ninth grade because this middle school finished with eighth grade. Returning to my village was the only route open to me at that point. After returning home, I not only started to teach in our village primary school as a teacher but I had to take the principal's position, because nobody else was available to manage the school.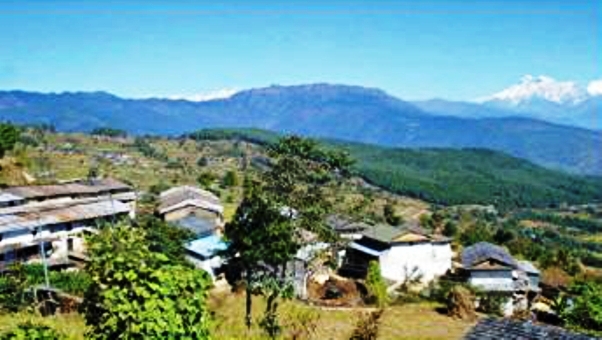 Mr. Shreshta was honored in his home village at the school that his father founded and that he developed further to the middle school level.
My Next Step
My father was happy because I was working as the principal, but I was not happy. I was in a continual state of questing for the right time to further my education. In a similar manner to how I was able to seize the opportunity to attend a middle school, after nine months there, one day my father's close friend came from the capital city, Kathmandu, to visit our farmhouse, see our farmland and our village. He was from a landlord's family. His family was rich and powerful at that time. He was there for his personal enjoyment with another friend. He went hunting for deer and tiger, spent time sightseeing and eating and dancing with the people of our village. During his stay in our village, I provided my utmost service to him and I made him happy. My father was also happy with me at that time. When I put my request to my father's friend, he was ready to carry me with him to Kathmandu for further study. For the first time, I saw happiness and satisfaction in my father's face. Eventually; my father's friend brought me with him to Kathmandu.
This was a kind of victory for me. I was excited to do anything in order to study. The landlord's son brought me to Kathmandu and enrolled me in ninth grade. He provided me with a room, food and clothes, but I had to do almost all the work in his house. Even in ninth grade I scored in the first rank. The next year, I had to take the examination necessary to graduate high school.
A Time of Heartache and Grief
After two years in Kathmandu, I was taking the series of tests necessary for the High School Graduation Examination. I had done the eighth paper out of nine, when one of my relatives brought me a letter tied with red thread. It was a bad message, my father had died. I wept all night, and the next day I had to appear for the last paper amidst my tears and shock.
The most shocking and anguishing event of my life was not being able to see my father's face at the end of his life. I went to my village. I could not recognize my mother in her condition; she was weeping, weeping and weeping. After thirteen days of homage, my brothers and I came out as if from a den. These brothers were from my father's first wife, from before independence. I have four younger brothers and two younger sisters from my mother. My father was gone and all the older brothers took most of the properties with them. I was the oldest child on my mother's side and I had to care for my mother, brothers and sisters. I had no choice; again I took responsibility for my father's primary school as the principal. I scored only in the second rank on the High School Graduation Examination owing to my father's demise. I gave my best service to my father's school. It was already registered as a public school and with my effort it developed into a middle school.
I worked a year and a half there. In the meantime, I continued my college level study, privately, bringing all the course books from Kathmandu. After nearly two years, I went to Kathmandu and appeared for the college level examination. I tried for any kind of educated job with the help of my father's friend, whom I mentioned before. Luckily I found a temporary job in Kathmandu.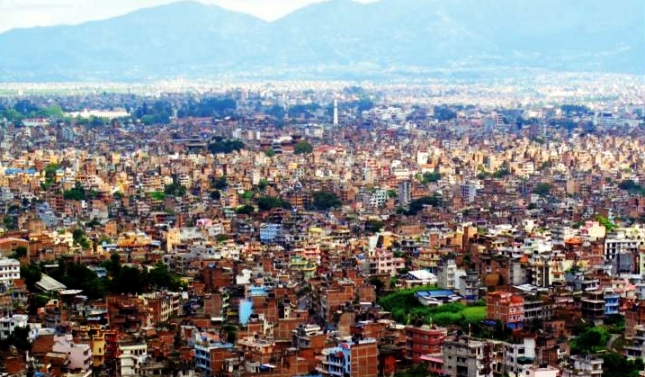 Kathmandu, Nepal's capital city lies in a valley of the Himalaya Range at 1,400 meters (4,600 feet) and is home to nearly a million people.
Working in the Capital City
Then, immediately I went to my village. I handed over all the school responsibilities to the assistant principal, and I consoled my beloved mother. At first she did not agree; later she gave me her permission to leave. I went back to Kathmandu and took up my work duties. I worked from 4-9 Pm and continued my university studies in the daytime. On the one hand, it was a great opportunity for me; on the other, my income was insufficient, but I had no other way out. I had to survive. Though suffering and sorrowful, my mother took care of my small brothers and sisters. Sometimes, I sent small amounts of money to her that I had saved out of my meager salary.
After four years of this laborious life, I passed the university examination and obtained a degree with honors in Economics. It was a great day for me; I prayed to my father in heaven with tears all that night.
The next morning, I felt that a new day had begun. I went through the national newspaper, Gorkhapatra. I came across new vacancies for government officers, sixteen posts. Two days later, I went to the Public Service Commission (PSC) to apply.
I applied and after three months, the PSC held an open competition examination in all five of Nepal's regional centers. Nine thousand university graduates competed. We did a four-page written examination. Eleven months later, the PSC published the results. Only twenty-five candidates had been chosen. I was one of them. Thank you Heavenly God!
Yet, further cuts would take place since only sixteen posts were open. I had to pass three additional examinations; that is, an intelligence quotient (IQ) test, a test of group discussion capacity and finally an extensive interview, all to be done within a month. When the PSC published the final results, I came in eleventh.
A Public Servant Finds Love
Now, I had a permanent gazetted post in the government of Nepal. That day I prayed to Heavenly God, Heavenly Father, and Mother Nepal and pledged to give my best service and my lifetime effort to my nation. I was appointed to the Ministry of Finance as a section officer. Before starting the new job, I went to my village and bowed my head to my mother, who gave me her heartfelt blessings. Her face brightened and she was extremely happy.
I went back to Kathmandu and I took up my post. After six months, they posted me to the Department of Commerce, under which there were two consulate general's offices, one in Calcutta, India, and other in Lhasa, Tibet, in China. I was sent to the Calcutta consulate general's office.
Many Nepalese families live in Calcutta. A friendly Nepalese colleague in the office took me to the home of a relative of his living in Calcutta on the eve of "Dashain", a major Nepalese festival day. I took notice there of a young woman who served food to us. She was the relative's daughter. From then on, we often went there. Later, I went by myself on holidays. Slowly she and I began to like each other. After nearly six months, I came back to Kathmandu and I brought her with me with her parents' tacit approval. I married her in a Goddess Temple according to Hindu culture. It was a kind of love marriage.
A Turning Point in My Life
One day, I do not remember the exact date, some members of the Unification Movement came to my office for fund raising purposes. They gave me a brochure, in which I found words of peace, true love and an introduction to the Family Federation. True Father's name appeared in one corner of the brochure. When I read it, I became excited, because our country was in the midst of the peace process with Maoist rebels. This was in 2006. I helped the members with what they had come for; they collected quite a handsome amount that day and they invited me to a program. One of them, Binod Paudel, I consider my spiritual father.
Since then I have been in this movement through the inspiration of True Fathers' true love, true lineage, individual peace, family peace, interracial peace, international peace, intercontinental peace, world peace, universal peace and Unificationism. I have been appointed as an ambassador for peace by the Universal Peace Federation, which True Father founded on September 12, 2005, in New York City in the United State of America.
Aiming High
One day, in the first week of April 2011, I was in the FFWPU headquarters in Kathmandu and our national leader and then Nepalese parliamentarian Ek Nath Dhakal asked me to participate in a 120- day Special Education Workshop for Asian Leaders, in the Philippines. Going through the schedule amazed me. Each day began at 3:30 AM and finished at 10:30 Pm. Despite that, I agreed to take part in the seminar. I went to Manila with three brothers via Bangkok.
The 120-day seminar was truly tough for the first few days. I was near to giving up, but I did not leave. I tried my best to overcome mind-body issues. I had to complete the seminar because True Father was ninety-one years old and was still doing his best. The seminar provided me with deep knowledge of history and caused me to feel that I must make a U-turn in my life. I am determined to achieve individual peace, family peace, societal and national peace and world peace. True Father has embraced Nepali will establish the kingdom of heaven on earth according to the True Father's will!