| | |
| --- | --- |
| | The Words of the Pyun Family |
In Memoriam Hae Soo Pyun
Robert Chaumont, David Richter, Sarah Witt, Will Peat, and Therese Stewart
September 18, 1990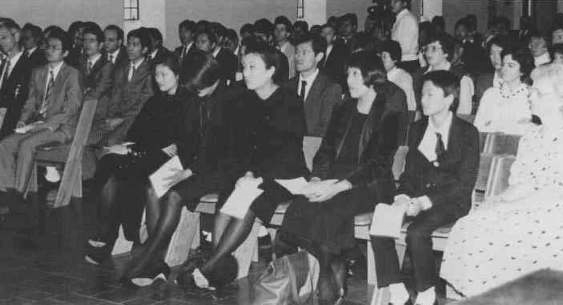 Dr. Pyun's wife and children listen attentively as students and staff of UTS share their tributes in memory of him
These are remembrances offered by the faculty and students of the Unification Theological Seminary to honor their beloved professor, Dr. Hae Soo Pyun, who passed into the spiritual world on September 18, 1990 at the age of 56.
"There is a Big Aspect to be considered,
The superior man's obsession to kindle within.
Can you keep your mountain of ego under the earth?
Can you carry your parents on your back?
Can you walk lightly on thin ice in spring?"
(An excerpt from a poem entitled "The Philosopher Pyun Hae Soo" written by Robert Jules Chaumont, a former student of Dr. Soo's.)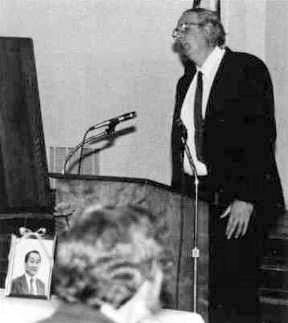 Dr. Hae Soo Pyun, professor of Oriental Philosophy and Korean language at UTS since 1976, died in his sleep in the early morning hours of September 18. The news came as a shock to the seminary community, which had been accustomed to seeing his bright face every Friday, when he would come to Barrytown, a three-hour trip from his home in Long Island, to teach one day a week. For 14 years his quiet demeanor and kindly inquisitiveness were well-known features among the faculty, students and staff.
Born in Seoul, Korea on September 13, 1934, Dr. Pyun graduated with highest honor from high school and began his first term at Seoul National University before coming to the United States. He came to America as a young man, still in his teens, as something of a pioneer. At that time he considered himself to be Christian and enrolled in Seton Hall University, a Catholic school in New Jersey. It was then that he found his real calling to revive interest in Confucianism, which he saw as a dying religion. He felt that it was important that someone assure its preservation, thus he became a professor of Chinese philosophy.
He graduated cum laude from Seton Hall University and continued further studies in philosophy at Columbia University, where he received his PhD. degree in 1966. While doing his graduate work, Dr. Pyun held several part-time positions teaching Western philosophy and Chinese philosophy at State University College at Oneonta, New York for one year before moving to Long Island in 1967 to teach at C.W. Post and to devote himself to writing on philosophical issues.??
In 1972, Dr. Pyun had his first book published, entitled "The Metaphysics of F.J.E. Woodbridge." He continued his writing interest after joining the UTS faculty in 1976, and completed a book on Oriental philosophy entitled "Zen Sutra and Wang Pi's Commentary on Lao Tzu's Tao Teh Ching" in 1980.
Dr. Pyun was a good man and much liked by his students and colleagues. His teaching associates attest to the fact that he was charming, witty and brilliant. Although he was a professor of Oriental philosophy, he was also thoroughly grounded in all areas, problems and schools of philosophy. He was always willing to spend extra time with his students, and they found him fascinating and enriching to be with. He shared his wisdom with nearly a generation of young people.
Dr. David Carlson, a fellow professor with Dr. Pyun at UTS as well as one of his former pupils, said, "for every question that we asked him, he asked us ten more questions... on a deeper level." He referred to Dr. Pyun as a "teacher of teachers," and said that if Confucius were around today he would probably want to revise his Analects, which concluded that there was no "true gentleman" in the world (chun tzu), since "I think Confucius would find Dr. Pyun a true chun tzu."
Dr. Pyun contributed to the lives of many of his students, his own life was exemplary for he lived what he believed. The words which are recorded on the hearts and minds of his students will never be lost or forgotten.