| | |
| --- | --- |
| | The Words of the Pechardkhao Family |
Report from Thailand CARP
Vichai Pechardkhao
June 1989

T-CARP's Rural Development Project includes teaching children in low-income areas.
After the First CARP Convention of World Students was held in Seoul, Korea, in November 1984, Thailand CARP began its activities at Ramkhamhaeng University. We initially established a student group to meet and talk with students. Although there was no permanent center, we had tables at the university, and new members were accepted daily.
At the start of that academic year CARP members set up a booth on campus to offer advice regarding registration and scheduling. Many people were impressed with our volunteer services. We have since continued this service every year.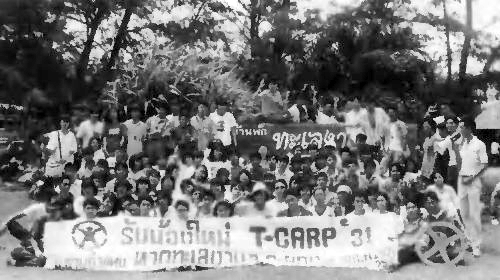 T-CARP workshop attendees express their enthusiasm.
When classes are about to begin it is customary for old students to conduct welcoming ceremonies for new students. This allows students to engage in merrymaking activities and promotes relationships between old and new students. These are held for three days in the provinces. Therefore, T-CARP initiated its own Hanmadang Games during this annual three-day period, to which associate members of T-CARP were invited. This promoted CARP unity and spirit right from the beginning of the year.
In the academic year of 1987-88, the First CARP Convention of Asian Students was held in Bangkok, and was attended by CARP students from Thailand, Malaysia, and Singapore. During the Convention there were sports events and seminars. Thai students at the Convention were inspired to make relationships with CARP students from other Asian countries.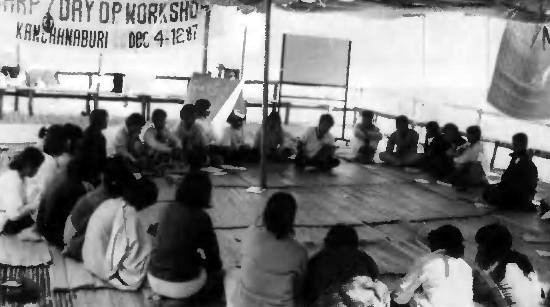 A discussion group at a Divine Principle workshop.
Service Projects
We have conducted many projects for the benefit of the general public over the past five years. CARP sponsors an ongoing rural development project in which volunteers travel to poor and remote provinces to help the people build water reservoirs, repair school buildings, and learn about health and sanitation. About 60-70 students participated the first year. It teaches the CARP associate members patience, the will to overcome difficulties, and the heart of sacrifice. Another activity concerns giving free lunches to small children in child-care centers. The children, who are under the government's patronage, are always in search of love. Still another activity is teaching children in lower income areas. As CARP members serve in these places, we develop a better knowledge of existing social problems and how to solve them.
Through on-campus CARP activities students come into contact with many other people, thus developing broader personalities and self-confidence.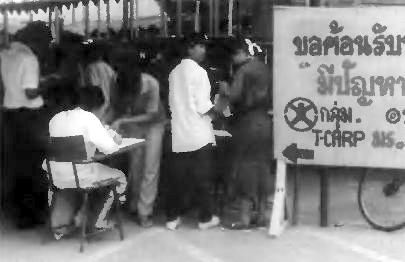 University registration service project.
In early 1988 it was announced that the World CARP Convention for that year would be held in Thailand, causing great excitement among every T-CARP member. As a result of all of our activities, T-CARP was able to select very good athletes from among its members. Anybody interested in attending the CARP convention had to have participated in T-CARP activities first. Thus, many students joined various CARP activities, especially the Third Hanmadang Games, and continued with athletic training in the mornings and after classes.
The Fifth CARP Convention of World Students in August 1988 also provided a good opportunity for CARP members at other universities in Thailand to develop their outreach programs. After the Fifth CARP Convention many more students started attending our lectures. Now, during vacations CARP holds Divine Principle workshops in the countryside. After hearing lectures and experiencing the deep fellowship with full-time CARP members, many students find the atmosphere of their college dormitories difficult to handle. Many of them are moving into our CARP Student Home, and later become full-time CARP members.