| | |
| --- | --- |
| | The Words of the Nonami Family |
Youth Service in Kenya
Mitsuaki Nonami
April 14, 1987
Regional leader of East Africa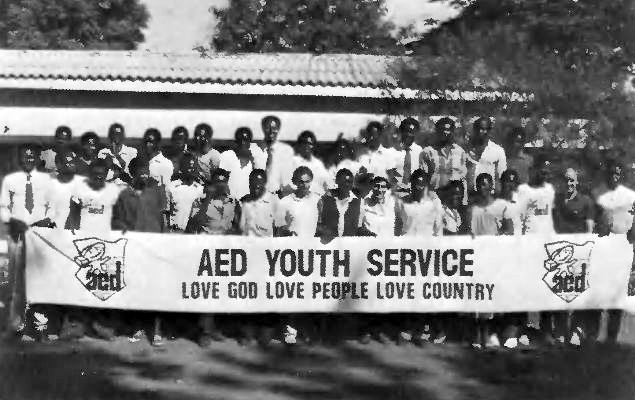 The Kisumu team proudly displays their banner.
The Association for Education and Development (AED), a Kenyan social service organization established by Unification Church missionaries in 1977, held its first youth service project from April 1-14, 1987, in Kenya's western province of Nyanza. The staff and participants of the AED Youth Service conducted a variety of work projects under the sponsorship of the Religious Youth Service (RYS).
The 30 participants were drawn mostly from the 15,000 associate members of the Unification movement in Kenya and also included quite a number of members of the Church of Christ in Africa, a denomination founded by Bishop A.M. Ajioga, who attended the Assembly of the World's Religions in New Jersey in 1985. The staff and participants met in Kisumu, Kenya's third largest city, on April 1 for opening ceremonies and orientation. The theme was "Love God, Love the People, and Love the Country."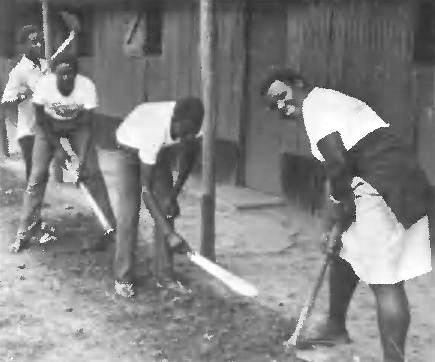 Volunteers joyfully digging in.
Participants were divided into two groups, called the Kisumu team and the Siaya team. The Kisumu team was involved in soil conservation through tree planting and terracing. They also built a fence for the Kisumu Social Center and cleaned the Jomo Kenyatta sports facility. The Siaya team planted trees, painted a Christian secondary school, and cleaned the district hospital.
After work each day, everyone had the opportunity to hear and discuss papers -- written by the participants themselves -- on such issues as "Youth and Religion': "Youth and Morality': and "Youth and Tradition" A two-day seminar on the Principle and the Unification movement was also included in the half-month program. There was even a sightseeing tour to Lake Victoria, the Nandi Nills, a museum, and several churches in the Kisumu area.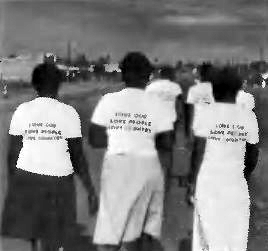 Volunteers wear their new AED T-shirts.
Although most of the participants were from Kenya, a number of European and Ugandan CARP members lent an international character to the project. Said one of the participants: "It was wonderful to spend time with young people from different parts of Kenya and from other countries. It is good to be together with people of different cultures, united and working together. Such activities should be encouraged among young people everywhere."
Local officials and citizens were impressed by the spirit of sincerity and patriotism demonstrated by the hardworking young people. After the first week, the team members were invited to visit the mayor's residence and the town hall. The mayor and the city government sponsored a reception for them in recognition of the value of the AED, and one official expressed his great admiration for the project and for "the ideals of Rev. Moon"