| | |
| --- | --- |
| | The Words of the Naghshbandi Family |
Father Speaks in Istanbul
Sevil Naghshbandi
May 2011
Turkey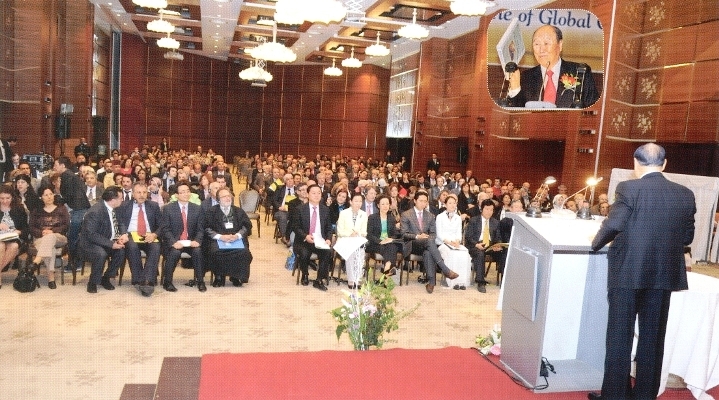 Father speaking in Istanbul, Turkey, on May 7 to an audience that included people from throughout the Middle East
While I was preparing to leave for Turkey for an International Leadership Conference, I learned of the possibility of True Parents' visiting the country. About ten days before their arrival, I learned that it was certain. On such short notice, one would expect great difficulties, considering that we had also to prepare for the ILC, which aimed to include forty people from sixteen Middle East countries. To everyone's surprise, the good Lord prepared everything; all we needed to do was show faith and make the necessary effort to substantiate it. May is one of the busiest months in Istanbul and hotels are unlikely to have rooms available. Yet, after several attempts, we found the Sheraton Istanbul was ready with all we required -- the presidential suite, a hall for our main event and one for the ILC, and fifty additional rooms. What a miracle!
From my perspective, another miracle was that for first time ever, Father had a base to address people from many Middle Eastern countries in an Islamic nation.' Actually, for the last three years, we've had a plan to hold a high- level ILC in Turkey, but we never thought that True Parents would come. My personal feeling is that the Little Angels' performance was the foundation that made this possible?
The night before his speech, Father said that he would like to see a thousand people at the event. Originally, we were expecting no more than three hundred and fifty. We brainstormed that night, and the following day, with a few basic changes, we prepared to receive many more than originally expected. The expression of Hyung-jin nim's natural charisma through his introduction of True Parents set the tone for the evening. The audience cheerfully welcomed True Father and enthusiastically applauded at many intervals during his speech. Parliament members, religious leaders, civic leaders, academicians and Korean War veterans were among those present.
Witnessing the unity and harmony between True Parents and True Children at close range was very uplifting. Seeing the True Children's exemplary standard of filial piety brought me to tears. I feel heartfelt thanks for the motherly heart and concern Ye-jin nim showed when I spoke with her about a problem one of our sisters was having.
During one of the Hoon Dok Hae sessions, as we were all awestruck by the beauty of the rising sun, Father gave his blessing, saying that he will come again to Turkey. He also mentioned that He wants to build something like Acropolis, a peace palace here. Father said that Istanbul, then known as
Constantinople had been the capital of the Byzantine civilization, which was the fruition of the Greek and Roman civilizations.
I remembered a dream that a friend of mine had had during the Little Angels' visit to Turkey. In that dream, the White House had been cut off at the base, loaded onto a ship and brought to Turkey. To me, the dream foresaw Turkey playing a central role in its region. When Father announced to an audience that included four of our regional presidents that Turkey will be the center of the region and asked for their full support, the word confirmed my interpretation of the dream.
True Parents came here to dig into history and to open a new era with unprecedented blessings, so we all now have even greater responsibility to be worthy of their trust. Realizing the significance and importance of the moment, we must now act and not fail to take advantage of this providential tailwind, so that we may look forward to seeing and greeting True Parents on a solid foundation.