| | |
| --- | --- |
| | The Words of the Nada Family |
In Memorium Sumiko Nada
Gaku Makise
March 7, 1989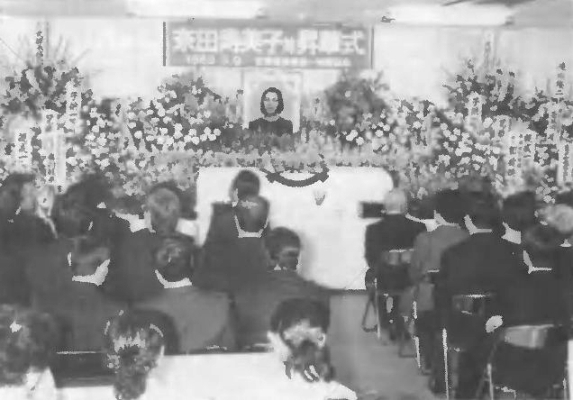 On March 7, 1989, a very special person, Mrs. Sumiko Nada (49), died from stomach cancer. She was born in January 1940 and was a 777 Couple. Mrs. Nada was known to all Japanese brothers and sisters as an early member who had dedicated herself purely and wholly to God's Will.
Her Gwi-hwan and Sunghwa Ceremonies were held on March 8 and 9, presided over by Rev. Hideo Oyamada, Vice President of the Japanese Unification Church, and Rev. Osami Kuboki, President of the Japanese Unification Church.
From elementary school days, Mrs. Nada was concerned with religious ideals. Her grandmother had advised her: "If you have to choose between two ways, go the way that you think is more difficult."
In 1959 she entered Waseda University, and majored in psychology. Later, while a member of the Rissho-Kousei Association, one of the main Buddhist denominations in Japan, she was introduced to Divine Principle by Mr. Kuboki. He was a top leader of the Association's National Youth Section. In 1963 she attended a Unification Church 40-day workshop and joined.
In 1964 she pioneered Kanazawa City. Later she held various leadership positions in several district churches. She became the Vice-President of the National Heart Education Institution and poured her whole zeal into education based on God-centered love.
She was a 40-day workshop lecturer and especially dedicated to women's education. In October, 1970 she was blessed with Mr. Naohiro Nada in the 777 Couples Blessing. In 1976, during the time of the Washington Monument Rally, Father shared with her about her child-bearing problem. He told her to be calm because she would surely become pregnant. (Actually this came true very soon afterwards, and they have a beautiful daughter.)
From 1980, she devotedly helped her husband, Naohiro, the Vice President of the Sekai-Nippo newspaper, and became a reporter for its cultural department.
Her life was filled with many God-centered dramas. Her lifelong attitude was one of humility. She was also a sophisticated writer, publishing several books, including A Life with God and A Life with Christ. Her husband, Mr. Nada, said: "First of all, I sincerely give thanks to Heavenly Father and True Parents for opening the way for us to have a Sunghwa Ceremony. In an operation last year her stomach was cut from the right side to the left side; she told us that this mark was like the 38th parallel of the Korean peninsula. My wife offered her suffering to God and spent every day praying that her own victory would support the unification of the Korean peninsula."
At the Sunghwa ceremony Rev. Kuboki said: "Like a butterfly with wings flying into the sky, Mrs. Nada went into the eternal spiritual world. There, she can help us who remain to accomplish God's will. She has contributed her whole heart to God-centered education in our movement. We all need to learn from her absolute faith in God and her humble, loving personality."