| | |
| --- | --- |
| | The Words of the McKenzie Family |
Announcing the Passing of our Brother Hal McKenzie
Joshua Cotter
October 20, 2010
Dear Brothers and Sisters,
On Monday morning, October 18th, Hal McKenzie, the husband of our Georgia State Pastor, Lynda McKenzie, transitioned to the spiritual world. He was 62 years old, and even when he was not feeling well, he made a major contribution to the ministry at the Atlanta Family Church. He will be greatly missed by his family, and by brothers and sisters in America and around the world.
Hal and Lynda McKenzie were blessed by our True Parents with the 1800 Couples in 1975. They are highly respected elders in the American church and much loved by True Parents. Both joined our church over 40 years ago.
Hal lived a victorious life of faith, devoted to God and True Parents. From the Divine Principle, we know that Hal's transition is his birth into the eternal world. We will miss him here, but we celebrate his entry into his third phase of life.
The Seunghwa for Hal McKenzie will be held at the Atlanta Family Church on Sunday, October 24 at 2:00 p.m. The address of the church is 3060 Bouldercrest Road, Ellenwood, Georgia 30294. People arriving early are welcome to attend the Lovin Life service at 10:00 a.m.
You may send your notes of encouragement to the family at:
Pastor Lynda McKenzie
656 Forest Lake Drive North
Macon, Georgia 31210
Hal prepared the following brief biography of his life for the upcoming celebration sponsored by our national pastor, Rev. In Jin Moon, "Honoring our Tradition: 40 Years of Faith," now scheduled for December 10 in New York.
God bless you Hal and Lynda and your family.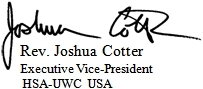 Hal Corbett McKenzie
I joined the Unification Church on October 19, 1968, in Philadelphia while a student at the Philadelphia College of Art, dropping out of college to become a full-time missionary. From the very first lecture of Divine Principle, I knew this was a ground-breaking truth that would transform the world and create a world of peace, so I wanted to teach it immediately. Over the years everything I have experienced has reinforced that first impression.
Dr. Young Oon Kim assigned me to do missionary work in New Haven, Conn., where I worked with the International Conference for Unity of the Sciences and the Freedom Leadership Foundation. I moved to Washington, D.C., in 1970, where I served as associate editor of the FLF [Freedom Leadership Foundation] newspaper, The Rising Tide. I participated in American Youth for a Just Peace, which toured Vietnam with other anti-communist young people to support peace with freedom for Vietnam.
While in Washington D.C., Father chose me to edit the church's magazine, The Way of the World, in Seoul, Korea, where I lived from 1970 until 1972 when the magazine moved to Washington D.C. While in Korea I learned Victory Over Communism Thought from Dr. Sang Hun Lee. I was especially moved by my time in Korea where I was privileged to see Father with his family and the early members. He was always a completely natural man, never posing or posturing, and treated me and the other Western members in Seoul as if we were his close companions.
In February, 1975, I moved by Father's blessing me to Lynda Champion in the 1975 1800 couples marriage blessing in Seoul.. It demonstrated to me that Father really can see into the essence of things and is in communication with the Spirit World.
I spent a year at Unification Theological Seminary in Barrytown, New York, lecturing on international affairs and VOC ideology. I also helped edit Toward Our Third Century, a commemorative publication to mark America's bicentennial. I participated in the founding of The News World newspaper in 1976, which changed its name to The New York City Tribune in 1982. I served as international editor, news editor, science editor, commentary editor and senior editor. I wrote news, editorials, op-ed columns and reviews.
In 1991 I worked as copy editor on the book World scripture: An Anthology of Sacred Texts published by the International Cultural Foundation, and then moved to Washington D.C. to serve as Current Affairs Editor for The World and I, a magazine published by the Washington Times.
In September 1993 I moved to my late father's hometown of Montezuma, Georgia, after my mother fell ill from progressive supranuclear palsey (PSP) from which she died in 1998. Meanwhile I worked as reporter and editor for the Americus Times-Recorder, winning the 1996 Georgia Associated Press Public Service Award, Class A. I was also staff writer for the Robins Rev-Up, the weekly Air Force newspaper at Warner Robins Air Force Base.
In March 2003 I became webmaster of CosmicTribune.com, a website dealing with space, environmental and religious news. I then worked as webmaster for Insight on the News, a website sponsored by The Washington Times, and lastly edited religion briefs for United Press International. My wife, who teaches kindergarten, and I now live in Macon, Ga., and have five children and four grandchildren.