| | |
| --- | --- |
| | The Words of the Goldberg Family |
Vision and Membership Class Rescheduled for Sunday, May 20th
Matthew Goldberg
May 17, 2012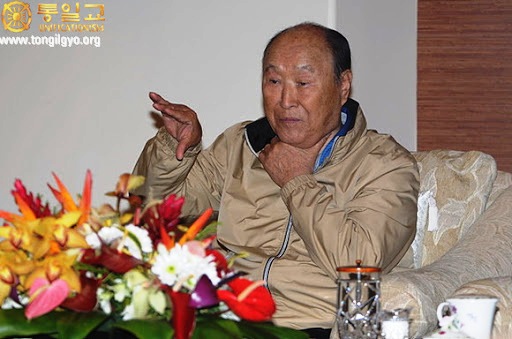 Sun Myung Moon -- March 28, 2012
Dear Brothers and Sisters,
Bob Dylan sang a song a few years back, "The Times They are a Changin'" As usual in this era, the only constant is change.
We have changed the location, date and time for the Vision Class for new members to this Sunday afternoon. Please join us at the Peace Cafe at 16th and Columbia Road at 4:30 PM to help our new members launch their spiritual Journey with Lovin' Life.
This change was made due to our National level training presentation entitled, Blessed Life Seminar. Please plan to attend this important educational opportunity on Saturday in Washington, D.C. to learn about the new national standards for the Blessed Life Ministry.
Saturday's all day program will be brought to you by our National Lovin' Life Blessed Life Team and will take place in our church building at 16th and Columbia Road. Lunch and supper are included in the $15 registration fee.
The Marriage Blessing has meaning for each of us, no matter when we receive the True Parents. We live in a time when each one of us is empowered to be a spiritual guide for those who are searching for deeper meaning and a life of the spirit. Naturally as we get to know and mentor new people, the question of marriage and family will arise.
Not only do we need to share the "breaking news" about the messiah, the Divine Principle and what it means to live at the time of the Kingship of God, but we also want to be able to give hope to those who are searching for true happiness and true family.
What does it mean to live a "Blessed Life"? This question is becoming more and more relevant as people who are striving toward a new world of goodness look for the standard of true happiness amidst the confusion of postmodern society.
Brothers and sisters, it is time to rekindle our own spirit and our joy and what better way to do it than to renew our blessing and our understanding of what it means to be blessed.
Please check your e mail for registration for Saturday. And then plan to come see the Vision class on Sunday evening.
Sunday Service at New Hope Academy Lovin' Life Ministries of Maryland
May 20, 2012
10 am Worship Service -- followed by Il Shim Graduation
Fortune Smiles on Family Greeters' Program
Would you like to inherit heavenly fortune by serving your church community as a family? This is an important ministry and a wonderful opportunity to serve our community. If you feel called to serve in this way, please see Pastor Matt Goldberg at church on Sunday. Or, call Mrs. Gay Grow, church secretary, to express your interest.
Women's Supper Club:
Women of all ages are invited to enjoy each other's company over a delicious pot luck dinner every 4th Saturday of the month from 6:00 -- 9:00 pm. Dinner will be from 6 -7:30 and from 7:30 -- 9 we'll be interacting on the topic, "What is a Woman?" On Saturday, May 26, we will have meditation and sharing after our relaxing dinner. Please join us at Kim Dadachanji's home, 3100 Stonybrook Drive, Bowie, MD. RSVP, if possible. See you there!
Shehaqua Family Camp
Registration Open for Shehaqua Family Camp Take your family to Shehaqua Family Camp this summer!
Register now and take advantage of the early bird discount (until May 31). Choose from four different workshops, from the end of July until mid-August. The last week includes a health retreat. Your family will gain immensely from the experience of attending camp together! For more details, please visit www.live4joy.org
Camp Dates:
July 22 – 27
July 27 – 29
July 30 -- August 5 (one extra day)
August 6 -- 11 (focus on young families; with health retreat)
Employment:
South River Martial Arts, Edgewater, MD Two summer camp staff needed with safe driving record. Will be responsible for driving a van and helping kids with activities from 9:30 -- 4:00 pm. Call Highmy Her for more information.