| | |
| --- | --- |
| | The Words of the Goldberg Family |
Cultural Ministry
Matthew Goldberg
December 23, 2011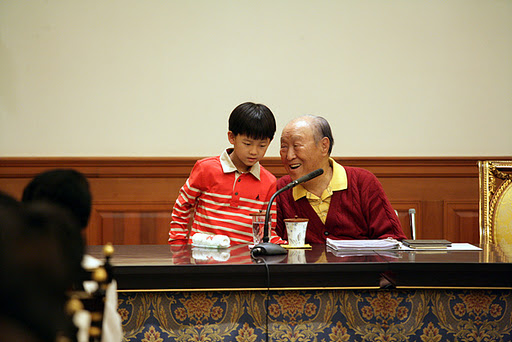 Sun Myung Moon November 16, 2011
Christmas Sunday Service at New Hope Academy Multipurpose Room
"The Upper Room"
December 25, 2011
Lovin' Life Ministries Metro Area Worship Service 10-11:30 am
Dear Families,
Merry Christmas and Holiday Greetings of all sorts. Happy Hannukah! Good Kwanza! It is amazing the variety of cultural celebrations we find in the winter season. I hope you don't mind my calling the Multipurpose Room at New Hope Academy, "The Upper Room". That is to help us remember we will not meet in the Gym this Sunday!
In the coming year our growing ministry team would like to showcase many of the beautiful cultures we represent in the Unification Church. This is in keeping with "Cultural Ministry" and is part of the overall Lovin Life Ministry Program which is being developed nationwide.
Please connect with Mrs. Keiko Burton to brainstorm about making a Cultural Ministry Team. Perhaps you have an idea for a cultural celebration in 2012. Maybe you might like to create a party after church with food and music from your own cultural background. Or, maybe you just want to help in any way. We would love to have your input!
Also, I want to share just a quick word about how to grow our community and our church in the coming year:
I am excited about a new book entitled, "The U Turn Church", which may be found in most Christian bookstores. It contains great ideas on how to become a vibrant and growing church.
Can you guess which is the most important power that can be unleashed to bring transformative growth both personally and for any church? As a hint, here it is spelled backwards: (REYAP)
Yes, brothers and sisters, it is prayer! And here is a prayer formula that works. Try it and see.
ACTS Prayers, according to the authors, is a model that helps structure effective prayers. Here is how it works:
A = Adoration (Spend significant time worshipping God)
C = Confession (Spend significant time confessing our sin to God)
T = Thanksgiving (Offer a ton of thanks for all the Lord has given and done)
S = Supplication (Lay out our needs to the Lord, and pray for others)
I hope you will begin to feel the call to launch effective prayers as we go forward. With God's and True Parents' love we can see miracles in all of our lives as we enter the year 2012.
May your worthy prayers be answered and may we all join with friends and family to celebrate this holiday season of light.
We look forward to worshipping with you this Sunday,
Pastor Matthew and Marianne Goldberg
Prayer Requests:
True Parents and True Family Please
Send any prayer requests to Administrative Assistant: Gay Grow at gpgrow@gmail.com
Announcements And Upcoming Events!
Mental Health Program (Free) for Prince George's families:
The National Alliance on Mental Illness is holding its free 12-week "Family to Family" Education Course, starting Tuesday March 6, 2012. Meets once a week at 7 pm, and is very helpful to families with a loved one with a problem like depression, bipolar disorder, schizophrenia, panic or anxiety disorder, obsessive-compulsive disorder, personality disorders, etc. Please call Dorie at NAMI-PG to register. More information at www.namipgcmd.org.
From the Blessed Family Ministry (soon to be called Blessed Life):
Blessing news: The next Blessing Ceremony will be held March 22, 2012. More details are coming about this event, and about Level III pre-Blessing workshops for matched couples. All matching candidates who need help preparing materials for Websites (1st Gen or 2nd Gen), please feel free to contact District 1 Matching Advisers, Doug and Cheryl Wetzstein, Virginia Scazzero, Wendy Herstein or Annemarie Weinmann.
Getting Back on Track Workshops:
The next one is on the West Coast: Jan. 13-16, 2012 in Los Angeles. The next East Coast workshop is May 31 -- June 3 in New York.
Civil War Author: New Release
Our brother, William Connery, a member of the NoVa community, has just published his first book: 'Civil War Northern Virginia 1861.' The book covers the first year of the War Between the States in Alexandria City and Arlington, Fairfax, Prince William and Loudoun Counties. The book sells for $19.99 through the History Press (www.historypress.net). Bill also has copies, which he can sign. This is the perfect Christmas gift for the History fanatic in your life!
Special Grace
Special Grace for Liberation and Blessing -- If you have questions, need help completing forms, or anything else that is related to the CP Providence, contact Laura Herbers by email or telephone to set up a time to meet.
Autobiographies
Need Autobiographies to Give Out? Want to fulfill Father's providential goal of handing out 430 copies? Want to promote True Parents, the Principle, and the church? Want to find spiritual children? Then contact Bob Selle. If you have extra books that you cannot use right now, please bring them to Ron Musiol at the book table after service and he will offer credit for them so that someone else can buy and distribute them.
Rooms, Employment and Other Opportunities Job Opening:
Looking for a part-time position? Like People? Like to demonstrate interesting products?
White Marsh Mall location needs people to take shifts during thisholiday season! (Best if you have your own transportation; prefer over 21-year olds.) Call today!!!
Two Bedrooms for rent:
Quiet neighborhood in the Franconia/Springfield section of Fairfax County, VA. Fairfax has the best schools in the U.S. Right off I-95/495 and near I-395, close to shopping centers/malls and a 15-minute walk to Van Dorn Metro Station (blue line). Please call Bill Connery.
We Buy Cars, Trucks, RV's -- Any condition -- Distressed or Nice
Please Call Jim Boothby. Free Tow. Call for help with repair decisions, body work and insurance settlements. Late model, low mileage cars also available.
Room For Rent:
Furnished room for rent five minutes from the University of Maryland. Nice, quiet neighborhood. House backs up to woods. Call Jan van Zutphen for more information.
If You Need To Mail Your Tithing Check...
Make your donation check out to HSA-UWC, and drop it in the mail addressed to:
New Hope Family Church
PO Box 244
Riverdale, MD 20738