| | |
| --- | --- |
| | The Words of the Goldberg Family |
Inspired by the sermons of In Jin Moon
Matthew Goldberg
November 18, 2011
Sunday Service at New Hope Academy Gym
November 20, 2011
Lovin' Life Ministries Metro Area Worship Service 10-11:30 am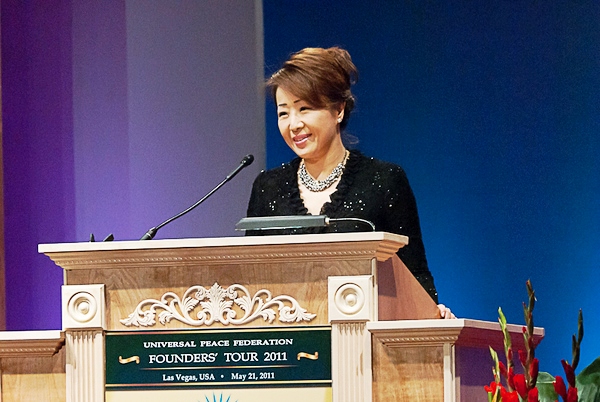 In Jin Moon, May 21, 2011
Dear Brothers and Sisters,
Recently I have been especially inspired by the sermons of our National Lovin Life Pastor, Reverend In Jin Moon. The message from Bridgeport University was so refreshing that I cannot stop thinking about it.
The point that struck me most powerfully toward the end of her message was dealing with the issue of trust. Reflecting deeply on the importance of trust in restoring the world to God's dominion, I remembered that it was sinful mistrust of God that took the archangel Lucifer down a rocky road to destruction and ruin. That mistrust was inherited by Eve and Adam at the cellular level and humanity has suffered from it ever since. Most of us have experienced betrayals of trust in our lives because the world is full of damaged individuals who learned distorted values that deviated from the central point of God's parental love. But when the Messiah comes and establishes the absolute central point of love, the game is transformed and the law of love begins to prevail in all quarters.
How amazing that we have a leader who comes with the anointing of True Parents and is, in fact, of that True Family which is here to establish the central point of love! When In Jin nim asks us to trust her, that is a very beautiful request. But to hear her confess with such humility, that she in turn needs to be able to trust us in order to lead effectively, THAT moves me to tears. It makes me want to be worthy of such trust.
My first encounter with True Father in 1978 in London, England had that same unforgettable quality about it which made me aware that I was indeed in God's presence and grace. I hope that you also hear the call of the God of night and God of day in your life every day. Let us strive to be trustworthy and to trust for the sake of the Kingdom of Heaven.
Living at the time of the Messiah is a perfect reason to feel grateful and to give thanks.
With the season turning to late Autumn, our thoughts turn to a time of thanksgiving.
It seems as if the crisp cool air is buzzing with turkey talk and soon we will all be sharing a meal and "gobbling" at the welcome table this Sunday afternoon. I hope you will allow me to tell you a little fable, sort of a light bit of humor.
There is an old story told, about a retired teacher of English who became lonely in old age and decided to look for a companion. The stern but dignified elderly lady went to a pet store where her eyes fell upon a gorgeous, multicolored parrot perched in a cage. She inquired of the pet shop keeper about the pedigree of the bird and was told it would not be a wise choice.
"Why not?" asked the lady.
"It happens that this particular parrot was owned by a sea captain who taught it to speak foul language," said the shop owner.
"Never mind, I can handle that," said the former teacher. The pet store owner shrugged and reluctantly sold the bird to the lady.
When she got it home and set up the cage in a prominent corner of her living room, she brought a biscuit and offered it to the parrot. "Would Polly care for a cracker?" she asked.
The parrot cut loose with a string of profanity that turned the air blue. In a moment the former teacher grasped the bird by the throat, opened the freezer door to her refrigerator and thrust the offending avian inside saying, "You just stay in there till you learn to speak with a civil tongue!"
An hour later she returned to check on the misbehaving fowl. Opening the door to the freezer she observed a very repentant, shivering parrot. She asked it, "Well, have you learned your lesson?"
"Yes ma'am," said the parrot. "But can I just ask one question?"
"What in God's name did that poor frozen turkey over there do wrong?"
Of course that is just a story and I hope you got a chuckle out of it. The book of Proverbs has some very meaningful sayings; "A kind word turns away wrath." and "When a man's ways please the Lord, he makes even his enemies to be at peace with him."
May all our words be kind and may we please our Heavenly Parents in all our ways.
God Bless you and see you on Sunday.
Pastor Matthew and Marianne Goldberg
Announcements And Upcoming Events!
Prayer Requests: True Parents and True Family Please send any prayer requests to Administrative Assistant: Gay Grow at gpgrow@gmail.com
Thanksgiving Extravaganza
Thanksgiving Extravaganza At New Hope Academy, 7009 Varnum Street, Landover Hills, MD 20784! 10 am till 4 pm.
Give thanks and Praise at Lovin' Life!
Maryland Lovin' Life Ministry will be hosting the Metro Area Lovin Life community at our annual Thanksgiving Potluck Luncheon Extravaganza on Sunday, November 20 beginning immediately after Sunday Service at 11:45 am with music provided by our own Maestro Otmar Weinmann. Following lunch there will be performances by the Arigato Choir, the Washington Cathedral Peace Choir, rising stars of the Second Generation and a dramatization of a modern-day Saint. At 2:30 pm meet the directors of the acclaimed film, Ai Means Love. At 2:45 pm the film, Ai Means Love begins.
The Maryland Church will provide cooked-to-perfection turkeys and Spiral Hams. Please invite your friends and neighbors!
For side dishes, if your family name begins with the letters:
A-D, please bring mashed potatoes and gravy.
E-H, please bring stuffing and cranberry sauce.
I-M, please bring green beans and/or corn and sweet potatoes.
N-R, please bring salad with dressing, or cut-up fresh veggies.
S-Z, please bring desserts.
Bring anything extra, if you like, and don't forget to bring a serving spoon with each dish! And especially, bring your appetite! RSVP to Gay Grow.
Don't Miss Lovin' Life's Thanksgiving Extravaganza.
OSDP Workshop for all Members, Clergy and Ambassadors for Peace:
The final OSDP National Workshops for this year are scheduled for November 28th – Dec. 1st (Bally's Atlantic City) and December 14th -- 17th (Chicago).
14th Annual Leaf Raking Service Project: Sponsored by the NoVA Youth Ministry.
This year Benefiting Nyumbani Children's Home in Nairobi, Kenya. Meet Sat., Nov. 19th, 8:30am to 6:30 pm. Location: 8718 Victoria Rd. Springfield, VA 22151. Here is a great opportunity for your children and your friends' children to rack up some service project points for school. If you have any questions or plan on coming late, please call Aki Goto.
40 Days of Prayer
40 Days of Prayer -- Oct 14th to Nov. 22nd for 3,000 clergy education.
Women's Annual Holiday Gathering
MD Women's Annual Holiday Gathering and Gift Exchange SAVE THE DATE: Saturday, December 17, 2011 Luncheon from 12:00 -- 2:30 pm (order from menu) Big Fish Grille -- 1260 Crain Hwy. (Rt. 3) -- Crofton, MD 21114; 1st and 2nd generation ladies. More to follow in weeks ahead.
Special Grace
Special Grace for Liberation and Blessing -- If you have questions, need help completing forms, or anything else that is related to the CP Providence, contact Laura Herbers by email or telephone to set up a time to meet.
Parents Matching Convocation
East Coast Parents Matching Convocation: November 18th -- 20th at UTS in Barrytown, NY. Parents and Blessed Children aged 24 and older are welcome. Matching adviser training will be held also. Look for memo on FamilyFed.org/bfd or contact Wetzsteins.
Autobiographies
Need Autobiographies to Give Out? Want to fulfill Father's providential goal of handing out 430 copies? Want to promote True Parents, the Principle, and the church? Want to find spiritual children? Then contact Bob Selle.
If you have extra books that you cannot use right now, please bring them to Ron Musiol at the book table after service and he will offer credit for them so that someone else can buy and distribute them.
STAR Program at Lovin' Life:
Richard and Stacey Urban Sundays for 8 weeks, at 5:00 p.m. Location: Emergence Community Arts Center, 733 Euclid St. NW, Washington, DC 20001. Help youth from 6th grade to young adult to experience God's Love and help them to succeed by encouraging them to abstain from sex before marriage as well as abstaining from drugs and alcohol.
Seunghwa Ministry
New Ministry Seminar coming...
Sunday Dec. 11, 2011 "Let's Celebrate Our Eternal Life: Seunghwa Ministry Seminar," presentations on the Seunghwa history and tradition, the theology of the ministry, and testimony. Let's honor our brothers and sisters who went before us to the spirit world. RSVP Seminar is 1 -- 3 p.m. $5 per person. Contact Bill Selig or Hiromi Stephens for details. Location: New Hope Family Church.
Please take a few moments to fill out the 10 question survey about the Seunghwa ceremony. It will provide important insight into our community's needs for this special ministry. Link to Survey
www.surveymonkey.com/s/MXT32CV
Balls Of Fury:
Fri. November 18th 7 PM at New Hope Academy Bring the Fury and join us for Street Hockey tournament style and your chance to win an MVP Ball!
DASH: Dare To Shine:
Sat. November 19th, 3 PM at the Youth Center Middle School Youth! It's our time to shine with each other!
All Out Girls Only Sleepover:
Saturday, November 19th, 7 PM at the Youth Center. Meet us at 7 PM for chic flicks, nail designing, girly games, and the works. Also make sure to bring an old, big t- shirt for turning them into fabulous Fall SCARVES! We will be taking everyone to church the next day! For more information.
Sunday Worship Planning and Production Team
Join our Sunday Worship Planning and Production Team Contact Kaeleigh Moffitt.
Rooms, Employment and Other Opportunities
Job Opening:
Looking for a part-time position? Like People? Like to demonstrate interesting products? White Marsh Mall location needs people to take shifts during this holiday season! (Best if you have your own transportation; prefer over-21 year olds.) Call today!!!
Two Bedrooms for rent:
Quiet neighborhood in the Franconia/Springfield section of Fairfax County, VA. Fairfax has the best schools in the U.S. Right off I-95/495 and near I-395, close to shopping centers/malls and a 15-minute walk to Van Dorn Metro Station (blue line). Please call Bill Connery.
We Buy Cars, Trucks, RV's -- Any condition -- Distressed or Nice
Please Call Jim Boothby. Free Tow. Call for help with repair decisions, body work and insurance settlements. Late model, low mileage cars also available.
Room For Rent:
Furnished room for rent five minutes from the University of Maryland. Nice, quiet neighborhood. House backs up to woods. Call Jan van Zutphen for more information.