| | |
| --- | --- |
| | The Words of the Goldberg Family |
Reflect on where we have been and where we are going
Steven Matthew Goldberg
August 24, 2011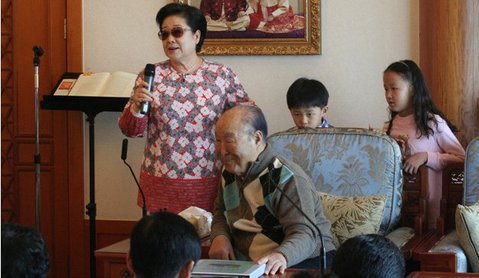 Sun Myung Moon and Hak Ja Han, April 10, 2011
Dear Brothers and Sisters,
We are nearing the end of Summer and as Autumn approaches it is natural to reflect on where we have been and where we are going.
There is a season for everything as we learn from Ecclesiastes in the Good Book. Two weeks ago, our National Senior Pastor, Reverend In Jin Moon, shared a moving story of one of her own challenges and her response to that challenge by openly testifying to her faith in True Parents while studying at Harvard University.
God is calling each of us to respond to the difficulties and situations in our lives in a way that shows good character and allows us to be confident in who we are and what we stand for.
I came away from that Sunday's worship service and our leader's message with a profound appreciation of the importance of taking time to reflect on my own life's challenges and my responses to them. It is one thing to say we believe in True Parents and True Family Values and another thing to practice and live those values openly and honestly.
Last Sunday our Senior Pastor called us to take responsibility to clean up our own mind before accusing others of wrong doing. That translates into good old fashioned repentance, forgiveness and renewal. It's a good message and this is the perfect time to put it into practice. Lets forgive our selves, forgive others and make peace and start a new season.
As the song goes, "It's Your Season To Be Blessed"!
Have a great end of Summer and lets get ready for the harvest season.
God Bless you and your family,
Pastor Matthew and Marianne Goldberg
PS --
With the Labor Day Weekend coming up, I am encouraging all of us to show up at the Greenbelt Labor Day Festival. Lovin Life will have several concession booths and a separate Information and Outreach Table near by. Thousands of people will come out during that Sept 3 -- 5th extended weekend and you and I have an opportunity to meet some of them.