| | |
| --- | --- |
| | The Words of the Goldberg Family |
Our church can a safe haven
Matthew Goldberg
July 13, 2011
Sunday Service at New Hope Academy
7009 Varnum Street
Landover Hills, MD 20784
July 17, 2011
Lovin' Life Ministries Service
Reverend In Jin Moon
10-11:30 am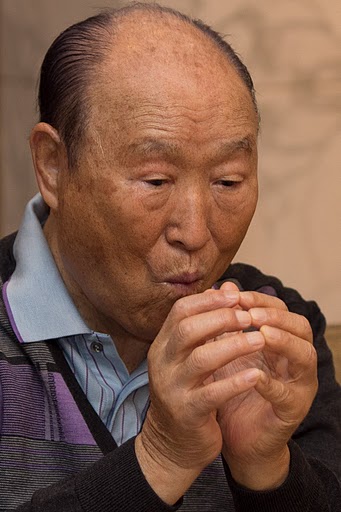 Sun Myung Moon May 5, 2011
Dear Brothers and Sisters,
A small bird recently took up residence in one of the larger potted plants on the balcony of our apartment in Crofton, Maryland. We first noticed the bird's comings and goings with small twigs and leaf pieces and the like; and we marveled at her persistence and boldness in coming so close to human habitation. Then we began to see the wisdom of our little friend. You see, close to the building, under the eaves and away from the forest, the nest is much less accessible to predators. Sure enough, in time, three little eggs were revealed by shining a flashlight into the cavern created by our wren visitor.
Perhaps our little bird feels comfort and safety near our home. If so, we are grateful we can offer her a safe haven in a harsh world ruled by natural law.
Our church can be like that safe haven if we work at it deliberately. By joining a ministry team that allows you to contribute your time and talent to the church community you may save someone's life. People are tossed and blown by winds of fortune and often do not know where to turn. When we welcome them into our midst and show love and kindness it may just be a turning point for a lonely and lost child of God. How many of us were battered and beaten down by a seemingly cruel world before we met True Parents and tasted true brotherly and sisterly love? How many of us realized that God is a suffering parent who needs to be loved and understood by loyal and devoted children?
How easy it is to forget that we were created not just to look out for number one, but to live for the sake of others and return love to God! If we can live like that then others will flock to us like the little bird who found her nesting place under the eaves.
Please come help build a safe haven and a place of worship and comfort this week by attending our worship service on time and with a grateful heart and a hand to help.
See you on Sunday!
Matthew and Marianne Goldberg
Announcements And Upcoming Events!
Global Women Sale
Ice Cream and Bake Sale after Sunday service (July 17) to raise money to help our Global sisters in Kenya start a tomato growing business. Thank you for your support.
Blessed Family Department
Blessed Family Department Upcoming Events 2011:
1st Generation National Blessing Workshop for Matching Candidates, Aug. 12-14, in New York City. This is a Level II workshop, intended for 1st Generation involved or entering the matching process. Getting Back on Track Retreat, near New York City, Labor Day weekend, Sept. 1-4. (BOT is for BCs who have had sexual relationships outside the Blessing). Experience the unchanging love of God in a supportive community. Contact Wetzsteins for questions. Memos about these events are at www.familyfed.org, under the Blessed Family Department.
Interested in helping organize a local version of the "Blessing Retreat and Workshop for Blessed Children Age 24+" in the Washington, DC area? Please contact the Wetzsteins. Let's get a steering committee together!
Open Mic Night
"Open Mic" Wednesdays on the Patio at the Columbia Road Learning Center 7:30 to 9 pm. 1610 Columbia Road, NW, Washington, DC 20009, call to register or just stop by.
If You Need To Mail Your Tithing Check...
Make your donation check out to HSA-UWC and drop it in the mail addressed to:
New Hope Family Church
P.O. Box 244
Riverdale, MD 20738-0244
Employment And Other Opportunities
All announcements and advertisements for the Mid-Week Announcements need to be written and emailed to Gay Grow by Wednesday at 5 pm.
Computer Needed
Does anyone have a working computer they can donate or sell cheaply to a member in need? Our newest member, Debra Gohr, needs a home computer to stay in touch with the Providence. Call Deb or Doug Burton.
Bedrooms For Rent
Two Bedrooms for rent: Quiet neighborhood in the Franconia/Springfield section of Fairfax County, VA. Fairfax has the best schools in the U.S. Right off I-95/495 and near I-395, close to shopping centers/malls and a 15-minute walk to Van Dorn Metro Station (blue line). Please call Bill Connery.
Apartment Addition
Will and Clair Stein's new apartment addition is opening up in August. They have just finished installing a second kitchen and laundry room for the apartment, and want to offer the space to a BC or BC Couple, before offering it to the public. All the information is on the house website; www.bawtryhouse.com. Or you can call Will Stein.
Room For Rent
Beautiful furnished room, with private bath, including utilities, TV and internet. House located close to Good Luck Road/Hanover Parkway. Please contact Jahan and Ivy Shahi for more information.
House For Rent
Adorable home for rent on Farmette. Backs to 2600 acre preserve with hiking trails. 5 minutes to Annapolis, 30 minutes to DC and Baltimore. $1500 per month Call: Gregg Jones 2516 Davidsonville Road Gambrills, MD 21054.
We Buy Cars
We Buy Cars, Trucks, RV's -- Any condition -- Distressed or Nice -- Please Call Jim Boothby,. Free Tow. Call for help with repair decisions, body work and insurance settlements. Late model, low mileage cars also available.
Room For Rent
Furnished room for rent including utilities, high-speed internet and breakfast. $550. Call Cecil or Debbie Robbins for more information.
Room For Rent
Furnished room for rent five minutes from the University of Maryland. Nice, quiet neighborhood. House backs up to woods. Call Jan van Zutphen for more information.
Prayer Requests:
Rachael Carter -- recovering from hip surgery