| | |
| --- | --- |
| | The Words of the Goldberg Family |
Four People From Maryland Signed Membership
Matthew Goldberg
January 20, 2011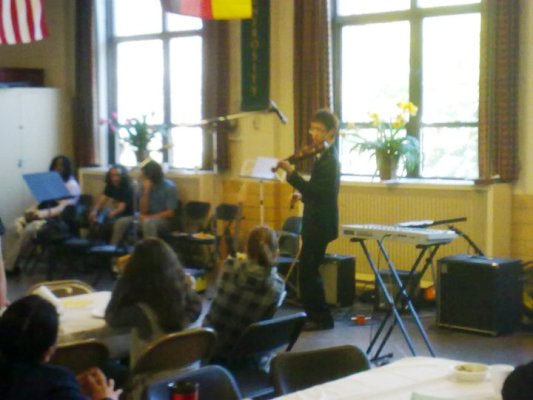 Sunday Service at New Hope Family Church
January 23, 2011
Lovin' Life Ministries Service
Reverend In Jin Moon
10-11:30 am
Dear Families,
We are off to a blockbuster start to the Gregorian calendar year.
Wasn't that a great Sunday Lovin Life program with our Metro Area families worshipping together?
Please send us your thoughts via e-mail this week.
For those who may have missed Saturday's events, a Divine Principle Basics workshop took place in the morning at Columbia Road followed by a Membership Class in the afternoon.
Four (count them, 4) people from Maryland signed membership in Lovin Life, committing to further study of Divine Principle and participation in our Sunday Service program at New Hope.
Kudos to Sara Reddin of Laurel, who brought two of her best friends to Lovin Life....
And a big shout out to the Burton family who have been hosting Debra Gerst at Lovin Life. Debra is quoted in the breaking news at the familyfed.org website. Check it out, please.
By the way, familyfed.org now gives access to the major themes of Lovin Life philosophy and practice: Check out the entries for Inspire, Connect, Empower, Contribute and Inherit.
National Senior Pastor In Jin-nim's model of Inspire, Connect, Empower and Contribute is bearing fruit already. The ultimate goal is to Inherit the heart of God and prepare for the blessing. What a great time this is for Lovin Life and living in love!
Reverend In Jin-nim will be in Costa Rica this Sunday, a country where 60% of the people have been exposed to Divine Principle education via TV. Due to technical limitations we will not be able to share her live message this Sunday.
In Jin-nim has selected a special DVD message for us to share during out worship service. The music, as always, will be great! Please bring your best friends and stay in the key of B natural.
See you at New Hope on Sunday!
God Bless you.
Pastor Matthew and Marianne Goldberg
Women's Federation For World Peace
Come to Chairwoman, Kim Dadachanji's home, 3100 Stonybrook Drive, Bowie, MD 20715 on January 20 7-8:30 pm for our Kick-off Friendship Gathering. Come with other sisters for a "meet and greet" and help plan our 2011 activities. Light refreshments will be served. Remember all women are members of WFWP!
Women's Federation For World Peace
We will continue our Friendship Gathering at Emiko Butler's home, 7918 Woodbury Drive, Silver Spring, MD 20910 on January 29, 1 -- 3 pm. Come with your friends for a "meet and greet" and help plan our 2011 activities. Light refreshments will be served. Remember all women are members of WFWP!
Dancing With True Love
Let's keep the momentum that Ariana inspired us with this past Sunday. Everyone, young and old is welcome and you don't need a partner. Just bring comfortable shoes. Here is the schedule.
January 23 12:00 -- 1:30 pm
January 30 12:00 -- 1:30 pm
Call / email us if you have any questions.
Rex and Emiko Butler
Pastor Matthew Goldberg Available
Pastor Matthew Goldberg will be available to meet with you at the Greenbelt office; 7245 Hanover Parkway, Suite A, Greenbelt, MD, 20706 by appointment Tuesday, Wednesday and Thursday from 9 am till noon. Call Gay Grow if you wish to make an appointment.
Ministry Fair
January 30 from noon to 1:30 pm at New Hope Academy. Representatives from different ministries such as Outreach, WFWP, Young Adult, Youth and more will be available to answer questions about their agenda for 2011. Come and check it out, and volunteer where your passion lies.
Women Of Wonder
Women of Wonder (W.O.W.) is a group of "joyful, compassionate women who strive to 1) Uncover our true selves, 2) Explore life, and 3) Help others.
We have been gathering as a book club for many years to study and share our joys, troubles and miracles. We make intentions for ourselves and our loved ones and help each other by prayer and service. This session we will watch video sessions of Joyce Meyers for three meetings. The titles of the CDs are: 1) Establishing Boundaries in Relationships, 2) An out of Control Soul, and 3) De-stress Your Life". We will then read and study the book, "Captivating: Unveiling the Mystery of a Woman's Soul" by John Eldridge and his wife. Contact Karrin Brady, Wendy Herstein, Debra Gertz or Robin Musiol for more information.
Employment And Other Opportunities
Bedroom For Rent
Bedroom for rent in Laurel, Howard County. Howard County has the best schools in the state. Driving distance to colleges. Close to JHAPL, NSA, right off I 95. Pay part of utilities. Please call David or Kathy.