| | |
| --- | --- |
| | The Words of the Wahid Family |
In Memoriam: Abdurrahman Wahid
By UPF – International
December 30, 2009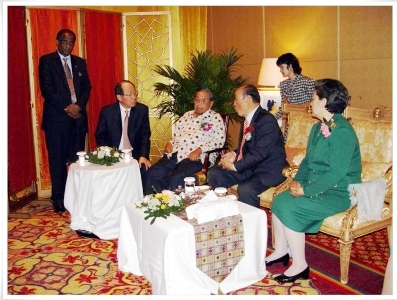 President Wahid with Dr. & Mrs. Sun Myung Moon in Jakarta, 2005
Jakarta, Indonesia - H.E. Abdurrahman Wahid, president of Indonesia from 1999 to 2001, passed away on December 30. He was a member of UPF's Global Peace Council.
A Muslim cleric, he was elected president in the first democratic transfer of power in Indonesia's history. Leading the world's fourth-most populous nation at a time when it was trying to emerge from its deepest recession in a generation, President Wahid was widely respected as a moderate figure who could bring together disparate elements of Indonesia's newly invigorated political landscape. A staunch defender of moderate Islam and secular politics, he was the former leader of Nahdlatul Ulama, a Muslim group with some 40 million members.
The President of the Republic of Indonesia, Susilo Bambang Yudoyono, was at his side at the hospital and expressed the deepest condolences on behalf of all the Indonesian people.
Former President Wahid welcomed the Universal Peace Federation's inaugural Global Peace Tour to Jakarta on November 26, 2005. "All religions insist on peace," he said. "From this we might think that the religious struggle for peace is simple… but it is not. The deep problem is that people use religion wrongly in pursuit of victory and triumph. This sad fact then leads to conflict with people who have different beliefs. For this reason Rev. Sun Myung Moon's call for peace though religion is something of great nuance and profundity."