| | |
| --- | --- |
| | The Words of the Kanari Family |
"Dedication to the Heavenly Will" In Memoriam Mrs. Haruko Kanari
Laura Reinig
September 12, 1985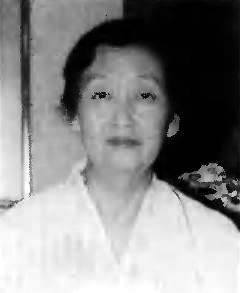 On September 12, 1985, a very special person passed from us into the spirit world -- Mrs. Haruko Kanari, who had served True Parents directly in New York and at East Garden since 1976. She was a mother figure and counselor to many members, and helped numerous couples cope with unresolved problems, often staying up with people until very late at night. She worked tirelessly from early in the morning in the True Parents' kitchen in the World Mission Center and prepared the offering tables for all the major holidays and the True Children's birthdays.
Mrs. Kanari joined the church in Tokyo in 1963 when she was in her late forties. She had been a member of the same Buddhist group to which Rev. Osami Kuboki, the president of the Unification Church in Japan, had once belonged. Rev. Ken Sudo gave her her first Principle lecture. She was "jubilant',' he recalls, "I remember her smile even now. She was so happy to understand Principle. Since then she never changed. Her faith never wavered!'
Soon after she joined, Father assigned her to be one of the three mother figures of Japan to support President Kuboki. In 1976 she came to America, and from then on she directly served Father and the members in New York. Even so late in life she learned to speak Korean, and she taught herself to cook Korean food so well that the guests she served in True Parents' dining room never doubted that the food had been prepared by an expert Korean cook.
In 1983 her health began to deteriorate badly and yet she did not want to lessen her devoted, round-the-clock service. Finally in August 1985 she flew to Tokyo and had an operation for cancer, but she could not regain her strength afterwards. She died in Tokyo. She leaves behind a son, a daughter, one grandson and two granddaughters.
On September 13, 1985, a Seunghwa Ceremony was held in her honor in New York at the same time as the ceremony in Tokyo. Many members came to express their love for her. At that ceremony, Mrs. Shin Wook Kim ("Lady Doctor Kim") shared in tears that the two of them had been as close in heart as sisters. After having led lives of dedicated service to God, both had become ill around the same time, both had been diagnosed as having cancer on the same day, and both had had an operation on the same day.
Mrs. Kim said that the day after her own operation in New York, she saw a vision of globules of blood the size of strawberries floating in the air near the ceiling in her hospital room. She heard a voice from Heavenly Father telling her that, just as the Israelites had smeared lamb's blood on their doorways at the time of their departure for Canaan to protect them from evil, and had celebrated the Passover before crossing the Jordan, she and Mrs. Kanari were in the position of sacrificial lambs, shedding their blood as an offering to protect us during our entry into the Canaan of the new era. She had this revelation on August 16, the same day that Father declared the Day of Total Victory of True Parents. She regretted only that she could not share the deep significance of this revelation with her dear sister before she died.
Rev. David Hose also spoke at the Seunghwa Ceremony about Mrs. Kanari's life of devotion: "I realized that so much of her beauty derived from a very powerful prayer life and a strong relationship with God and our True Parents. To carry on that level of attendance takes a person who has a prayer dimension far beyond most believers. It is a dimension completely centered upon selfless devotion': He shared that, since she often worked "behind the scenes:' she did not get her spiritual nourishment from external praise and gratitude, but "from heaven and from the silent presence of our True Parents:'
Two days after she passed into spirit world, True Father sent a loving message by telegram to her family in Tokyo, containing a motto describing her character: "Dedication to the Heavenly Will"