| | |
| --- | --- |
| | The Words of the Duffy Family |
Interdenominational Revival in Toronto, Canada
Robert Duffy
March 15, 1986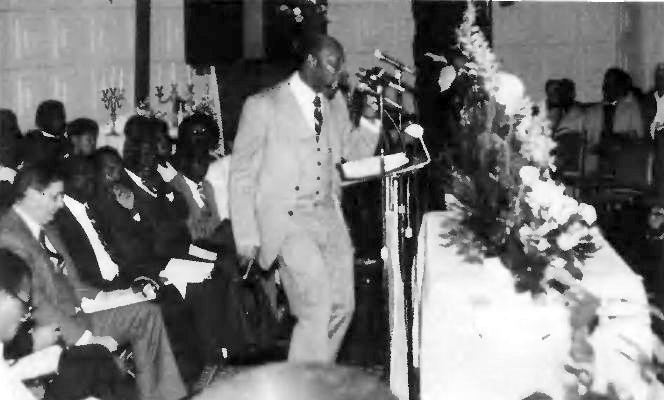 I was pleased to help organize an Interdenominational Revival Meeting in Toronto on March 15, 1986. It was held in the meeting hall of a charismatic Christian congregation and was hosted and funded by the Unification Church of Toronto.
The 1000 participants were equally divided between white and black. The 22 ministers who participated with their congregations were very inspired to unite together in this large-scale effort, and each minister was personally introduced to the combined assembly. Through offering prayers, reading Scripture, or giving short talks on the theme of revival, many of the ministers participated in the program. The 35-member choir of the Church of God of Prophecy sang several songs and led the congregation in singing hymns; another musical group also performed.
The keynote speaker was Mr. Franco Famularo, director of the Unification Church of Toronto. His concise speech focused on the need for all Christians to cooperate in a spirit of unity for the sake of God and Christian renewal. He was warmly received.
Following his message, Pastor Clarke of the First Calvary Pentecostal Church led a call to the altar for those who wished to renew their faith and commitment. Within minutes, the entire congregation was pressing toward the altar. As they stood with hands held high, the spiritual atmosphere reached its peak. Black ministers offered prayers over white congregants and vice versa. It was an amazing sight to behold.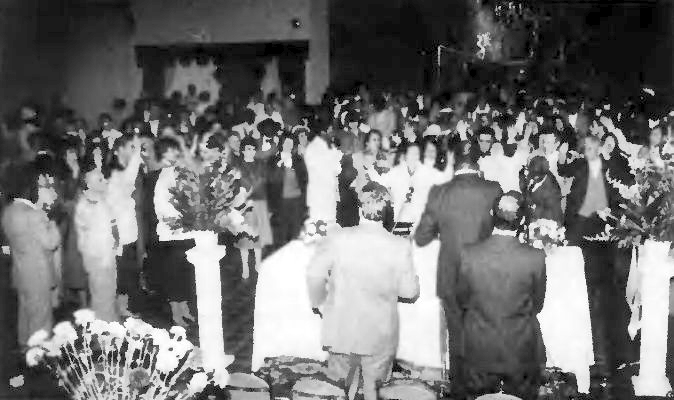 From the providential viewpoint, the Christian churches should have been the first to welcome our True Parents. When our Father began his ministry in the mid-1940s, he originally contacted the leaders of the traditional Christian churches, but as a result of their failure to respond to his mission, the Unification Church was born. However, it was never our Father's intention to create a rival denomination, but rather a vehicle through which to reform Christianity so that it might fulfill its God-given responsibility.
In line with this intent, our church in Canada has been reaching out to Christian ministers for the past several years. Since Father's incarceration in July 1984, we have intensified our efforts in a variety of ways. Rev. Paul Werner, the national director of our church, has encouraged us to form an Ad Hoc Committee for Religious Freedom, CAUSA Canada, and ICUSA Canada (a food distribution program). He has also inspired us to distribute thousands of Principle videotapes and related literature to ministers in Canada, and to hold Principle seminars for clergy. These activities can serve as a foundation for the revival of Christianity in our country.
The initial reaction of the clergy toward the revival was very positive. This meeting is unprecedented in the Toronto Christian community in its denominational and racial mix. I feel this is the beginning of a new level of interrelationship.
Much more work needs to be done. Brothers and sisters in Canada are united and determined that this work will bear fruit in substantial support for our True Parents in the future.