| | |
| --- | --- |
| | The Words of the Cornier Family |
A New Vision of Unity for American Indians
Linda Lucero Cornier
October 21, 1984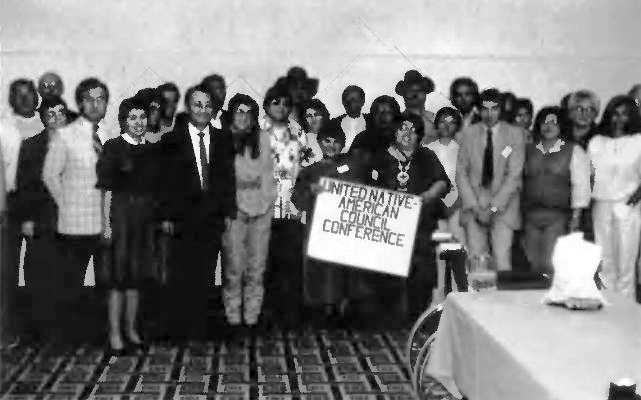 Closing picture with Rev. Chung Hwan Kwak, who delivered the Founder's Address.
The United Native American Council (UNAC) sponsored its first intertribal conference from October 18-21, 1984, in the historic town of Albuquerque, New Mexico, at the Indian-motif Regent Hotel. Fifty-six participants attended, coming from as far away as Alaska, California, and Florida. All were distinguished leaders serving the needs of American Indians: tribal chiefs, directors of organizations, chairpersons from tribal councils, as well as medicine men. The purpose of the conference was to establish cooperation among Native American leaders based on commonly held spiritual values, as well as to introduce them to Unificationism.
Presenting lectures on Principle were Linda Lucero Cornier, executive director of UNAC, who spoke on "God's Ideal for Mankind," and Rev. Ken Sudo, who spoke on "The Breakdown of the Ideal of Man." Many participants had difficulty with the lecture on the fall, primarily because it stems from Christian teachings. Along with many other people around the world, Native Americans associate Christianity with the suffering they have undergone. For American Indians religion is very personal and sacred. There is only one Great Spirit; it is therefore confusing to see so many denominations of Christianity. Each person is responsible to God and is encouraged to establish a relationship in which he or she becomes sensitive both to God's creation and to other people.
UNAC provides a vehicle for professional, scholarly and tribal American Indians to get acquainted, deal with common problems and issues, and stimulate and exchange knowledge, skills, and services for American Indians. Each participant spoke about the situation and concerns of his or her reservation, and possible solutions. Among the conference highlights were a discussion of land rights and a slide presentation on the plight of the Mesquito Indians in Central America given by Vernon Bellecourt, executive director of the International American Indian Treaty Council; a presentation in pictorial form on Navajo Traditions by educator Eddie Tso; a lecture on the implications of religious values by Dr. Cathleen Dugan, from the faculty of the University of San Diego; expositions on religion and politics by Robert Gopher, a medicine man and director of the International Pow-Wow Society. Linda Lucero Cornier read a letter written by Mr. Gopher to President Reagan asking for the pardon of True Father and his release from prison, as well as a newspaper article he had printed in his hometown of Great Falls, Montana, in support of the UNAC conference.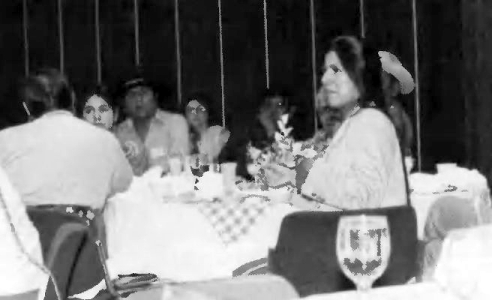 Denise Waterman, councilwoman of the Onondaga Tribal Council, and a participant of the World Youth for God tour, elaborates upon Dr. Joseph Bettis' presentation on the tour.
Chief Shanendoah of the Onondaga tribe spoke on the traditional Iroquois way of life. Ethel Krepps, director of the National Indian Social Workers Association, spoke on new laws dealing with the placement of children outside of their natural families. Harry Command, Michigan's director of American Indian Services, dealt with the problem of alcoholism. Bob Hosick, director of Ohio's Indian Center, spoke on utilizing non-Indian funds to help in the area of unemployment.
Each speaker's presentation was unique and informative. The situation of American Indians is most difficult. Even today there is much suffering on reservations in the United States.
True Father is the Messiah for all races and has aligned himself closely with American Indians. In his 1979 speech, "Abel's Path from the Providential Point of View," he had this to say:
What about the Indians? They are the original owners of this country. The Indians are said to have come originally from the Orient, so I am their cousin. They have no reason to hate me. I am helping Americans to value the Indians. Because the Indians are of Asiatic origin and were sacrificed for the founding of America, this nation had to indemnify that by shedding blood for the sake of Orientals. Long before the Korean War was fought I felt this had to be true. Many American soldiers were killed in Korea, as well as soldiers from around the free world.
It is Father's desire that not only North American Indians, but Central and South American Indians come to know the Principle and understand the love and heart of True Parents. Their response will not be automatic, but Father's path has always been that of going in the shoes of a servant and with the heart of a father. It is only then that people can begin to trust and are able to receive.
Through programs such as the National Council for Church and Social Action and the providence of Home Church on the reservations, doors can be opened for these people. The only compassion and creative solutions that American Indians have been offered have come from communist programs and functions. Christianity has often been only a burden added to the problems of the American Indians.
We hope to help these people understand the true spirit of Christianity -- its spirit of love and service -- through our activities. At the conference Bruce Casino spoke about NCCSA and six participants were inspired to include their reservations in the work of that organization.
Through future conferences we hope to become people the participants can trust. Rev. Chung Hwan Kwak shared deeply about his early experience in our movement, and the love and character of True Father, as well as about our lifestyle and our sincere motivation to serve God and humanity. Everyone was moved.
The variety of philosophical, religious, and political persuasions among the participants led to an interchange of ideas often characterized by lively debate. Nevertheless, the overall atmosphere was one of mutual respect and sharing, and many of the participants grew to care deeply for one another as friends despite disagreements. Although many walked into the conference scared and skeptical of the Unification movement, by the end they expressed gratitude to Father for sponsoring the event. Some comments by participants follow:
Rev. Deane Y. Allen, Peace Corps: "I have learned far more from this experience than I can express here. I have felt the love created and trust just beginning between the Indians and the church."
Ethel Krepps, Choctaw Tribe, Oklahoma City: "I think the Unification Church took a big step in meeting with the Indians and I hope the dialogue developed at this conference will continue to guide future seminars sponsored by your organization."
Mary Ann Walt, Chippewa: "I was apprehensive and leery, but getting to know many of the people I felt very at ease and nothing was forced on me. I would personally like to thank the Unification Church for this opportunity to meet them and my people."
Doris Renick, chairwoman, Coyote Valley Tribal Council: "Reverend Kwak's testimony was excellent. If we all practiced the philosophy of our teachings we all would find complete joy and fulfillment. God bless you on your journey!"
The conference overall was a very exciting and educational experience that reached into the hearts of all the participants.