| | |
| --- | --- |
| | The Words of the Chung Family |
Su Won Chung Has Ascended
Jin Hwan Chung and Yong Cheon Song
April 17, 2013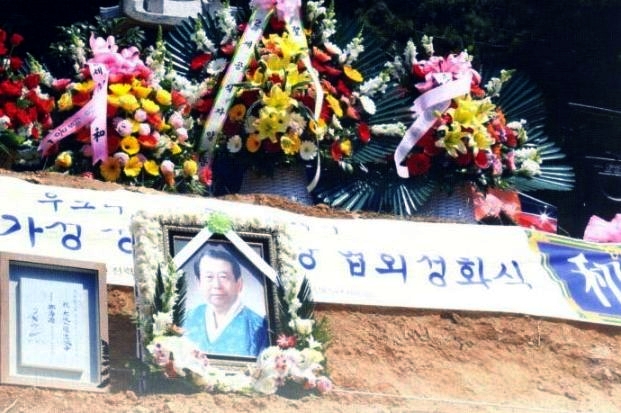 Congratulations to a loyal son who has entered the heavenly palace! Thirty-six- couple blessing group. National messiah to Ukraine -- True Mother's calligraphic message on Rev. Su Won Chung's ascension
Our elder brother Su Won Chung ascended on April 17 at 1:20 PM. Rev. Chung, blessed among the thirty-six couples in 1961, was the father of six sons and two daughters, all of whom are now blessed members. He was a regional leader in the U.S. 1982-1988, cared for foreign members in Korea from 1988 until the mid-1990s and was the national messiah to Ukraine.
Jin Hwan Chung
Professor Jin Hwan Chung is Rev. Su Won Chung's son and teaches at Sun Moon University. Rev. Su Won Chung was the oldest son of the oldest son of Seong Do Kim, the founder of the Holy Lord Church, which had an important providential responsibility. [Seong Do Kim (1883-1944) had the mission of the Korean Eve. To her followers she was the "New Lord." Her mission passed to her follower Ho Bin Heo who founded the Inside the Belly Church.] Su Won Chung was born on March 5, 1930, in the Village of Buseo in North Pyong-an Province, which today is in North Korea.
His father was Elder Seok Cheon Chung, his mother Ae Seon Choi. While practicing a strict life of faith, awaiting the returning Lord. The entire family joined the Unification Church in Daegu on June 25, 1950 through Seok Cheon Chung in accordance with Kim Seong Do's final revelation, that the returning Lord would be found in an infamous group rumored to be promiscuous. After meeting the returning Lord personally at Daegu Train station, his love for True Parents began in earnest. [Seok Cheon Chung later introduced True Mother's mother, Soon Ae Hong, to True Father.]
Rev. Chung's love for members is rooted in his absolute love of the True Parents of Heaven, Earth, and Humankind and his efforts to resemble True Parents. He absolutely believed in True Parents, absolutely loved them and tried to live in absolute obedience to True Parents' teachings. You can feel this in his autobiography, The Path I Have Followed with Gratitude, which guides us in understanding why he invested so much effort and sincerity into practicing True Parents' teachings. He instilled the education and guidance he had received from True Parents into members from the United States and Japan when he was a world lecturer, regional church director, and a special lecturer for foreign members in Korea. When it came to carrying out his providential responsibility, with all his heart he consistently taught members and persuaded those that hesitated or worried when faced with real-life situations.
Rev. Chung did not hesitate when giving severe reprimands. Even though it may not be the best method, his strict and principled education of American members caused breakthroughs that led to successful results. A typical example happened during his Chicago years, his last regional ministry in the U.S. True Parents had given the U.S. church the mission of educating seven thousand ministers in Divine Principle. Rev. Chung accomplished this mission within a year. According to him, it was very difficult. He faced obstacles, especially from members that were pessimistic as a result of real problems, such as foreign members' poor language skills and insufficient funding. He had to persuade our members first, so he suggested a detailed solution and began a seven-day trial period. With this, he strongly led the region, managed the mission and toured the region's five states to personally check the lectures and activities.
Through this, ten ministers came to participate in Divine Principle workshops during the trial period and the once-passive American members began participating enthusiastically. Finally, the Chicago region accomplished its providential portion of the U.S. church's responsibility to teach Divine Principle to seven thousand ministers. They received a special award from True Parents. Considering that today's foundation with the U.S. clergy is based on this result, we can realize how we should engage ourselves in leading the providence. Rev. Chung's teachings touched our hearts because he strictly lived centered on True Parents and centered on True Parents' teachings and Divine Principle.
Rev. Chung was a man of heart even though he guided and taught members strictly, in accordance with the Principle, to an extent that might be considered cruel. He always introduced True Parents with tears springing from an always passionate heart, and he took great care of members with a rare love of his own that is difficult to explain. His world of love can be seen clearly in his concern for Japanese sisters who were working hard in our local Korean churches, having left their homes to marry someone from Korea, a former national enemy. He worked with a nutritionist to produce a weekly menu of suggested meals that he sent out as an official menu because he worried about their health. He did not treat Korean and non-Koreans differently. His autobiography shows us that he loved all members with the same standard and heart. The testimonies of all those people who worked with him for the providence introduce his world of heart in detail through in-depth incidents and stories that will help you understand it more.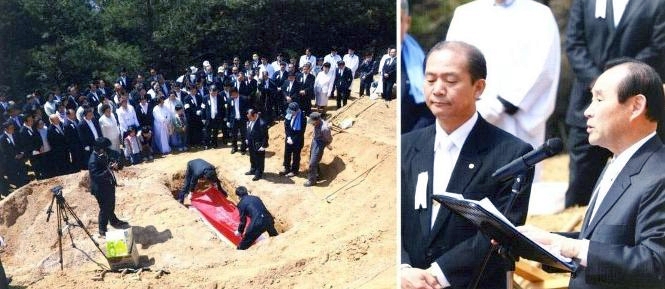 Yong Cheon Song
Chairman of the Federation Blessed Family Associations in Japan.
Japan was overwhelmed in shock upon hearing the news of the sudden ascension of Rev. Su Won Chung. Rev. Chung was a central blessed family member who received special love from our Heavenly Parent and True Parents. He was also a teacher who left behind unforgettable great footprints of faith in the Unification Church of Japan.
In August 1981, forty-five men who had worked for more than fifteen years or more as Korean church leaders visited Japan. As the person in charge of the group, Rev. Chung personally visited all the churches in Japan. Members received a lot of grace and blessings during his visits. In February 1994, he again visited Japan as a world lecturer who conveyed the deep world of True Parents' hearts to the members.
In December that year, True Parents appointed Rev. Cluing president of the Japan -- Korea Association, placing him in charge of guiding Korean -- Japanese couples in their lives of faith until June 1997.
The most unforgettable moments with Rev. Chung's life occurred from 1990 to 1995. He was part of the Special Lecturer's Department and invested great effort and sincerity as he guided the lives of faith of Japanese members living in Korea. Rev. Chung brought together all the Japanese members from the 6,500-, 30,000- and 360,000-couple blessing groups and gave them twenty different instructions, which became the core tenets they adhered to and practiced to lead a proper life of faith as they carried out activities in their mission churches and delivered the Segye Times newspaper. Among these instructions, they had to read twenty pages of the Japanese Exposition of the Divine Principle every day, write a letter to their spouse once a month, offer a prayer condition with their spouse at a set time every day and invest everything into their church related activities for tribal restoration. These instructions helped Japanese members survive in Korea and inherit the heavenly tradition. They became a lifeline that helped them lead upright lives of faith.
Several times while teaching, Rev. Chung also emphasized, "You have especially come to Korea to see the three great blessings God bestowed on humanity in Genesis 1:28, 'Be fruitful and multiply, and fill the earth.' He would appeal to the members saying, "We must not repeat the mistake of the Israelites who lost direction and purpose in Canaan."
He testified about how he educated children. After his child grew up and started worrying about life issues, he advised the child saying, "As your father and mother, we offered prayers and conditions in the hope that you would live in accordance with the teachings of the Divine Principle, ever since you were in your mother's womb and have copied it for you. Please read this every day and use it as a guideline in your life. He went on to say, "If you present a notebook in which you copied the Divine Principle for your child, it would become your child's most important treasure."
While guiding the faith of members, Rev. Chung was worried that Korean food may not suit the taste of Japanese members who were in a foreign land far from their homes. He then made a one-week food plan through a professional nutritionist and sent it to each church as an official memo. Japanese members during those days can never forget the deep, wide, warm, and considerate heart Rev. Chung showed them.
Today, Japanese members blessed to Koreans in those days are now energetically living in Korea and following the providence and God's will because they consistently followed Rev. Chung's guidance and experienced miracles and immeasurable grace by doing so.
We cannot help concluding that this was the result of Rev. Chung's great guidance and instructions in his effort to pass down to us the essence of faith. Representing FFWPU in Japan, I would sincerely like to express my gratitude.
By continuing the faith that began with Seong Do Kim, Rev. Chung's fraternal grandmother, which was then passed to elder Seok Cheon Chung, his father, Rev. Chung preserved this faith for a third generation.
His grandmother and father received all types of persecution from their relatives. They had to endure inexpressible suffering including the forfeiture of property, torture and other ordeals and solely awaited the returning Lord. Rev. Chung was the fruit of that lineage.
Rev. Chung's strong rebukes and encouragement about crossing the thirty-eighth parallel between the body and mind, between a husband and wife, and transcending the national boundary to realize the unification of North Korea and South Korea and to "follow a path through which you can make hell into heaven" are implanted in our hearts. We are determined to practice these and strive to follow the path of realizing Cheon Il Guk together with our Heavenly Parent and True Parents.