| | |
| --- | --- |
| | The Words of the Brosseau Family |
Learning Sincerity, Loyalty and Filial Piety in Kathmandu, Nepal
Rebecca Brosseau
November 2013

Rebecca Brosseau at an Asian Media Conference
I am on the opposite side of the world from where my life began. Yet like many blessed children my life is free of the national and cultural barriers that often limit people's lives. As a dual citizen of Canada and the United States, I am equally divided in my heart between these two beautiful countries and between the two religious heritages that I was born with, Judaism and Christianity. Although my skin could barely be whiter and my eyes are blue, as a child the concept of race and color never entered my mind. People who raised me were Japanese, Kenyan, Austrian and French. At age four, I sang with my morn in an African choir where Lingalau was the language of choice. And when it came to attire, I felt more at home in my Congolese and Mexican dresses than in a T-shirt and jeans. At twenty-two, my world is a family without borders -- a legacy bequeathed to us by True Parents. It is perhaps for this rea- son that I have such a strong desire to meet my global relatives.
I have been yearning to come to Nepal for over three years. For the sake of honesty, I must admit that I knew surprisingly little about this beautiful Himalayan country before getting off the plane. However, despite my ignorance, this nation represented a spiritual awakening for me. There is something awe-inspiring about the tallest mountain range in the world and an entire population that has adapted to its rugged terrain. The people fall under a wide cultural spectrum from Buddhist Mongolian to Hindu Aryan and practice their respective religions right alongside one another, often in the same temples. As soon as I arrived, I could feel that there was something different, something special, about this country. The roads may be riddled with potholes and littered with trash and debris, but the people have a unique, almost mystical quality to them.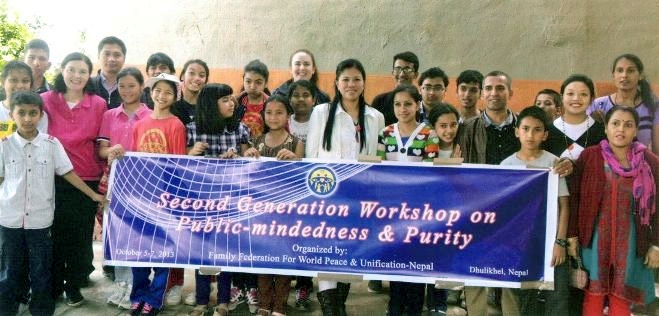 Among a lively group of children who represent the hope of the Nepalese movement. (The national leader's wife is the woman in white.)
Why I Came to Nepal?
As a college student, I was not content investing in programs that I felt were merely contributing to society on a superficial level. Although I was a very active member on campus, president of the Geography student council and in charge of many humanitarian clubs at McGill University, I had lost touch with my guiding force and my vision had become blurred. Upon realizing that my internal conviction was in trouble, I began to look inward for inspiration. I found that God and my parents were my rock and that I would only be truly happy if I were living a life that is true to them. On a personal level, my journey to Nepal represents a rededication to my parents and the movement as a whole.
In preparing to come to Nepal, I made many conditions that connected me to my parents and my family on a deeper level. I first spent a month raising funds in Alberta, Canada, which is where my father had been kidnapped by his own parents as a young member in 1980. At the time that I went to Alberta, my grandfather had just passed away. I felt that by going back to where this terrible family incident had taken place, in some way I would be restoring this painful family memory. As soon as that was finished, I spent two months working for UC Magazine in Manhattan. This was essential for my own personal restoration. Immediately following this regenerative experience, and together with the help and support of my parents, I set off for Nepal. I had originally envisioned volunteering with Canadian -- Nepali NGOs that I had reached out to during the preparatory stages of my trip. However, because my year had been spent in the pursuit of internal ideals and guidance, I felt especially compelled to concentrate my efforts on the Nepali church community. Luckily for me, there was no shortage of projects to get involved with.


Life's an adventure: In Bangkok for the media conference and visiting hard-punching Nepalese members; Rebecca even witnessed elections that were called "a milestone not just for Nepal but for people around the world working to rebuild after conflicts and resolve disputes via constitutional and homegrown means."
What Have I Done Since I've Been Here?
November 13, 2013, marks two months here in Nepal. In this short period I have been given a remarkable taste of the Nepalese movement's numerous activities. My first week was spent at a five-day Divine Principle seminar in Pokhara, a picturesque Nepali city on the edge of the second largest freshwater lake in the country. I ended up participating in yet another of these seminars before the month of was over. These programs were part of a larger three-month effort to educate Nepali youth to become public-minded leaders capable of transforming their nation. Next, I was called to help staff a second-generation workshop for the oldest Nepali blessed children and Jacob's children. This was a very special experience as I was able to make a close personal connection with every one of them as their representative older sister.
Furthermore, I have observed the investment of the Women's Federation for World Peace (WFWP-Japan) in the development of educational projects all across the country. Although my only contribution to date has been teaching art lessons at Ekta Academy, an elementary and high school established and fully funded by WFWP-Japan, there exist a number of other technical institutes and business ventures started by dedicated Japanese members that are empowering Nepali women on a larger scale.
My most prized memory up to now has been working on the staff and participating in an Asian Media Conference organized by UPF Asia that took place in Bangkok, Thailand. Media officials from twelve Asian nations, representing thirty-two major media houses, gathered for a five-day conference that focused on the role of media as the educators of society. The Nepalese delegation included Mr. Binod Gyawali, the founder and managing director of Nepal Republic Media, the second largest newspaper in the country and Mr. Rishi Dhamala, the president of the Reporter's Club Nepal. From India were Mr. Sumit Pande, the deputy bureau chief of CNN-IBN and Mr. Subodh Ghildiyal, the senior assistant editor of the National Political Bureau and the Times of India. Also in attendance was Mr. Francisco Tatad, the Minister of Public Information (1969-1980) in the Philippines and now a columnist for the Manila Standard Today. Laos even sent an official delegation from their government, four media representatives from print and television media. By building bridges with the media, UPF-Asia is following in the footsteps of True Father, who realized that the media had an instrumental role to play in guiding nations toward the pursuit of peace, prosperity and the moral high ground.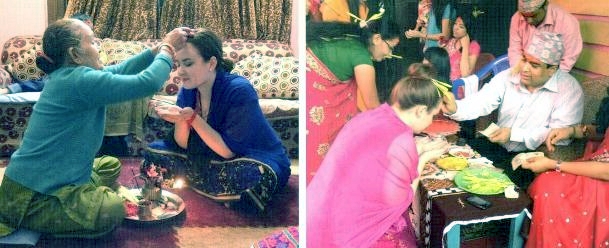 Rebecca was "adopted" by a Nepalese family, which certainly enriched her experience in the Himalayan nation. At right, Rebecca receives a blessing from National Leader Ek Nath Dhakal, who is also the chairman of Pariwar Dal, the Family Party.
The Nature of the Nepalese
From the minute I arrived in Kathmandu, I have felt embraced and truly at home amongst the local Nepali community. The family, as the cornerstone of society, is a paradigm that is built into the culture of this nation. Strangers address one another as dui or bai, older brother or younger brother; and didi or buhini, older sister or younger sister, in all aspects of daily interaction. This sense of extended family translates into a loving and nurturing social environment.
In Kathmandu, two families have graciously taken me in -- those of Dr. Robert and Mrs. Theresa Kittel, and of Zen and Nila Shrestha. The Kittels are the Cheon Il Guk special envoys to Nepal and are letting me live in their daughters' bedroom. Zen is the personal assistant to National Leader Ek Nath Dhakal. Luckily, I came at a particularly stimulating time from a cultural perspective because I was able to experience the two main festivals, Dashain and Tihar, both of which were celebrated within the last month. Having been informally adopted by the Shrestha family through a Hindu celebration, I was able to partake in the festivities on a very intimate level. I will never forget the precious memories that I acquired while learning about their beautiful and highly structured culture.
Moreover, I have connected on a deep level with many of the young first generation members that I have had the chance to meet during my time here. I have been fortunate to work alongside bright, engaging, and dedicated young men and women who feel confident that they have a part to play in improving the situation in their nation and world. The movement in South Asia has attracted and nurtured highly competent young people with tremendous leadership potential. This is very inspiring to witness.
True Father inscribed a poignant calligraphy during his only visit to Nepal on November 22, 2005. Its direction to the Nepali members was clear: "The source of all success and victory is sincerity, loyalty and filial piety." I have observed first-hand that the Nepalese brothers and sisters have taken this direction to heart and that it is the source of the success of this movement, particularly in the fields of education and politics. I was incredibly fortunate to arrive in Nepal during the Nepal Family Party's last two months of political campaigning. Nepal is leading the international movement by gaining unprecedented political clout on the national level. The national leader of the Nepali movement, Ek Nath Dhakal guides the Family Party with indomitable courage and unconditional dedication. Within just the last three weeks, one of the female Family Party candidates from a remote region was doused with gasoline and set on fire (she escaped with only minor burns) a party vehicle was torched completely, two bombs were set off outside one of the party offices, and an angry mob of protesters stoned Mr. Dhakal and his team during a recent campaign. Despite this opposition, he is working tirelessly alongside his team because he understands that it is only through leading the political sphere that he can have lasting influence on the direction of his country. Furthermore Mr. Dhakal and the Nepalese members are able to achieve impressive results by upholding a standard of absolute filial obedience to True Parents and to Dr. Chung Sik Yong, the regional president of Asia. It is clear that many blessings have come to Nepal because the members have found a way, in spite of the various challenges, to embody the internal qualities set by True Father for this nation. I, along with many of my Western peers, have a great deal to learn from the Nepal Unificationist community.
Overall, I trust that God knew even before I did that I was meant to spend a few months developing my heart and soul in Asia. I can feel that my short stay here is preparing my inner core to have enough stamina and conviction to fuel a lifetime of service and dedication to the world. I am forever indebted to those who have allowed me to grow and develop within this community. Finally, I would like to appeal to our international movement for further support, both internal and external, for the success of the many ambitious projects being undertaken by this small but significant nation.