| | |
| --- | --- |
| | The Words of the Bateman Family |
2011 Time for an update…
Réa Bateman and Kath
March 24, 2011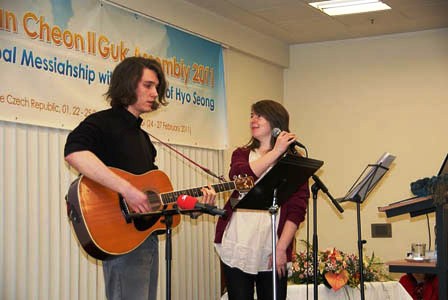 We had our 1st Live Lounge in 2011 last month. It was another great success, with a big turn out, and a great line up of new, old and regular performers! None of these events have ever been the same, and we are continuously surprised at the amount of talent that is shared.
Live Lounge History: It started out as an Open Mic Night in February 2009, initiated by Sarah Hanna, who was on a Vocal Tech training course at the time, and used this event as an opportunity where performers could get together, socialize, sing, listen, and enjoy music together. People continued coming back because of the atmosphere that was created, and this is one of the main things that continues to be the highlight at every Live Lounge event. The next Live Lounge event will be in memory of Sarah, on Friday 15th April.
European CIG Assembly: February 23rd-28th
Music Ministry were asked to come to Prague to support the workshop there. It was a good experience for all 5 of us, helping to inspire the participants. It wasn't always so organized, and we had to be ready for anything, last minute requests and all. For future events like this, we plan to be well prepared in advance, so that things can run more smoothly.