| | |
| --- | --- |
| | The Words of the Alao Family |
Confession, Forgiveness and the Search for Hope
Olaleye Alao
November 2011
National Leader, Nigeria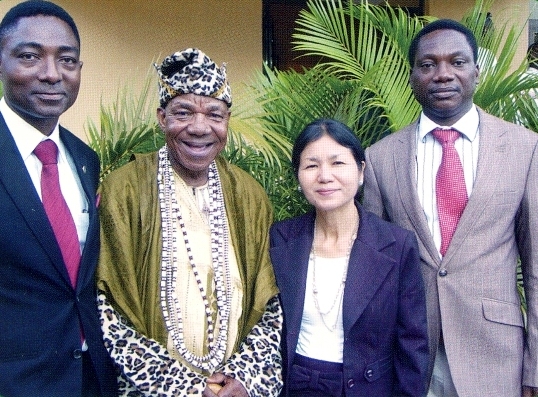 Rev. Olaleye Alao (left) and his wife Takako with the leader of a traditional community and a youth leader
The United Nations International Day of Peace was observed in Nigeria, as elsewhere, on September 21. This was less than a week after a memorial service for victims of a bomb explosion at the United Nations House, the UN building in Abuja, Nigeria's capital. The bombing itself occurred on August 26, killing twenty-five and injuring more than a hundred. The perpetrator was a Nigerian man in his twenties who drove an explosives-laden Honda Accord, smashing it into the building and setting off the deadly blast. An Islamic militant group that has been especially active in the last half year in northeastern Nigeria has claimed responsibility.
With a population of 150 million people, Nigeria is Africa's most populous nation, accounting for nearly 15 percent of the continent's people. Around 10 percent of Nigerians are Animists, the remainder are nearly equally divided between mostly northern based Muslims and mainly southern dwelling Christians. The area where the two populations overlap, and where abrasive relations between Christians and Muslims has sparked sudden eruptions of violence, is known as the middle belt.
Religion and geography are not the only differentials. Most Nigerian Muslims are either herders or merchants and most Nigerian Christians are urbanites or farmers. Nigeria suffers from a shortage of both arable land and potable water. Meanwhile the northern desert inexorably expands southward. Competition for land either for grazing or for planting has increased friction.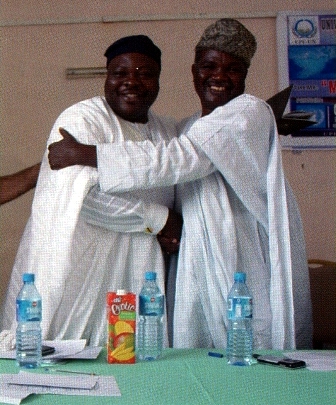 A Muslim and a Christian embrace in forgiveness, in Jos, the frequent scene of inter-religious violence.
A concatenation of horrific killings sprees and reprisal attacks has been taking place in middle belt towns between adherents of the two religions, leaving an estimated 13,000 dead since 1998. One place notorious for sudden outbreaks of deadly violence is the middle belt town of Jos in Plateau State. A U.S. government report states that the violence around Jos, and indeed in Nigeria generally, "is not purely religious in nature. Religion and religious identity are intertwined in ethnic, political, economic and social controversies, and can be misused by politicians, religious leaders, or others to rouse their constituencies for political gain or other purposes. Yet, because of years of recurring sectarian violence, Jos is becoming segregated along religious lines."
It was to Jos that the Rev. Olaleye Alao, the Unification Church national leader of Nigeria, went for the September 21 observance of the International Day of Peace. The theme for this year's celebration, "Make Your Voice Heard," had inspired ambassadors for peace in Plateau State to kick-start a peace process there. The working committee set up several weeks before had sought collaboration from organs of government, religious institutions, private individuals and other civic organizations.
For Nigerian members, hearing about the proposed visit to Jos was somewhat unsettling. This is understandable since Jos was the site of massacres in September 2001, November 2008, January 2010, March 2010, December 2010 and January -- April 2011. Rev. Alao explained:
Going to Jos, a city that has recently recorded several religious riots and fighting between Christians and Muslims, in the company of my wife Mrs. Takako Alao, was indeed a brave effort. There were security concerns expressed by some of our members who were worried for my safety when they heard we planned to hold a special interfaith meeting in Jos, because it is usually difficult to ascertain when riots or any kind of fighting could start. However, with faith and determination toward God and True Parents we forged ahead.
The program started on a very sober note with representatives of the Christian and Islamic faiths called upon to offer opening prayers. Bishop Mrs. Iwuk Asuamah prayed with tears rolling down her face. Alhaji (Dr.) Yusuf Sarami, a millionaire bankrupted as a result of the Jos riots, also offered a sincere, tearful prayer.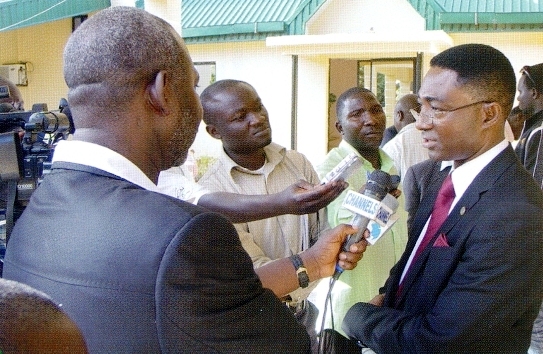 Rev. Olaleye Alao speaking with the press during the event
Mr. Kingsley Okoruwa, the public relations officer for the National Organization for Police Community Relations Committee, and Mr. E. G. Danboyi, of the National Unity and Peace Corps of Nigeria spoke on several topics related to security and personal safety.
Two UPF videos were shown, before Mr. Eras Darlington Eguaoje, president of our Youth Federation for World Peace, summarized True Father's efforts for lasting peace in the world and named some of the numerous organizations he has founded other than UPF. In enumerating the various projects, we emphasized the need to promote family values. We invited and encouraged participants to share in the inter-religious, intertribal, and international Blessing Ceremony to be held in December in Nigeria.
The high point of the event was the time of confession and forgiveness. "It was a touching experience for me," Rev. Alao reflected, "to see how a Divine Principle presentation during the event cleared the tense spiritual atmosphere and made a foundation for reconciliation and harmony between the religious groups and tribes."
The YFWP president called out ten volunteer youths from both Christian and Islamic faiths to join him and called out six volunteers Christian and Islamic leaders. The youths pledged to play a unifying role from now on, and repented on behalf of all young people in Nigeria and in Jos in particular for participating in religious killings and mayhem.
Led by the YFWP president, everyone then knelt down asking forgiveness from both the Muslims and Christians. Rev. Olaleye Alao and his wife came forward to join the religious leaders in a repentance and forgiveness ceremony.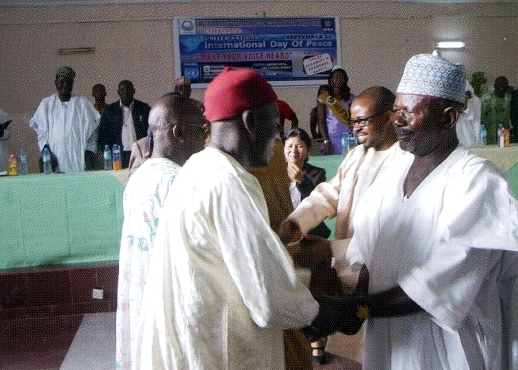 Christian and Muslim leaders exchanging contact information and making friends
Everyone in the audience, numbering over two hundred, embraced one another and pledged to continue to forgive each other and work together for peace.
Mr. Kalil, a Lebanese who has become a nationalized Nigerian citizen, described the Christian -- Muslim war in Lebanon, in which neither side won a victory and which left Lebanon indebted to the World Bank to the tune of several billion dollars. He asked Nigerians not to wait to be attacked externally before finding their center of harmony as one people.
Alhaji Yusuf Sarami, who had earlier prayed with tears, told the audience that what he had witnessed that day had greatly moved him and that although he had entertained deep resentment until then, "today I am greatly moved to forgive my enemies who rendered me bankrupt and penniless though I did nothing wrong to them."
Several traditional rulers who attended the forum have invited UPF and YFWP to their kingdoms to promote similar healing and reconciliation. Sixteen media organizations were on hand and carried the news nationwide.
In attendance were many traditional rulers, members of the Christian Association of Nigeria, and NGO leaders. We had announced the start of a three-month peace process that we hope eventually brings lasting peace to Plateau State.